I have not yet settled down in my new house, but did not want my blog to sleep. So prepared this quick Sabudhana Khichidi This is one of the most popular Maharastrian breakfast dish. It is also a fasting food as it is prepared on fasting days. It is simple and filling as it is rich in carbohydrates. Although very simple to prepare, the trick lies in soaking the sabudana or sago. If there is excess water, it becomes a rubbery mass and if there is less water it will turn out hard. It should be soaked to perfection. Today we will learn how to make sabudana khichdi following this easy recipe.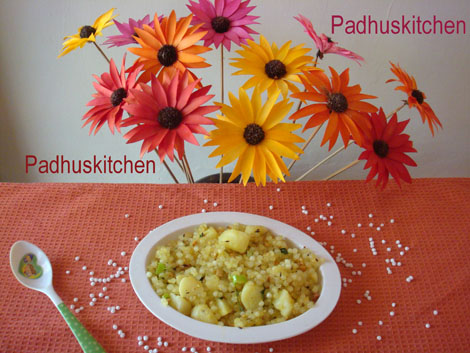 Sabudana Khichdi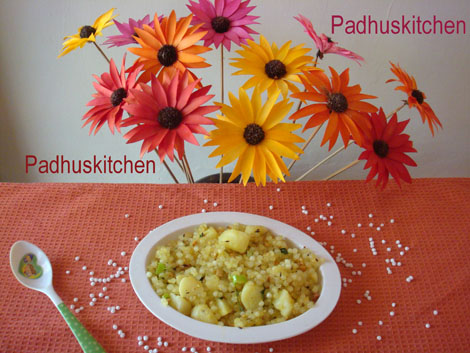 Prep Time : 10 mins (excluding soaking time)
Cook Time
:
15 mins
Serves
:
2
Recipe Category
:
Breakfast
Recipe Cuisine
:
Maharashtrian
Ingredients needed
Sabudana /Sago/Jawarisi -1 cup
Roasted Peanuts – 1/2 cup
Potato – 1 (or 2 small)
Turmeric powder – a pinch
Salt as required
For the seasoning
Oil/Ghee – 3 tsp
Jeera/Cumin seeds – 1 tsp
Green chilli – 2-3 ( finely chopped)
Curry leaves – little
Lemon juice to taste
Preparation
Wash sago /Sabudhana well until there are no powder left. Let it sit for 4-5 hours. Sprinkle water 2-3 times in between, fluff it and keep it closed.
Alternatively you can soak them in just enough water to cover the sago and leave it for 5 hours and then use it.
Another method – you can soak sabudana in plenty of water for 10 minutes. Then drain the water completely and leave it for 6-7 hours or overnight. Next day they will be soft, plump and separate and can be used to prepare khichdi.
Whatever method, you follow, see to it that the sabudana is soft like cooked rice.
Dry roast peanuts, remove the skin after it cools and dry grind it or pound it coarsely.
Boil potatoes, peel the skin and cut it into cubes.
Method
Heat oil in a pan, add cumin seeds, when it sizzles, add green chillies and curry leaves.
Then add boiled potatoes, turmeric powder and saute for 3-4 minutes.
Now fluff sabudana with a fork so that there are no lumps and add it to the above.
Add peanut powder and salt required. Mix well gently.
Cook on an open pan until sago turns translucent. Keep tossing it so that the sago does not form lumps.
Garnish it with coriander leaves, few drops of lemon juice and mix it well.
Serve hot with chutney or pickle or curd.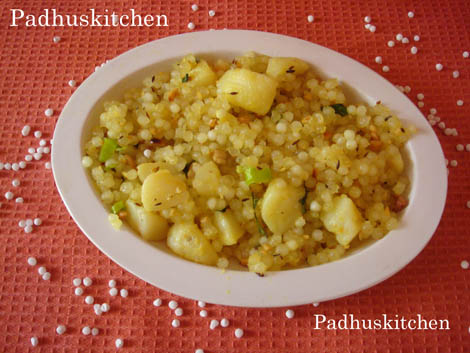 More Maharastrian Breakfast Recipes
Don't forget to hit the +1, Share button, Tweet button, Pin it button, if you like the post. You can follow us on Google Plus, Pinterest, Twitter, Facebook and Subscribe to RSS Feed to receive latest updates.