Every year my mother used to make Rava ladoo for Diwali. I used to follow her recipe. This time I wanted to try a different version for a change along with my mom's version. So I made

rava laddu with coconut

and milk

in it. It tasted delicious but these laddus do not have a long self life as we have added milk and coconut to it. I have given you my mother's rava laddu recipe also which does not have milk and coconut in it, so will stay fresh for more than 15 days. I made both for the sake of my dear readers. You can try and enjoy both versions as both are delicious and very simple. Today let us learn how to prepare rava laddu using our easy rava ladoo recipe
–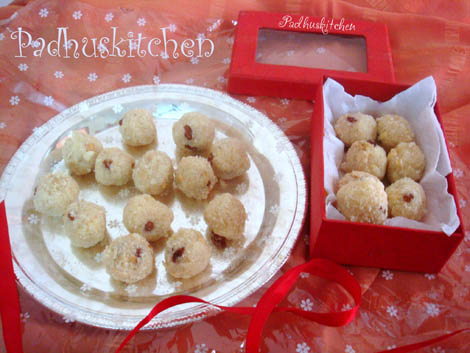 How to make Rava ladoos
Recipe source– vahrehvah.com

Ingredients needed
Makes 20 small laddus as in the picture
Rava/Semolina/Sooji -1 cup
Grated coconut -3/4 cup
Sugar – 3/4 cup
Cashew nuts – 15
Raisins -15-20
Blanched almonds -10
Cardamom powder -1/4 tsp
Milk -1/4 cup and little more
Ghee – 2 tbsp
Preparation
Heat a tbsp of ghee and roast the rava over

low heat

till it changes color to light brown and you get a nice smell of roasted rava.
Powder sugar and keep it ready.

Method
1.Heat another tbsp of ghee and fry the raisins, cashew nuts and almonds till raisins puff up and the nuts change color slightly.
2.Then add grated coconut and roast for a few more minutes.(see 2nd pic above)

3.Then add the roasted rava and mix well. Add sugar, cardamom powder and roast for a few more minutes.
4.Switch off the flame, add milk little by little and keep mixing it well. If you are able to make ladoos, stop adding milk.

When the heat is bearable, divide mixture into equal parts and make small balls out of it.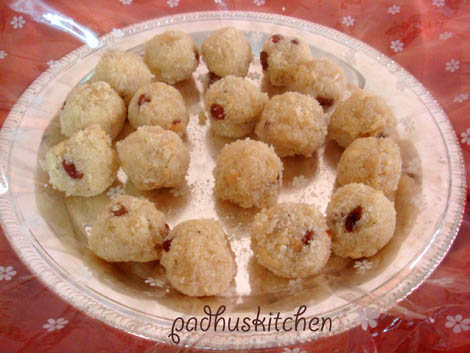 Rava Ladoos are ready. Store them in an airtight container. Since we have added milk, these ladoos can be stored only for 2-3 days.
It was very tasty, soft and divine and just melted in our mouths.
Another method of making Rava laddu (Tamil style)

– My mom's method
Makes 14 laddus
Rava -1 cup
Sugar – 1 cup
Cashew nuts -15
Raisins -20
Cardamom powder -1/4 tsp
Ghee -1/2 cup
Heat 2 tsp of ghee and roast rava over

low flame

till you get a nice aroma of roasted rava.
Now grind the

rava

to a

coarse powder

and the

sugar

to a

fine powder

.
Take 1 cup of this coarsely powdered rava, 1 cup of powdered sugar, cardamom powder and mix it well with your hands.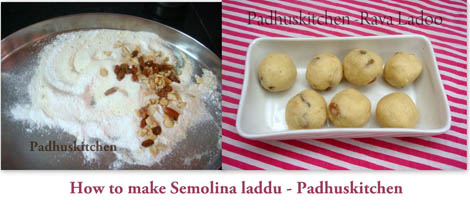 Fry cashew nuts (break it into small pieces) , raisins separately in ghee and add to the above mix. (See picture above)
Heat ghee well and mix little by little to the rava+ sugar mix and make balls when hot.(when your hands can bear the heat). Do not pour all the ghee to the mix. I did not need the whole 1/2 cup of ghee, I used a little less.


After it cools, store it in an air tight container.


Note -My view is that, if you powder rava finely, it will not be easy on your throat, so it is advisable to powder it coarsely.


If the ghee has become cold, instead of re heating, keep it over a bowl of boiling water.


These Home made Sooji ladoos make Perfect gifts for Diwali.


Meet you all again with another interesting recipe, till then it is bye from Padhu of padhuskitchen.com