I wanted to make the ever so popular Red Velvet cake for a long time but it kept on getting postponed as I could not get the ingredients needed for frosting in my place. This time, that did not stop me from making this beautiful cake, as I made the cream cheese at home from scratch. The cake came out very well. It was moist and looked so gorgeous with bright red color and white cream cheese frosting.
I felt so happy that I could prepare this at the right time. I halved the original recipe and made a small cake.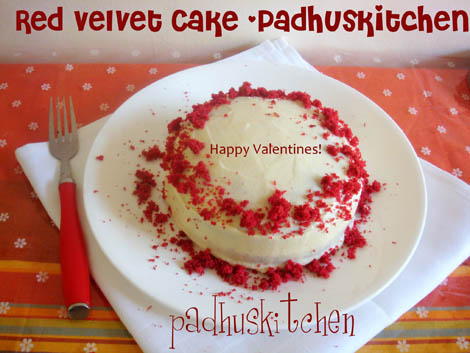 How to make Red Velvet Cake
Recipe source – Joy of baking
Ingredients needed
All purpose flour – 1 1/4 cup
Salt -1/4 tsp
Cocoa Powder – 1 tbsp
Unsalted butter – 57 grams
Sugar – 3/4 cup
Egg -1
Vanilla essence -1/2 tsp
Red liquid food color -1 tbsp
Butter milk – 1/2 cup
White vinegar – 1/2 tsp
Baking soda -1/2 tsp
Preparation
Sift or sieve together flour, salt and cocoa powder. Keep aside.
Pre heat the oven.
Grease the baking tray with butter and dust it with flour or line it with parchment paper.
Mix red food color with buttermilk nicely and keep it aside.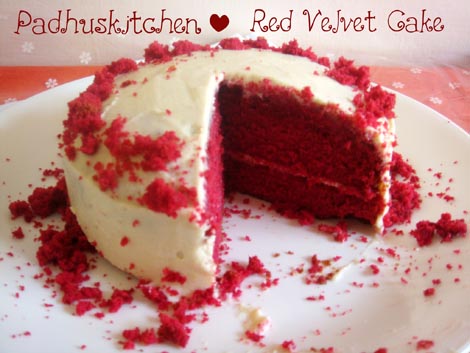 Method
Beat butter until soft.
Add sugar and beat until light and fluffy.
Add eggs and beat until well combined. Mix in vanilla essence.
Then fold in flour and buttermilk alternatively to the above mixture,adding little by little beginning with flour and ending with flour.
Now mix vinegar with baking soda in a small cup. The mixture will start bubbling, quickly add it to the above prepared batter, mix well and pour it into the prepared baking pan.
Bake in a preheated oven, until a toothpick inserted in the center of the cake comes out clean.
Let it remain in the tray for a few minutes.Then invert it on a wire rack and leave it to cool.
Wrap it in a plastic sheet and refrigerate for an hour before frosting.
With a serrated knife, cut the cake into half horizontally. You will have 2 pieces now. Now the cake is ready for frosting. Look at the picture below.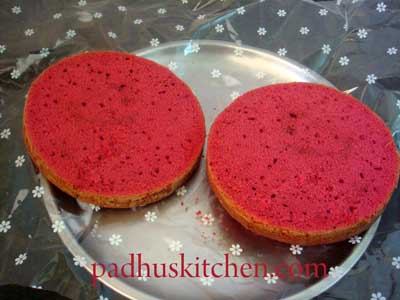 Cream Cheese frosting
Since I could not get
mascarpone cheese, I substituted cream cheese for that also.
Ingredients needed

Cream cheese – 220 grams
Vanilla essence – 1/2 tsp
Icing sugar – 1/2 cup sifted
Cold heavy whipping cream -160 ml
Method
Beat cream cheese until smooth.
Add vanilla essence, icing sugar and beat for a few more minutes until smooth.
Add heavy whipping cream and whip until the mixture is thick enough to spread.

You can increase or decrease the amount of sugar or whipping cream according to the consistency you need for frosting.

You will have 2 cake layers.
Spread frosting on the 1 st layer and keep the other half on top of it. Spread the top and sides of the cake with frosting as shown in the first picture.

The cake along with the creamy frosting tasted great.
Note – Original recipe calls for two-9 inch round cake pans but since I have halved the recipe, I used a small round pan half its size.

Everything from eggs, butter should be at room temperature.

This cake is on its way to Anjali's Cakes, cookies and dessert event.

Have a wonderful Valentine's Day!!