St.Valentine's Day is round the corner (Feb 14th,2012). What can be a sweeter way to show your love than these beautiful

heart shaped sugar cookies

. I am sure that these edible hearts will win the heart of everyone in the family. Go ahead and make these easy and delicious homemade Valentine's cookies for your loved ones. I had lot of fun making this and thoroughly enjoyed it .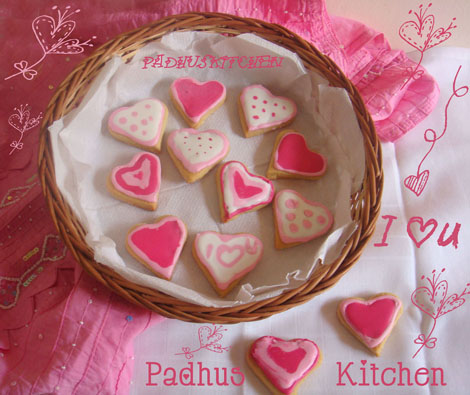 How to prepare Heart shaped Sugar Cookies with Royal Icing
for Valentine's Day
Recipe source –Joyofbaking.com
Yields -20-25 small cookies

Ingredients needed
All purpose flour (maida)- 1 1/2 cup
Salt -1/4 tsp
Baking soda – 1/2 tsp
Butter -(unsalted)- 1/2 cup (113 grams)
Granulated white sugar – 1/2 cup
Egg – 1 large egg
Vanilla essence – 1 tsp
Preparation
Sieve flour + baking soda + salt and keep it aside.
Method
Beat butter and sugar until it becomes light and fluffy.
Add egg, vanilla essence and beat until well combined.
Mix in flour and make a smooth dough. ( I used the dough making attachment that comes with the hand mixer)
Now divide the dough into 2 half and wrap it in a plastic paper and keep it in the refrigerator until firm. ( I kept it for 2 hours)

Preheat the oven.Then take one half of the dough and roll it out dusting flour to 1/4 inch thickness. Dust the cookie cutter also and cut desired shapes.(I used the heart shaped cookie cutter as it is for Valentine's day)
Now arrange all the

unbaked cookies

in a greased baking tray and keep it in the refrigerator again for another 15 minutes to chill the dough.This is done to prevent the cookies from expanding while baking and loosing their shape.
Bake till the edges starts to brown which will approximately take around 7-10 minutes depending on the thickness and size of the cookies. Let it remain in the tray for a few minutes.Then transfer the cookies to a plate or wire rack to cool. (I baked a few minutes more after the edges started browning as I wanted it crisp)

Repeat the process for the other batch also.
Let the cookies cool completely. Then you can store it in an airtight container.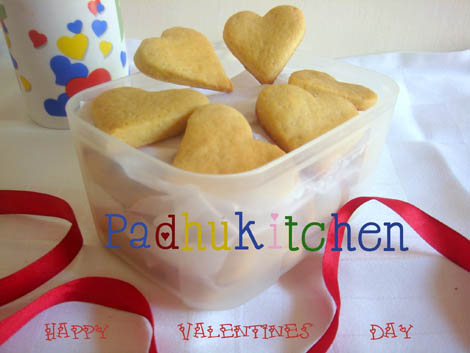 Now if you want

to make it more special

– go ahead and do the

Royal icing for sugar cookies

. Do not miss this part as I had great fun doing it.

The cookies should cool completely before frosting.
Royal icing recipe
Egg white – 1
Fresh Lemon juice – 1 tsp
Icing sugar -1 1/2 cups
Food color if needed (I used red color)
Method
Sieve icing sugar and keep it aside. You can use powdered white sugar but make sure to sieve it.
Mix egg white and lemon juice and beat well until well combined and frothy. Add sugar gradually and beat well .

The correct consistency for filling inside the cookies is when you lift the beater, the icing which falls into the bowl, remains for a few seconds (for a count of 6-7) on the surface and then disappears.

If necessary, you can add little more sugar or water depending on the consistency you need.
For example -I needed a little thick consistency for piping the border of the cookies. So I added more sugar to 1 part of the icing prepared.
Thin or flooding consistency- I used for filling the surface of the cookies. The above recipe is for flooding consistency – for filling the surface of the cookies.
First pipe the borders, then fill the inside of the cookies. Decorate as you like. Use colours of your choice.
Keep the icing closed with a with a wet cloth even while working as it dries faster. After use, you can store the royal icing in an air tight container inside the refrigerator.

Cookies – all dressed up for Valentines day- Perfect Gift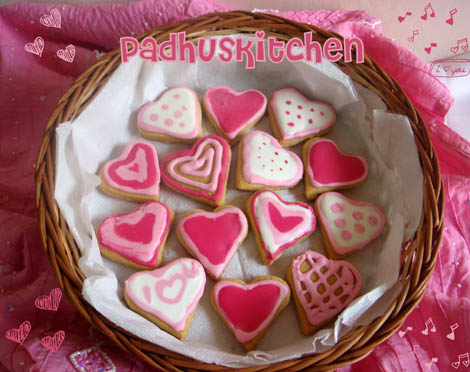 Use your own imagination and decorate the cookies. It will take 24 hours for the royal icing to dry completely. After that store it in an air tight container with layers of butter paper in between.
You can even pack it in heart shaped box and gift it to your loved ones. These homemade cookies, no doubt make a lip-smacking Valentine snack. They also make a perfect Valentine's Day gift.

Meet you all again with more interesting recipes, till then it is bye from Padhu of Padhuskitchen.com