A homemade chocolate is a special way of telling your dear ones that you love them a lot. Chocolates, that too home made makes an excellent gift for your friends or family. This simple recipe is from a television show which I had noted it down long time back. I have tried this recipe several times and love it very much. My favorite is nutties as I love chocolate and nuts combination. Today let us learn how to make chocolates and nutties at home following this easy chocolate recipe.
Show your affection this Valentine's Day with these heart shaped Chocolates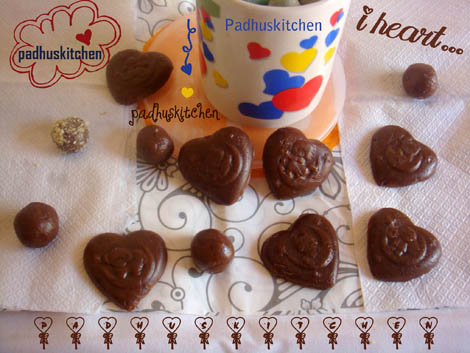 Homemade Chocolates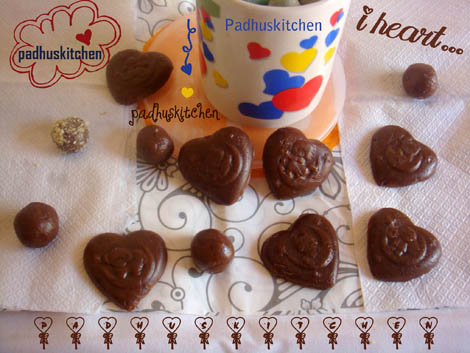 Prep Time : 5 mins
Cook Time
:
15 mins
Yields
:
18-20 Heart shaped chocolates
Recipe Category
:
Chocolate
Recipe Cuisine
:
Indian
Author
:
Padhu Sankar
Ingredients needed
Sweetened Condensed milk – 400 grams
Unsalted Butter – 100 grams
Cocoa powder – 6 tsp
Sugar – 6 tsp
Liquid Glucose – 1/4 tsp
Milk – 2-3 tbsp
Preparation

Dissolve liquid glucose in 2-3 tsp of cold water nicely. It is the ingredient used to set the chocolate.

Mix cocoa powder in a little milk and keep it aside.

Grease a plate with butter and keep it aside.
Method

Take a kadai or pan and mix all the ingredients well first. (condensed milk, cocoa powder mixed with milk, butter, sugar and liquid glucose).

Then switch on the heat and keep on stirring it on medium heat until it leaves the sides of the pan. Look at the picture below. The important point to be noted here is that the dough should not stick to your hands.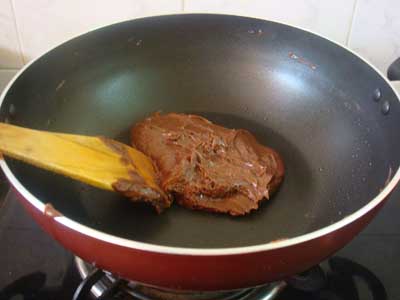 Then transfer it to the greased plate to cool. After it cools a little, scoop a little mixture with a spoon and place it in slightly greased heart moulds or any other moulds and press it nicely. Repeat the same process for the rest of the chocolate. Leave it for an hour to set. (Plastic moulds of different shapes are available in the market for making chocolates )
How to make Nutties
(If you do not have plastic moulds, you can make nutties)

Blanch and roast almonds. (Put them in hot water, remove the skin, dry it well and roast it slightly)

Take a small amount of chocolate dough, flatten it in your hands, place half an almond inside it and roll it into a smooth ball. You will get chocolate nutties.

Go one more step further if you like – Roll them in coarsely powdered cashew nuts to make it even more delicious.

Or you can insert a plastic lolly pop stick to the nutties and make chocolate lollipops.
Note – It will set in room temperature and need not be refrigerated and it will not melt if kept outside.
Shelf life and storage – Store it in an air tight container. Stays good for 7-10 days.
Enjoy this Valentine's Day by making this easy Heart shaped Chocolate.
More Chocolate Recipes
No cook no bake chocolate fudge
Meet you all again with more interesting recipes, till then it is bye from Padhu of Padhuskitchen.