Sambar is a very popular dish in South Indian cuisine. It is served with steamed rice or even as a side dish for idli, dosa and pongal.
Sambar with rice is one of the main courses in everyday South Indian meals.
Most South Indians are experts in making sambar. This post is for beginners who have difficulty in preparing sambar. Sambar can be made with a wide variety of vegetables. Most commonly used vegetables are brinjal, drumstick, pumpkin, radish, ladiesfinger, onion etc. Today let us learn how to make mixed vegetable sambar. This recipe yields 3 -3 1/2 cups of sambar and serves 2-3 persons.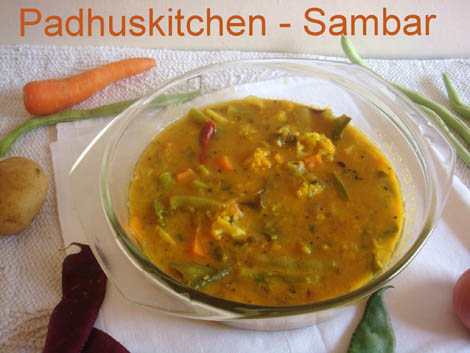 Mixed Vegetable Sambar Recipe
Prep time – under 20 mins
Cook time – under 20 mins
Serves -2-3
Ingredients needed
Tur dal – 1/3 cup
Tamarind – small lemon or gooseberry sized ball
Onion -1 finely chopped
Mixed Vegetables – 1 cup
Sambar powder – 2 tsp
Turmeric powder – 1/4 tsp
Salt as required ( I used 1 tbsp rock salt – use less if using table salt)
For the seasoning
Mustard seeds -1 tsp
Hing – a generous pinch
Fenugreek seeds – 1/2 tsp
Red Chilli – 1
Curry leaves – few
Preparation
Soak dal in hot water for 20 minutes and pressure cook for 3 whistles.(refer to my detailed post on
how to cook dal
if required.
Soak tamarind in hot water and extract 1 1/2 cups of tamarind juice and discard the pulp.
Vegetables
– You can use any vegetables like beans, carrot, cauliflower, potato,brinjal, broad beans (avarakkai), but do not add too many vegetables, then you will end up having more vegetables and very less sambar. So use just 1 cup of mixed vegetables.
I used 1/2 a carrot, 1 small potato, 2 florets cauliflower, 2 broad beans and 3-4 beans.In case, if you are using cauliflower, do not pressure cook but blanch them in hot water and add to the sambar while adding dal or paruppu.
Method
Heat a tbsp of oil, add mustard seeds,when it splutters,add hing, red chillies, fenugreek seeds, curry leaves, finely chopped onions and saute for a few minutes.Then add tamarind water,turmeric powder,salt needed and sambar powder.Let it boil until the raw smell of the tamarind and the sambar powder goes. Approximately it will take around 10 minutes.
Meant time pressure cook dal, keeping the mixed vegetables in a small container. After the raw smell of the tamarind and the sambar powder goes, add the pressure cooked vegetables to it. (See picture below)
Then mash the dal well with a masher and add to the sambar along with needed water.( little less than 1/2).Simmer and bring everything to a boil, until the sambar thickens a little.Garnish with coriander leaves and serve with steamed rice.
Some tips for beginners
If your sambar is sour, then you have added more tamarind.
If it has raw flavor of sambar powder or tamarind, then you did not boil the tamarind water with sambar powder well.
You can adjust the consistency of sambar by adding a little water along with dal.
For no onion no-garlic sambar/Tamil Brahmin Sambar – you can skip adding onions. For mixed vegetable sambar, after the seasoning, you can add tamarind water directly.In case if you are making ladiesfinger sambar or any other vegetable sambar, saute them in oil for a few minutes and then add tamarind water.
The taste of the sambar depends or varies according to the sambar powder used.
Hope I have made it very clear. Even beginners can try with confidence as I have measured everything for your benefit. You can call this a fool proof sambar recipe. This recipe is for 3 persons, if you want to prepare sambar for 6 persons, multiply by 2 and follow the same procedure.
Check out more South Indian Sambar recipes from Padhuskitchen
If you have any doubts, you can always drop a comment in the comment section or contact me through the contact form. Good luck!