Tamarind dates chutney or imli ki meethi chutney is a very popular sweet and sour and spicy chutney made with dates, tamarind and jaggery. It is served with many chaat items and can also be used as a dip for samosas. It is also known as saunth chutney.Today we will learn how to make sweet chutney (khatta meeta chutney) for chaat following this easy recipe.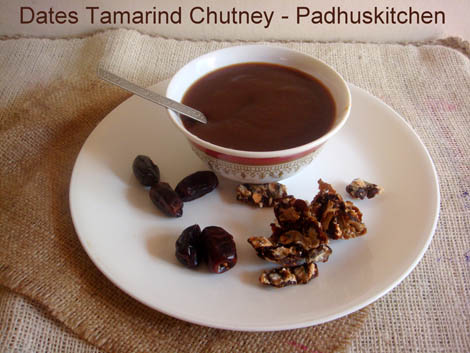 Date Tamarind Chutney
Ingredients needed
Jaggery – 1/4 cup (75-80 grams)
Tamarind – 1/3 cup heaped (35 grams)
Dates – 10-12
Red chilli powder -1/2
Roasted Cumin/ jeera powder -1/4 tsp
Dry ginger powder -1/4 tsp
Salt to taste
Preparation
Soak tamarind in hot water for an hour.
Dissolve jaggery in little water and filter it to remove its impurities.
Remove the seed from the dates or use seedless variety.
Method
In a pan boil together tamarind and dates with just enough water. When it starts boiling, add jaggery.
Add salt, chilli powder, jeera powder and dry ginger powder. Simmer and cook till it reaches a saucy consistency. Mash it well with a potato masher.
Allow it to cool, strain it using a soup strainer, pressing it well with a ladle to extract as much pulp as you can. Store it in an airtight container in the refrigerator. This chutney can also be freezed for 15-20 days.
Also refer