Janmashtami also known as Sri Krishna Jayanthi or Gokulashtami is the birth anniversary of Lord Krishna and is celebrated all over India. I made this easy aval payasam as aval or rice flakes is said to be Lord Krishna's favourite. I usually prefer jaggery to sugar as it is rich in iron and is also a healthier option than sugar. Today we will learn how to make Aval Payasam with jaggery following this easy recipe.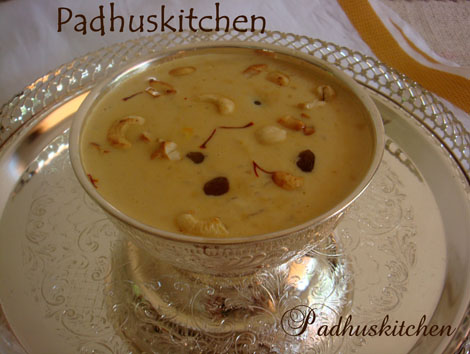 Poha/Aval Kheer Recipe
Prep time – under 10 mins
Cook time – under 20 mins
Serves – 2
Ingredients needed

Aval /Poha – 1/4 cup
Jaggery -1/4 cup
Milk – 2 1/2 cups (boiled)
Ghee – 2 1/2 tsp
Cashew nuts -5-6
Cardamom powder -1/4 tsp
Saffron -2-3 strands
Raisins – 8-10
Preparation
Heat a tsp of ghee in a pan and fry raisins and cashew nuts separately. Keep it aside.
Soak saffron strands in a tbsp of milk and keep it aside.
If jaggery has impurities, dissolve it in little water (less than 1/4 cup) and filter it.
Method
Heat ghee in a pan, add aval and fry till it changes color.
Add boiled milk to the aval, simmer and cook till milk reduces a little. Simultaneously aval will also become soft.
Then add jaggery, cardamom powder, saffron, mix well and switch off the flame immediately.
Garnish with cashew nuts and raisin and serve hot or cold.
Note– Once you add jaggery, you should not heat or boil the milk as there are chances of the milk curdling.
Keep in mind whenever you make any jaggery based payasam, either the milk should be at room temperature or the jaggery should be at room temperature. Both should not be hot as there are chances of the milk curdling. Also use only fresh milk.
If you like this recipe then please take a moment to like us on Facebook or follow me on Twitter or join me on Google plus to keep up to date with Padhuskitchen.