I was so fascinated by this Zebra Cake that I wanted to give it a try. It is similar to the marble cake recipe but the pattern is zebra striped which makes it look spectacular.I thoroughly enjoyed making this cake. It would be great for kids.Though I have used chocolate and vanilla flavor, you can try any two colors and flavors. Those who do not include eggs in their diet can try this same method using my eggless marble cake recipe.Today we will learn how to make Zebra cake following this easy recipe.
How to prepare Zebra Striped marble cake
Recipe Source-Azerbaijan Cookbook
Prep time -under 15 mins
Bake time – 40 mins
Yields -one 9-inch (23 cm) round cake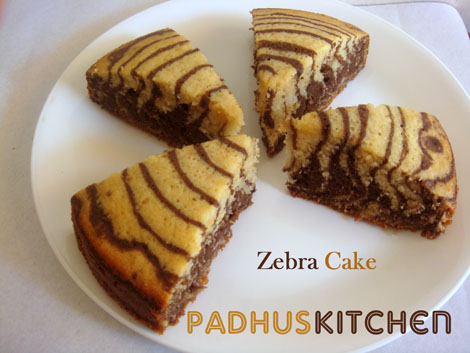 Ingredients needed
Sugar – 1 cup (granulated )
Eggs – 4
Milk – 1 cup (room temperature)
Oil – 1 cup (any flavourless oil)
Vanilla essence -1/2 tsp
All purpose flour/Maida -2 cups
Baking powder -1 tbsp
Cocoa powder -2 tbsp
9 inch round Cake pan
Preparation
Preheat the oven to 350F (180C)
Sieve maida with baking powder three time and keep it aside.
Sieve cocoa powder separately if there are any lumps.
Grease and flour a 9-inch (23 cm) cake tin. If you do not have a 9 inch cake pan, you can even use your 9 inch cooker aluminium separator as I have done.Grease it and then line it with parchment paper.
Method
Beat the eggs well with an electric hand mixer or wire whisk.
Add sugar and beat until the mixture is creamy.
Add milk + oil + Vanilla essence and mix well.
Fold in maida/ all purpose flour gently.
Now divide the batter into two equal parts. To one part mix cocoa powder and keep the other part plain. Now we have 2 batter – the vanilla (ie the plain batter) and the cocoa batter.( You can mix cocoa powder with a tbsp of milk and then add it to one half of the batter)
How to bring Zebra strip effect
Now pour 1/4 cup of plain batter in the center of the baking pan.(pic 1 CW)
Then pour 1/4 cup of cocoa batter on top of the vanilla batter in the center (pic -2)
Do not disturb or try to shake it or wait for it to spread or tilt the pan for it to spread. It will spread by itself. Keep on pouring both the batter alternatively until all the batter is over. Pic -3
Final picture of the cake batter before going into the oven. (pic 4).You can do it better than me.(My daughter who was taking pictures accidentally hit my hands while I was pouring the batter, so it got slightly mixed)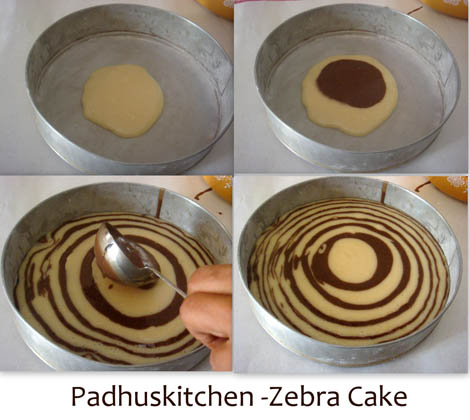 Bake in a pre heated oven for about 40 minutes or until a toothprick inserted in the center of the cake comes out clean.
Remove the cake from the oven, loosen the sides of the cake with a knife and invert it on a plate. Leave it to cool.Then you can cut it and enjoy your Zebra cake!
I packed it for my daughter's friends and they enjoyed it a lot.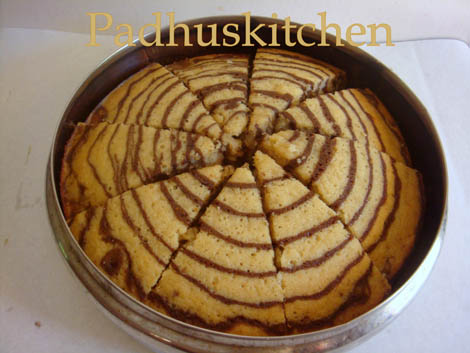 Surprise your family by preparing this easy Zebra marble cake and do let me know how it turned out.
Updated – I tried Zebra cake with butter. Instead of oil, I used 1 1/4 cup of butter (284 grams). It turned out well. If you are using butter, the procedure will be slightly different. First beat butter until soft and creamy. Then add sugar and beat until light and fluffy. Then add eggs and beat. Rest of the procedure after that is the same as above.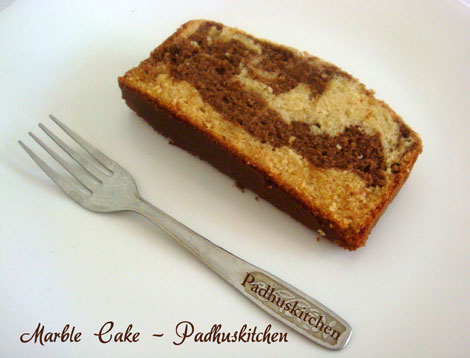 If you like this recipe then please take a moment to like us on Facebook or follow me on Twitter or join me on Google plus to keep up to date with Padhuskitchen.