Poori is a very popular Indian fried Flat bread. Though I love pooris, I do not prepare it often. I prepare it only on special occasions or when we have guests at home. The best accompaniment for poori is potato masala or aloo bhaji.Today we will learn how to prepare puri following our easy recipe. I have made it easier for beginners with easy step wise pictures.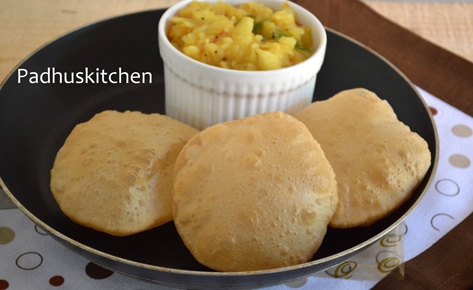 Poori with potato masala
How to prepare Poori
Yields – 7-9 pooris (depending on the size)
Ingredients needed
Whole wheat flour – 1 cup (I used aashirwad atta)
Salt – 1/2 tsp flat
Ghee – 1 tsp (optional)
Oil for deep frying pooris
Little wheat flour for dusting
Method
Mix flour, salt and ghee in a bowl.Then add water little at a time and make a slightly stiff and smooth dough. Dough should not be too stiff nor too soft.(a little stiffer than chapati dough). Do not allow the dough to sit as it will soak up lot of oil. So start making pooris as soon as the dough is ready.
Knead well and roll it as you see in the picture below.

Make equal sized smooth balls from the dough. Flatten it slightly.

Roll it out into circles with a help of a rolling pin dusting a little flour.The rolled out puris should not be too thin nor too thick. It should be of medium thickness and smaller in size (diameter) than chapati. Another point to note is that as far as possible avoid dusting too much flour as the excess flour will leave a burnt residue in the oil. Alternatively you can apply a little oil on the rolling surface and then roll out pooris, so that the dough does not stick to the board.

Spread all the rolled out puris in a plate and start heating the oil in a kadai.
Oil temperature
To check if the oil is hot for frying the pooris, drop a small piece of dough into the hot oil, if it sizzles and comes up to the surface immediately, then it is the right temperature for frying pooris. If the dough becomes dark brown, then the oil is too hot, so you should reduce the heat a little.The point to be noted is that-the oil should be hot but not too hot till smoking point.
Now we will start frying the puris one at a time.

When the oil is hot enough, take one rolled out dough and gently slide it from the side of the pan into the hot oil. After a few seconds, slightly press the poori with the slotted ladle and flicker hot oil on top of it.This will help the puri to puff up nicely. Flip to the other side and fry till golden brown. Remove with a slotted ladle and place it in a colander to drain excess oil.
Repeat the process for the rest of the dough.

Serve hot with pototo masala or any side dish of your choice.
If you found this post useful, I would really love it if you pin it or share it with your Facebook fans or Twitter followers or Google+ circles today. All it takes is a simple click on the "pin it" "like," "share," "tweet," or Google+ buttons below the post. Thank you!