I wanted to do something exotic for Christmas, so I decided to make these really creative cookies.I had lot of fun making these cookies along with my daughter.Cookies make wonderful gifts for Christmas.They will bring happiness and cheer to anyone who receives them. This recipe from the book Essentials of Baking by Williams Sonoma. Today we will learn how to make this easy and delightfully festive cookies.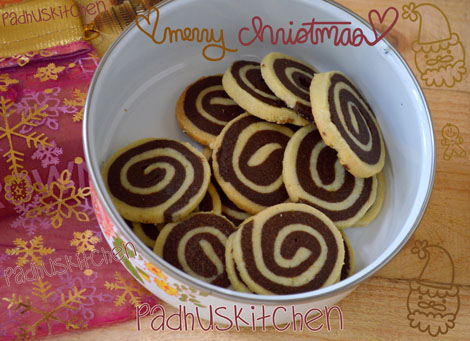 Ingredients needed
All purpose flour/ maida – 1 cup
Baking powder -1/4 tsp
Salt -a pinch
Unsalted butter – 115 grams
Sugar -1/2 cup (granulated white sugar)
Egg – 1 separated
Vanilla essence – 1 tsp
Orange zest – 1 tsp
Semisweet chocolate – 30 grams chopped
Cocoa powder – 2 tsp
Preparation
Seive maida, baking powder and salt together twice.Keep it aside.
Double boil chocolate and leave it to cool. (ie- melt chocolate over a bowl of hot water)
Powder sugar.
Method
In a bowl combine together butter and sugar until smooth.
Add vanilla essence, egg yolk and beat until well blended
Add the dry ingredients (maida + baking powder + salt) little at a time and mix well until you get a smooth dough.
Now divide the dough into 2 equal parts.
To one part add orange zest and mix well.(we will call this the orange dough)
To the other part add chocolate and cocoa powder and mix until well blended.(I mixed cocoa powder with the chocolate first and then added the chocolate+cocoa mix to the dough and blended well)
Refrigerate both the dough separately in a plastic wrap until firm. (see pic-1 below)
Now place the orange dough between 2 sheets of parchment paper and roll out into a 10 * 5 rectangle 1/2 inch thick. I did not roll out into a rectangle but later trimmed the sides of the dough.

Now place the chocolate dough between 2 sheets of waxed paper or parchment paper and roll out into a 10 * 5 rectangle 1/2 inch thick. I did not roll out into a rectangle but later trimmed the sides of the dough. But I suggest that you roll out into a rectangle to make things easy and less messy.
Now remove the parchment paper on top of the chocolate dough.Beat egg white until foamy and apply lightly over top surface of the chocolate dough. Then with the wax paper below flip the chocolate dough on top of the orange dough. Press it nicely and discard the wax paper on top.(see second pic below) I skipped the egg white and just pressed both the dough together.
Trim the edges neatly and roll both the dough together lightly and discard the other paper also.Seal the edges neatly.
Now wrap the roll in a plastic wrap or parchment paper and refrigerate until firm or overnight. I refrigerated overnight.

Preheat the oven at 180 degree C for 15 minutes before baking the cookies.
Unwrap the dough and using a sharp knife cut the dough crosswise into slices 1/4 inch thick.

Line baking tray with parchment paper or grease and flour the baking tray and arrange the cookies 1 inch apart.
Bake at 180 degree C until the edges turns golden brown. Do not over bake the cookies. Cool on a wire rack and then store it in an airtight container.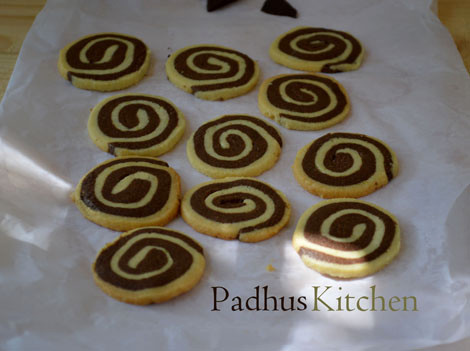 Enjoy making these exotic cookies for Christmas.
If you found this post useful, I would really love it if you pin it or share it with your Facebook fans or Twitter followers or Google+ circles today. All it takes is a simple click on the "pin it" "like," "share," "tweet," or Google+ buttons below the post. It will keep me motivated. Thank you!