I love fresh fruit juices and I always stock my fridge with fresh fruits and vegetables. Whenever I feel like drinking something cold or when I feel hungry in between meals, I opt for fresh juice.I do not stock any aerated drinks or colas in my fridge nor do I encourage my children as they are mostly loaded with sugar and devoid of nutritional value.Today we will learn how to make fresh orange carrot juice without a food processor.Yes, you heard it right. You don't need a food processor to whip up refreshing and healthy juices.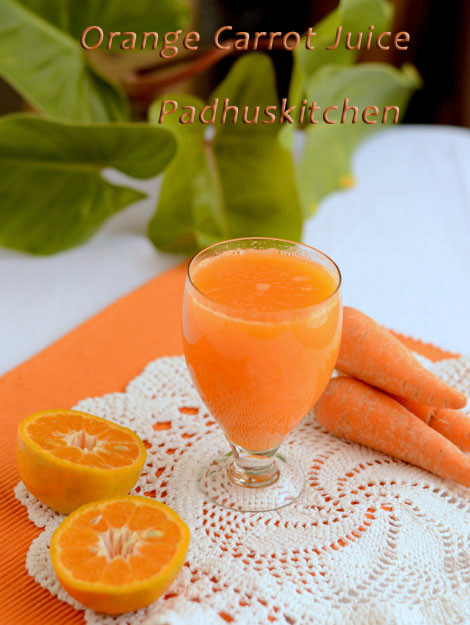 How to prepare Orange Carrot Juice
Prep time – under 15 mins
Serves – 1
Ingredients needed
Oranges – 3
Carrots -2
Honey to taste (optional)
Method
Wash and peel the carrots. Chop it into cubes, add 1/4 cup of water and blend it in a mixie to a smooth paste. Strain using a muslin or a cheese cloth. Squeeze it to extract as much juice as possible. Keep it aside.
Cut oranges into half.
Now using an ordinary citrus juicer, squeeze juice from all the oranges.
Now mix orange juice and carrot juice together. Add honey if required. (you don't need it if your oranges are sweet enough)
Serve chilled.
Note – Use red carrots if available in your place.
Refer more Juice and Smoothie recipes
If you found this post useful, kindly consider linking to it or sharing it with others or like us on Facebook or follow me on Twitter or join me on GooglePlus to keep up to date with Padhuskitchen