Can you believe that you can make a delicious low calorie cabbage kootu in just 15 minutes with only 1 tsp of oil. I prepare cabbage kootu in 3-4 ways and this is one way of preparing it. It goes well with both rice and roti and is also good for health. Actually I prepared this cabbage kootu and salad for lunch one day. We mixed kootu with rice and had salad as a side dish for this. We all loved it very much. See, what a simple yet healthy and delicious lunch. It took only 15-20 minutes for me to prepare this lunch menu. So what I am trying to convey is that, there are so many delicious and healthy recipes that can be prepared in just 15 minutes time. Today we will learn How to make Cabbage Kootu (Muttakos Kootu -Tamil Brahmin Style-no onion-no garlic recipe)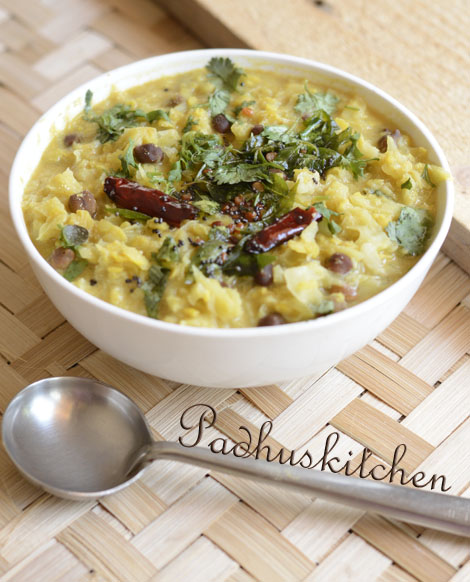 How to make Cabbage Kootu (Tamil Brahmin Style-no onion-no garlic recipe)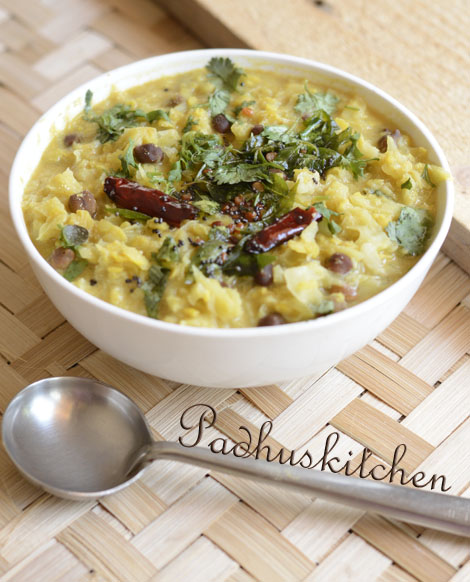 Prep Time : 10 mins
Cook Time
:
15 mins
Serves
:
3-4
Recipe Category
:
Side Dish-Kootu-Cabbage
Recipe Cuisine
:
Tamil Brahmin
Author
:
Padhu Sankar
Ingredients needed
Cabbage – 3 cups chopped
Moong dal or a mix of moong + tur dal – 1/4 cup
Sambar powder – 2 tsp
Turmeric powder -1/4 tsp
Curry leaves -3-4 leaves
Brown or white channa (kondai kadalai/chick peas) – fistful -(optional)
Salt as needed
For the Paste
Grated coconut – 1/4 cup
Cumin seeds/ jeera seeds – 1 tsp
Fried gram/pottu kadalai – 1 1/2 tsp or use rice flour – 3/4 tsp ( this is used only for thickening)
For the seasoning
Oil -1 tsp
Mustard seeds – 3/4 tsp
Urad dal – 1/2 tsp
Hing/asafoetida – a pinch
Curry leaves – few
For Garnishing
Coriander leaves
Preparation

We will divide this recipe into 3 easy steps – 1. Pressure cook cabbage 2. Add the ground paste 3.Boil and season the kootu. That's it, your cabbage kootu is ready!! Let's get started.
Chop cabbage or shred cabbage thinly.
Soak channa overnight and pressure cook with a little salt until soft. Keep it aside.
Grind ingredients mentioned under "For the paste" to a fine paste with little water and keep it ready.
Method
Step-1 – Take a pressure pan or cooker, add chopped cabbage, turmeric powder, sambar powder, salt needed, dal, curry leaves and 1 cup of water. (picture below)

Pressure cook for 3 whistles. Open after the pressure subsides. (picture below)

Step 2 – After opening the cooker, add cooked brown channa, ground paste, another 3/4 cup of water and boil well.

Step 3 – Season the kootu – Heat a tsp of oil, add mustard seeds, when it sputters, add urad dal. When dal turns golden brown, add hing, red chillies, curry leaves and pour it over the kootu.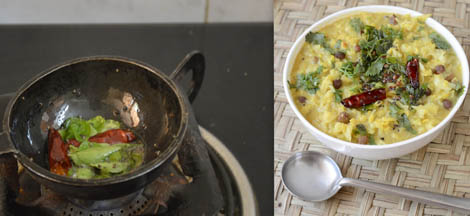 Garnish with finely chopped coriander leaves and serve hot with rice or chapati.
Variations
You can add peas instead of channa. If using dry peas, soak it overnight and pressure cook.
If you use tur dal alone, you have to cook dal separately. If you add moong dal or moong dal + tur dal as I have done, you can add it along with cabbage and pressure cook.
Suggested Combinations
Cabbage kootu + chappati
Cabbage kootu + rasam + rice
Kootu + thogayal + rice
Kootu + salad + rice (this kootu tastes great even when mixed with hot steamed rice, topped with 1/2 tsp of ghee. Vegetable or cucumber salad is a great combo with this.) Do try these easy lunch menus. Find more Indian
Lunch Menus
If you found this post useful, kindly consider linking to it or sharing it with others or like us on
Facebook
or follow me on
Twitter
or join me on
GooglePlus
to keep up to date with Padhuskitchen.