Who doesn't love ice creams? Homemade ice cream is very simple to make and tastes great. You do not need an ice cream maker to prepare ice cream at home. This basic vanilla ice cream is made with easily available ingredients and is very simple to prepare. You can also use this recipe as a base for making other ice creams by adding different flavor. Today we will see how to make vanilla ice-cream at home without the help of an ice cream maker.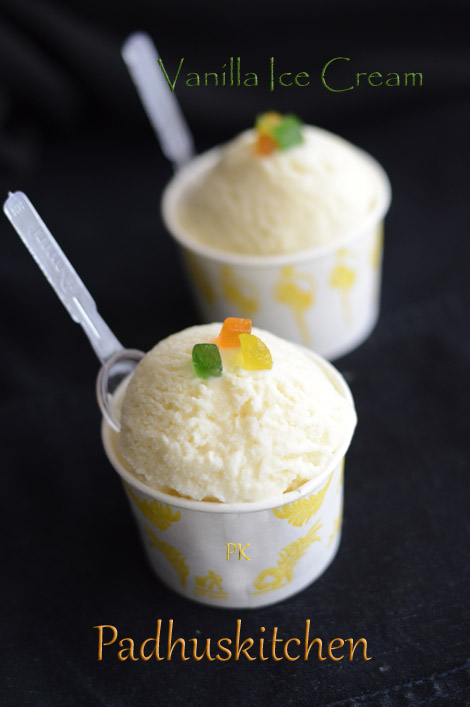 How to make Vanilla Ice Cream
Ingredients needed
Milk – 2 1/2 cup or 1/2 liter (full fat milk)
Granulated white Sugar – 3/4 cup
Vanilla essence – 1 tsp
Cornflour – 1 tbsp
Gelatin – 1 tsp
Dairy cream – 1 cup (ready made or homemade)*
Preparation
Keep the freeze setting in maximum.
Mix cornflour in 2 tbsp of cold milk and keep it ready.
Soak gelatin in 2 tbsp lukewarm water for 5 minutes. Then stir it over a bowl of warm water until it dissolves.
Method
Boil milk until it reduces a little.This is done to prevent ice crystal formation.
Add sugar and stir until sugar dissolves.
Reduce the flame and mix cornflour gradually stirring continuously. When the milk starts thickening, switch off the flame.
When the milk is lukewarm, add gelatin and mix well. Chill it in the freezer for 2 hours.
Then add fresh cream, vanilla essence and beat with a wooden ladle. If you are using electric beater, then beat it in low speed for a few minutes, keeping the vessel over a bowl of ice cubes. (Do not use mixie)
Pour it in an aluminium tray or box with a lid and keep it in the freezer. Once half set, remove from the freezer, beat it for a few minutes and pour it back into the pan and freeze again.
You can beat 2-3 times. This is done to get creamier ice cream.
Your homemade ice cream is ready once it sets. Allow it to thaw for 5 minutes before serving.
You can jazz up ice cream with tutti frutti, toasted nuts,chopped fruits or crumbled cookies and enjoy!!
By the time I finished taking pictures, the ice cream started melting. I posted this picture because I loved it very much.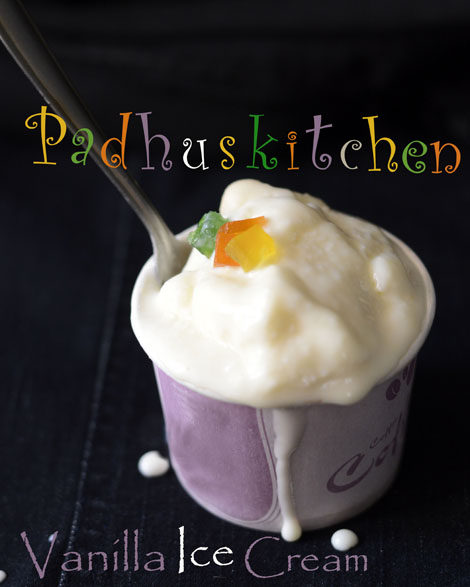 Easy Vanilla Ice Cream
Note
Aluminium containers freeze faster. Use containers with lids. If you do not have a lid, use a plastic sheet to cover the ice cream to prevent crystal formation. Shallow containers are preferable as they set faster.
*For homemade cream
– Boil milk, allow it to cool and keep it in the fridge overnight. The next morning you will find a layer of thick cream on the top. You can collect that cream and store it in the freezer. You can use this cream for preparing ice cream. I used only homemade cream for this recipe.
Pure vegetarians can substitute gelatin with agar agar/china grass.
More Ice Cream Recipes
If you found this post useful, I would really love it if you pin it or share it with your Facebook fans or Twitter followers or Google+ circles today. All it takes is a simple click on the "pin it" "like," "share," "tweet," or Google+ buttons below the post. It will keep me motivated. Thank you!