This is a very easy Indo Chinese recipe prepared with vegetables, noodles and schezwan sauce or chutney. If you have schezwan sauce or chutney with you, preparing stir fry Schezwan noodles is a breeze. Today we will learn
how to make Schezwan Veg Noodles
following this easy recipe.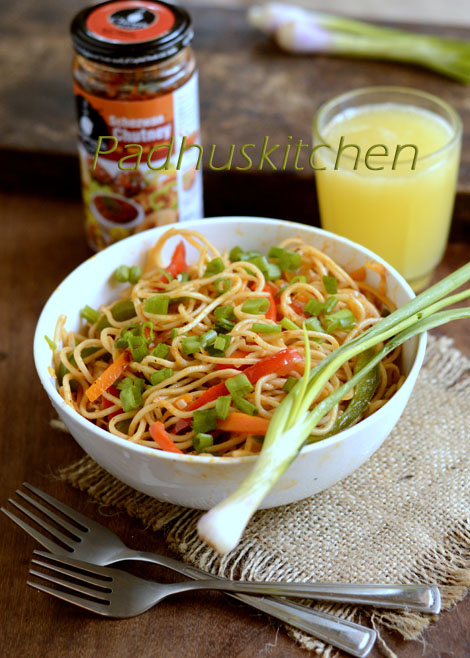 Schezwan Stir Fry Veg Hakka Noodles
Prep time – under 10 mins
Cook time – under 15 mins
Serves – 2
Ingredients needed
Ching's Secret Hakka Veg Noodles- 1 packet
Onion – 1 finely chopped
Garlic – 2 tbsp finely chopped
Cabbage -1 cup
Capsicum (all colors) – 1 cup julienned
Carrot – 1 medium size julienned
Spring onion greens -2 tbsp
Ching's Secret Schezwan Chutney/sauce – 2 tsp
Salt and pepper powder to taste
Oil – 1 tbsp

For garnishing
Spring onion greens -2 tbsp
Preparation


Bring 8-9 cups of water to rolling boil. Add hakka noodles and cook for 2 minutes. Do not overcook the noodles. Drain the water completely and pour cold water on the noodles. Drain and then spread it on a plate. Toss 2 tsp of oil on the noodles. This is done to prevent the noodles from sticking to each other.
Finely chop onion, garlic and spring onion greens.
Cut cabbage, capsicum and carrot into thin strips.
Method
Heat oil, add finely chopped onions and garlic. Saute until onions turn pink.
Add carrots and saute on high heat of 4-5 seconds.
Add cabbage, spring onion greens, saute for 3-4 seconds and then add capsicum. The whole process has to be done on high flame. The vegetables should retain their crispiness, so take care not to overcook the vegetables.
Add 2 tsps of Ching's Secret Schezwan Chutney, salt needed and saute for another 2 minutes.
Reduce the flame, add the cooked noodles and toss until it is well coated with the sauce. Add pepper powder to taste.
Garnish with spring onion greens and serve hot.
* This is not a paid review. I wrote it out of my own interest as I like Ching's Secret Schezwan Chutney and hakka noodles.
If you found this post useful, I would really love it if you pin it or share it with your Facebook fans or Twitter followers or Google+ circles today. All it takes is a simple click on the "pin it" "like," "share," "tweet," or Google+ buttons below the post. It will keep me motivated. Thank you!