Rasmalai is a very popular Indian (Bengali) sweet prepared with paneer (Indian cottage cheese). Ras means 'juice' and malai means 'cream'. Rasmalai is actually
rasgulla
soaked in rich saffron flavored creamy milk. This rich dessert is usually prepared on special occasions and is served after meals. As Diwali in nearing, I wanted to post something special for all my readers, so here I am with this very popular dessert. Today we will learn how to prepare Rasmalai at home with step wise pictures following this easy recipe.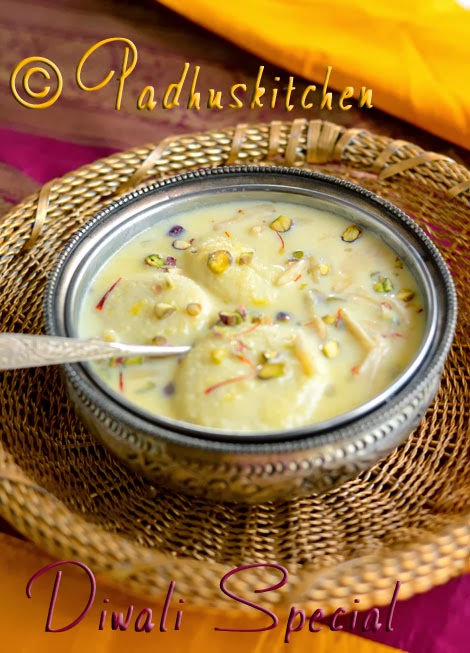 How to make Rasmalai at home
Cook time -under 40 mins
Yields – 6 rasmalais for 110 grams of chenna
I am going to make this recipe as easy as possible.There are 3 steps in making Rasmalai
1. Preparing Paneer
2.Preparing Rasgulla
3 Preparing the Creamy saffron flavored milk or ras for rasmalai
Step -1 Preparation of Paneer
I am going to start with paneer. I am not going to explain how to prepare paneer as I have already done a detailed post on
how to make paneer at home
. Kindly refer that. You need homemade paneer to make rasgulla and rasmalai. Now you have paneer ready with you.
Step- 2- Preparation of rasgulla
Ingredients needed
For the Rasgulla discs
Homemade paneer (chenna) – 110 grams (make paneer from 1 liter of milk)
Semolina/rava (any rava) – 1 tsp
Cardamom – 1/4 tsp
Sugar – 2 tsp
All purpose flour or maida for dusting -1 tbsp
For the sugar syrup
Water – 2 1/2 cup
Sugar -1 cup
Method
Knead paneer well into a pliable paste or until your hands become oily.Knead using the heel of your hands. Then add a tsp of rava, cardamom powder,sugar and knead lightly. (picture below shows paneer which is not kneaded)
Then divide the paneer into equal pieces and make smooth balls. Ensure that there are no cracks. Then flatten it in the shape of a disc and place it on a maida dusted plate.(if you are going to stop with preparing rasgulla, make balls and not discs)
Heat sugar and water over low flame. Once the sugar dissolves, increase the flame. When the sugar water comes to rolling boil, reduce the temperature to medium and gently drop the prepared discs. See to it that the paneer discs do not touch each other. Close it and let it cook for 15 minutes. Check in between. After 15-20 minutes, the rasgullas would have doubled its original size (see picture below). Switch off the flame and let it cool. This is rasgulla. Let the rasgulla remain soaked in sugar syrup for 1-2 hours. We will prepare the saffron flavored milk for rasmalai.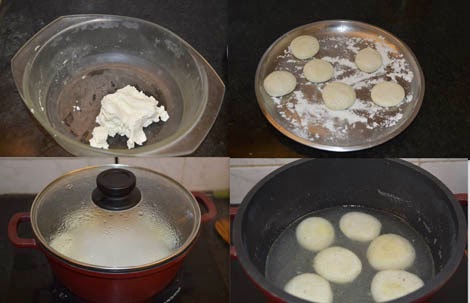 Step-3 Preparation of Rasmalai
For the saffron flavored milk
Milk – 2 1/2 cups or 1/2 liter
Sugar – 1/3 cup
Cardamom powder -1/4 tsp
Saffron -7-8 strands
Pistachio -chopped – 2-3 tbsp
Almonds (blanched and thinly sliced/slivered) -2-3 tbsp
For garnishing
Blanched almond slivered
Pistachio chopped
Method
Boil 2 1/2 cups of milk until it reduces to 1 1/4 cup. Keep the flame in medium low and keep stirring from time to time to prevent the milk from getting burnt.
Add sugar, cardamom powder and mix until the sugar dissolves.Switch off the flame. Add almonds, pistachio and saffron soaked in a tbsp of milk. Mix well.
Now take the rasgulla from the sugar syrup, squeeze out the excess sugar syrup gently (Keep it between 2 flat ladles and press it gently as shown below in the picture below).
Then drop it into the creamy milk and let it cool. Once it cools, refrigerated it and serve chilled garnished with more almonds and pistachio.

The rasmalai was very soft and we all enjoyed it a lot. It was more delicious than what we get in shops. Just with 110 grams of paneer, you get 6 rasmalais. This is a perfect dessert for parties and get togethers. You can prepare it a day before and keep it in the refrigerator.
Note – You can prepare rasgulla in pressure cooker also but do not put the weight.
Check out more than 50 Diwali Recipes (both Diwali snacks and sweets) or click the 7 Cup Burfi picture below to take you to that page. Enjoy this Diwali with homemade sweets and snacks.
If you found this post useful, I would really love it if you pin it or share it with your Facebook fans or Twitter followers or Google+ circles today. All it takes is a simple click on the "pin it" "like," "share," "tweet," or Google+ buttons below the post. It will keep me motivated. Thank you!