I prepare this rasam at least once in a week. It can be had with hot rice topped with ghee or as an appetizer. It is very good for common cold, sore throat, loss of appetite and fever. When someone suffers from any of the above symptoms in my house, then this rasam will definitely make an appearance in our table. Garlic has been used for its beneficial effects for thousands of years. It is said to be a natural antibiotic and a blood cleanser. It helps in lowering blood pressure. Black pepper also has many medicinal benefits, apart from giving taste and flavor to the dishes. It is an excellent source of manganese, a very good source of iron, vitamin K, and a good source of dietary fiber. This Simple Garlic Rasam, a combination of garlic and pepper has many medicinal benefits. It is a good home remedy for common cold, sore throat and fever. This can be had even on normal days. It can be prepared in a jiffy and taste delicious. Today we will learn how to make garlic rasam (poondu rasam) following this simple recipe.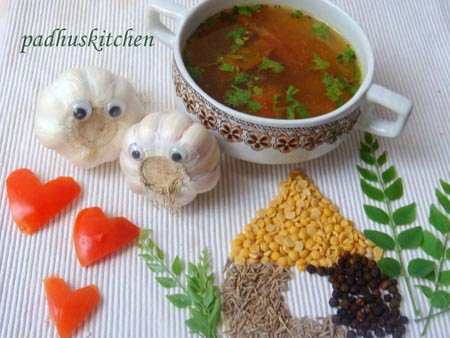 How to make Garlic (poondu) Rasam
Garlic Rasam-Poondu Rasam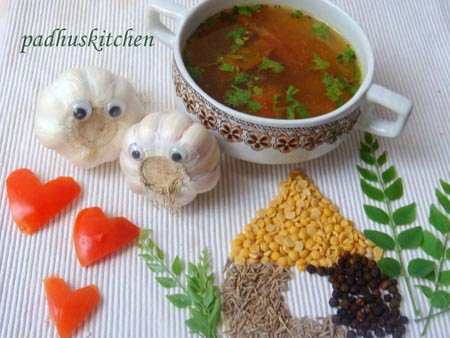 Prep Time : 10 mins
Cook Time
:
15 mins
Yields
:
3 cups of rasam
Recipe Category
:
Rasam-Soup
Recipe Cuisine
:
South Indian Tamil Brahmin
Ingredients needed
Tamarind- small gooseberry size ball (10 grams)
Garlic -5-6 cloves peeled and 1 crushed
Tomato -1-2 chopped (medium size)
Salt as required
For grinding
Whole black pepper -1 tsp
Cumin seeds -1 tsp
Tur dal -1 tsp
Garlic -1 clove (optional)
For the seasoning
Ghee -1 tsp
Mustard -1/2 tsp
Cumin/jeera seeds – 1/2 tsp
Curry leaves – few
For Garnishing
Coriander leaves – finely chopped

Soak tamarind in hot water for 15-20 minutes. Extract 1 cup of tamarind juice and discard the pulp.

Dry grind whole black pepper (milagu), cumin seeds, tur dal and 1 garlic clove (added just to give more flavor to the rasam) for a few seconds. It should be slightly coarse.
Method
Take tamarind extract (about 1 cup), add chopped tomatoes, salt, curry leaves, whole peeled garlic,1 crushed garlic and the coarsely ground powder.
Boil over low flame until it reduces a little and the raw smell of the tamarind goes.
Then add 1 1/2-1 3/4 cup of water. When you see froth forming on the surface, switch off the gas. Do not boil the rasam as it will not taste good.
Heat a tsp of ghee, add mustard seeds, jeera seeds, when it sizzles, add curry leaves and pour it over the rasam.
Garnish with finely chopped coriander leaves.
Serve hot with hot steamed rice or have it as a soup. This rasam is very comforting, has medicinal properties and gives relief from common cold.
Note– I have used old tamarind. Naatu poondu gives more flavor to the rasam, though you can use china poondu also.
More Rasam Recipes
Check out more South Indian Rasam Varieties
Don't forget to hit the +1, Share button, Tweet button, Pin it button, if you like the post. You can follow us on Google Plus, Pinterest, Twitter, Facebook and Subscribe to RSS Feed to receive latest updates.