Quinoa is gluten free, low in fat, rich in fiber and a good source of protein. Quinoa Vegetable Pilaf (pulao) with beans is easy to prepare, delicious, filling, healthy and is a wholesome meal. It can be had for lunch or dinner. It is a great for vegetarians and vegans looking for protein rich food. I have garnished it with a mix of hulled sunflower, pumpkin, sesame and linseed to make it more nutritious. In our last post we learn't how to cook Quinoa and its health benefits, today we will learn how to make a simple pilaf (pulao) using quinoa and pinto beans.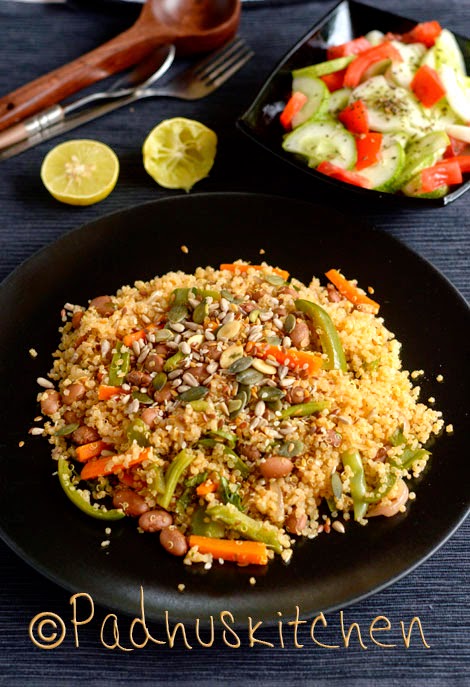 Vegetable Quinoa Pilaf with pinto beans topped with a mix of seeds-cucumber tomato salad
Vegetable Quinoa Pilaf Recipe with Pinto Beans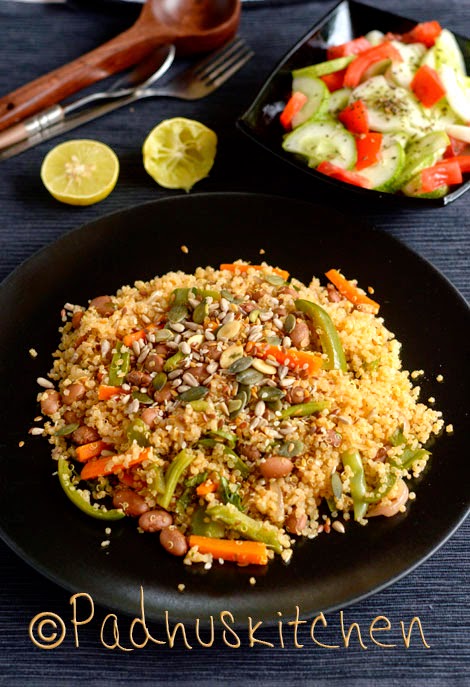 Prep Time : 15 mins
Cook Time
:
15 mins
Serves
:
1
Recipe Category
:
Vegetarian
Recipe Cuisine
:
Indian
Ingredients needed
Quinoa (uncooked) – 1/2 cup
Onion -1
Garlic -2-3 cloves
Ginger – 1 inch piece peeled
Green chilli-1 slit
Vegetables and beans
Beans -5-6
Carrot -1 medium
Capsicum -1 small capsicum
Pinto beans -1/4 cup uncooked or 1/2 cup cooked
Spice powder
Chilli powder -1/2 tsp
Biryani Masala/pulao masala -1 tsp
Salt to taste
Lemon juice – 1 tbsp
For the seasoning
Vegetable oil – 1 1/2 tbsp
Cumin seeds -3/4 tsp
Bay Leaf -1
For Garnishing
Coriander leaves finely chopped
Mixed toasted seeds (pumpkin, sesame, sunflower,linseed)
Preparation
Cook 1/2 cup of quinoa in 1 cup of water. Check out health benefits of quinoa and how to cook Quinoa in detail. Once cooked, fluff quinoa with a fork and leave it to cool.

Chop the vegetables lengthwise.

Mince ginger and garlic together or grind it coarsely.
Wash and soak pinto beans overnight. Pressure cook with a little salt for 4 whistles or until soft. Skip this step if using canned beans (just drain and rinse).
Method
Heat oil in a pan, add cumin seeds and bay leaf. When cumin seeds sizzle, add onions and slit green chilli.

Saute until onions turn transparent. Add ginger garlic and saute for a few more minutes.


Add beans, carrot and saute for 2-3 seconds. Then add little water and cook beans and carrot until tender.

Add capsicum, chilli powder, biryani masala powder (available ready made in all Indian stores) and salt needed. Cook for 3-4 minutes on medium flame or until capsicum is half done. Capsicum should retain its crunchiness, so take care not to over cook it.

Add cooked beans, cooked quinoa and mix everything well.Remove from heat. Check for salt. Add lemon juice, mix well and garnish with finely chopped coriander leaves.

Top it with a mix of hulled pumpkin seeds, sunflower seeds, sesame seeds and linseed. These seeds contain omega 6 and are full of essential vitamins and minerals. So I added them to the pulao but it is optional.
Note – If you cannot get biryani masala powder, you can add garam masala powder. Biryani masala powder is available online also.
Don't forget to hit the +1, Share button, Tweet button, Pin it button, if you like the post. You can follow us on Google Plus, Pinterest, Twitter, Facebook and Subscribe to RSS Feed to receive latest updates.