This laddu is made of 2 very healthy ingredients – one is black gram or black lentils also know as urad dal in Hindi and ulutam paruppu in Tamil and another one is green gram also known as mung dal in Hindi and pachai payaru in Tamil. Both the dals have numerous health benefits. Both are good source of vitamins, minerals and also a rich source of protein. Urad dal is considered good for women's health as it is rich in iron, folic acid, calcium, magnesium and potassium. Consuming urad dal regularly boosts energy levels significantly. Both are rich in fiber, reduces cholesterol and boost health. Apart from these 2 ingredients, I have added nuts and raisins to give the laddu or urundai some texture. It is not that you have to prepare this only during festival season, it can be given to children as after school snacks or can be packed in their snack box. Today we will learn how to make payaru uluntha mavu urundai following this easy recipe with step wise pictures.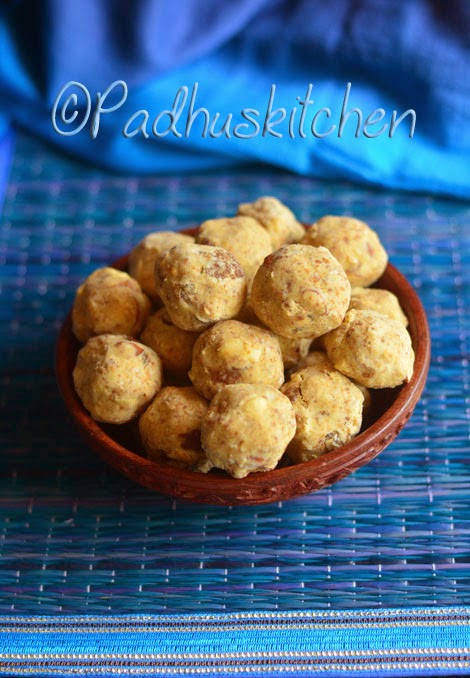 Payaru Ulundu Urundai-Payatham Maavu Ulundu Laddu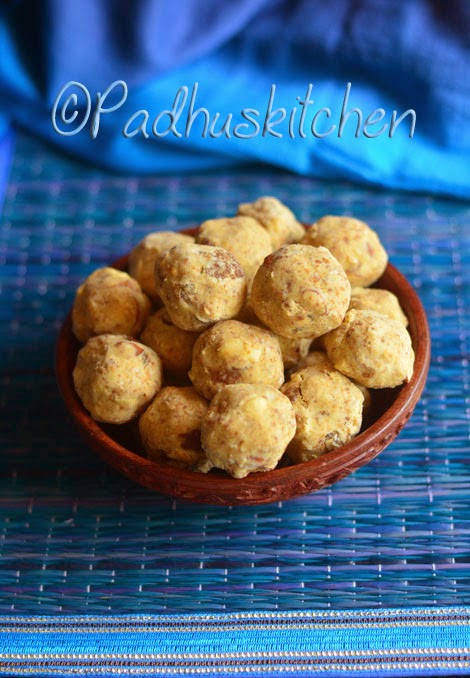 Prep Time : 30 mins
Cook Time
:
10 mins
Yields
:
17 laddus
Recipe Category
:
Healthy Snacks-Indian Sweet
Recipe Cuisine
:
South Indian
Author
:
Padhu Sankar
Ingredients for the laddu mavu (flour)
Whole skinned urad dal-1/2 kg or 2 cups
Whole green gram or pachai payaru -1/2 kg or 2 1/2 cup
Ingredients needed for making Laddus
Payaru ulundu mavu -1 1/4 cup
Natural unrefined cane sugar (nattu sakkarai)-1/2 cup or as required
Ghee/clarified butter -1/3 cup melted
Assorted nuts -1/2 cup
Raisins -1/4 cup
Cardamom -4 powdered
Roasted Sesame seeds -2 tbsp (optional)
Preparation
Roast urad dal on medium flame until brown. You need lot of patience for this but is worth the effort.

You have to roast urad dal to the color in the picture below. Transfer it to a plate to cool.
Dry roast green gram until you get a nice flavor of roasted green gram. Transfer it to a plate and cool.
Once it cools, mix both and give it to the mill for grinding it to a fine powder. I usually have this ground in the flour mill, and store it. I just take 1 -1 1/4 cup of flour to make laddus as and when required. This laddu flour or laddu mavu can be stored for a month.
Those who do not have a flour mill in their place can prepare in less quantity using the mixie or food processor.
Now the flour for making healthy payaru laddu is ready.
Powder nattu sakkarai finely and keep it aside. You can use white sugar also for this. To make it healthy, I have used natural unrefined cane sugar. You can also use palm sugar. Whatever you use powder it finely and keep it ready.

Method to make ulundu payaru urundai
Chop all the nuts into small pieces. Dry roast all the nuts. I have used cashew nuts, almonds and few walnuts.
In a big plate or bowl, mix together, all the nuts, flour and nattu sakkarai (unrefined cane sugar).

Heat a tsp of ghee, fry the raisins until they puff up and add to the flour + nuts + nattu sakkarai mix.

Add cardamom powder, roasted sesame seeds and mix everything well. Melt ghee and add little to a small portion of flour and make balls. Prepare it batch by batch. Do not pour the ghee to the whole mixture. The ghee has to be warm, so keep it inside a bowl of hot water, add to the mix little at a time and make balls.
Add just enough ghee to make balls. If you feel you can make balls, stop adding ghee. I needed 1/3 cup of ghee. If you would make balls with lesser quantity of ghee, then it is fine.

These payaru ulundu urundai has a self life of 7-10 days.
Prepare healthy snacks like this often at home and enjoy a healthy life!!
Do not miss my lovely collection of 50 Diwali Snacks and Sweets Recipes
If you found this post useful, I would really love it, if you pin it or share it with your Facebook fans or Twitter followers or Google+ circles today. All it takes is a simple click on the "pin it" "like," "share," "tweet," or Google+ buttons below the post. It will keep me motivated. Thank you!