Caramel Custard/Flan is a very popular dessert and is quiet simple to make. The great thing about this dessert is that it not only tastes great but needs just 4 ingredients which is commonly available in most of the homes. I tried this after seeing the recipe
here
, the custard turned out great and we all loved it very much. Today we will learn how to make caramel custard/pudding/flan following this easy recipe with step wise pictures.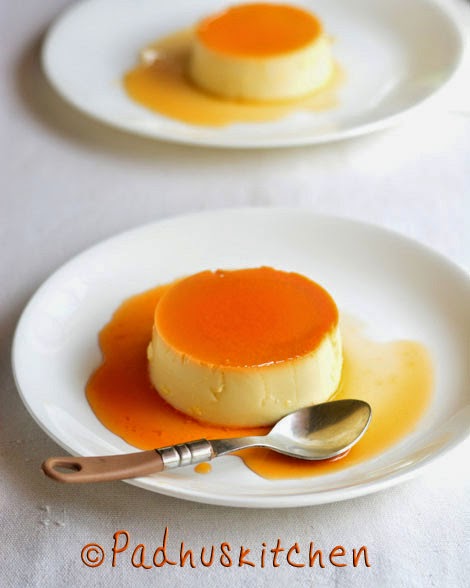 Caramel Custard Recipe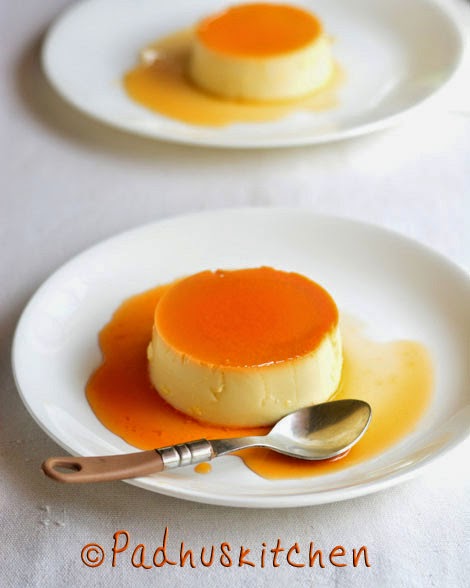 Prep Time : 10 mins
Cook Time
:
30 mins
Serves
:
2-3
Recipe Category
:
Dessert
Recipe Cuisine
:
International
Author
:
Padhu Sankar
Ingredients needed
Eggs -3 small
Milk -1 1/2 cups
Vanilla essence -1 tsp
Sugar -45 grams/3 tbsp
Sugar for caramelizing -1/4 cup
2 Ramekins or any mold
Preparation
Pre-heat the oven at 180 degrees C for 15 minutes.

Take 1/4 of granulated sugar or castor sugar in a pan, add a tbsp of water and heat on medium flame. Stir only until the sugar dissolves and then wait for the sugar to caramelize or turn pale golden color. Once it starts changing color, you can gently swirl the pan for even coloring but do not stir.

Keep a watch because if it turns too dark, it will taste bitter and have a burnt smell. Our caramel is ready below. Pour the prepared caramel evenly into individual ramekins. Make sure that the base of the ramekin is well coated. Allow it to set for 15 minutes.

Method

Break 3 small eggs into a bowl, add a tsp of vanilla essence and 45 grams of powdered sugar or castor sugar. Whisk until frothy using a wire whisk.


Heat milk (milk should not be very hot) and add to the egg mixture whisking continuously to prevent the eggs from getting cooked.

Strain the mixture and leave it to cool. Straining is done to give the custard a smooth texture and to remove undissolved egg white strands. Then pour the milk-egg mixture into the prepared ramekins.


Prepare a water bath -(ie) take a tray, add a cup of water and place the ramekins in it as shown in the picture below and bake in a pre-heated oven for 30 minutes or until a toothpick inserted in the center of the custard comes out clean.


Leave it to cool. Once it comes to room temperature, cover and refrigerate it for 5- 6 hours or overnight.
After refrigeration

Remove from the refrigerator, carefully run a knife and loosen the sides of the ramekin. Place a plate over the mold or ramekin and holding it tightly, turn it upside down and loosen the custard from the ramekin. Serve chilled.
Delicous and silky custard with caramel syrup
You can use a steamer or a pressure cooker also for preparing caramel custard.
Pressure cooker method
Follow the same procedure as above for preparing egg mixture and caramel. Pour the egg mixture into the mould with caramel and cover with an aluminium foil.
Take a pressure cooker, place the perforated metal plate which comes with the cooker. Heat water in a pressure cooker and place the mould and cover with the lid. Once the steam comes out, lower the heat and steam for 25-30 minutes. Do not use the weight/whistle. Once done, let it come to room temperature. Then refrigerate and follow the above steps.
Note

You should pour the egg mixture only after the caramel is set, other wise they will get mixed up and you will not get the caramel effect as shown in the picture above.

You can use any aluminium molds, if you do not have ramekins.

Use good quality vanilla essence to prevent eggy smell.
If you found this post useful, I would really love it, if you pin it or share it with your Facebook fans or Twitter followers or Google+ circles today. All it takes is a simple click on the "pin it" "like," "share," "tweet," or Google+ buttons below the post. It will keep me motivated. Thank you!