Today I am not sharing any recipes but I am going to share with you some food storage tips which I learn't through trial and error, from friends, books etc and have tried and tested it. These tips will help prevent food wastage and also make life easier. Now to the Food Storage tips and tricks (guidelines)-
1.Storing Chapati Dough – If you have leftover chapati dough, apply a thin coating of oil on the surface of the dough (to prevent discoloration and drying) and wrap it well in an aluminium foil. Keep the packed dough inside a zip-lock bag and refrigerate it. It will stay good for 4-5 days in the refrigerator. Bring it to room temperature before using it.
If you want to store roti/chapati dough just for a day, apply a thin coating of oil on the surface of the dough and keep it in a stainless steel container or any air tight container.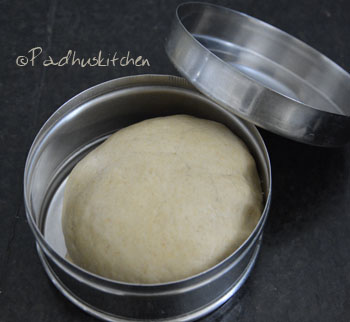 2.How to Store Nuts– Pack then in zip-lock bags and freeze them. They will last for many months.
3.Rice Storage – When storing rice, add a fistful of dried neem leaves at different layers. As dried neem leaves are natural pesticides, it helps to keep the rice free from pest and worms.
4.Storing Potatoes and Onions – Store onion and potatoes separately. Do not store both together. Keep it in a cool, dry place with good ventilation and away from direct sunlight.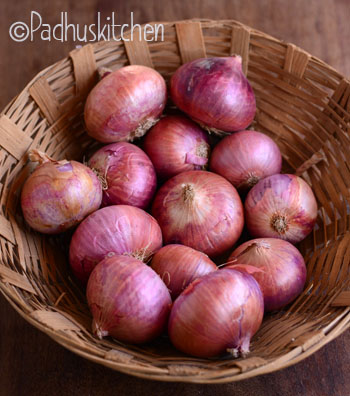 5.How to Store Mushrooms – Store mushrooms in brown paper bags and refrigerate. Avoid storing mushrooms in plastic bag as they will get spoiled quickly because of the moisture trapped in the plastic bags.
6.Storing Lettuce Leaves – Wrap lettuce leaves in paper towel and store it in a plastic bag in the refrigerator. Do not wash the leaves but pat them dry to remove any moisture if present before storing.
7.How to make Greens last longer – Cut the roots of the greens. Line any container (even stainless steel box will work out) with paper towel, place the greens, cover it with another paper towel, close it with the lid and refrigerate. The paper towel lining will absorb the excess moisture and prevent the greens from getting spoiled. Coriander leaves, mint leaves, parsley, even greens like brahmi (vallarai), dwarf copperleaf (ponnanganni), black nightshade (manathakkali) stays fresh for a week.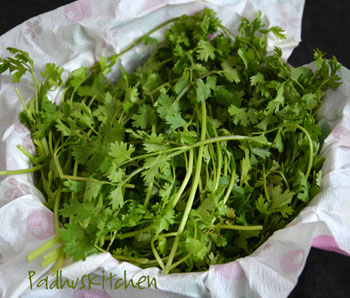 8.Cheese Storage – Apply a little butter to the cut surfaces of cheese to prevent it from drying out. Also pack them in parchment paper or wax paper and store it in a plastic bag in the refrigerator.
9.Tamarind Storage – Discard the seeds, dry it well in the sun, mix a little rock salt to it and store it in a clay pot/container.
10.Storing Papads – Sprinkle a little red chilli powder on the papads while storing them to prevent pest infestation.
11. Biscuit and Cookies Storage Tips – Line a blotting paper at the bottom of the biscuit container to keep biscuits crisp.
Place a sugar cube in the biscuit container to keep biscuits crisps. You can follow the same tips for cookies also.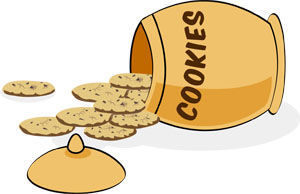 12.Paneer Storage
– Place
paneer
in a container filled with water in the refrigerator to keep it fresh for a week. Change the water in the bowl everyday.
Add little vinegar to a cup of water. Dip a clean cloth in it, squeeze out excess water and wrap paneer in that damp cloth and store it in the refrigerator. It will stay fresh for a few days.
13.Green Chillies
– Remove the stem of the green chillies, pack them in paper bags and store it in the refrigerator.
14.Storing Eggs – It is advisable to avoid storing eggs on the egg rack on the fridge door as it is vulnerable to temperature fluctuations due to frequent opening and closing. Eggs will last longer if stored in their original container on the refrigerator shelf.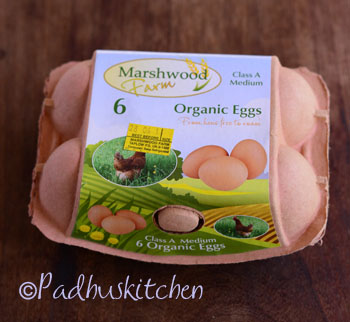 15.Rava/Semolina Storage – Dry roast rava on medium heat until hot to touch. Cool and store it in a food safe and air tight container at room temperature to keep insects at bay.
You can even refrigerate rava in a ziplock bag, if space is not a problem in your refrigerator.
16.Storing Flour – Store it in a container or glass jar with tight-fitting lid. Place 2 or 3 whole bay leaves inside flour containers to keep insects and pest from contaminating it. You can also store flour in the refrigerator.
17.Dal Storage – Add 4-5 dry red chillies when storing lentils (dals). This keeps insects away. Use an airtight container for storage.
18.Storing Guacamole
– One of the methods of preventing
guacamole
from turning brown is to place the seed of the avocado in the middle of the guacamole and refrigerate it. Also you can spray cooking oil (in addition to keeping the seed) over the leftover guacamole and put it inside the refrigerator. Use it with 2 or 3 days.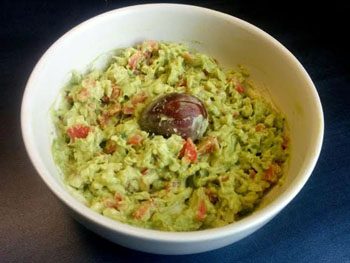 19.Storing Grated Coconut – Grate coconut and store it in an airtight container inside the freezer. It stays good for months together. Bring it to room temperature before using it for your dishes.
20.Storing Ginger – Store unpeeled ginger in a zip lock bag in the crisper of your refrigerator. Make sure to remove all of the air out of the bag.
21.Coffee Powder Storage – Store coffee powder in an air tight container in the refrigerator to retain its flavor and aroma.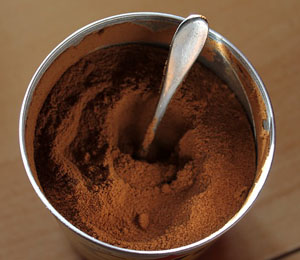 22.Storing Lemons – Store the lemons in a zip lock bag or freezer bag (remove the air) and freeze it. Bring the lemons to room temperature before use. They will last longer.
Storing Fresh Lemon Juice
– Squeeze juice from lemons, add a little salt to it and pour it in ice cube tray and freeze. You can make lemon juice instantly or add the cubes for making
lemon rasam
etc. Use it within 4 days.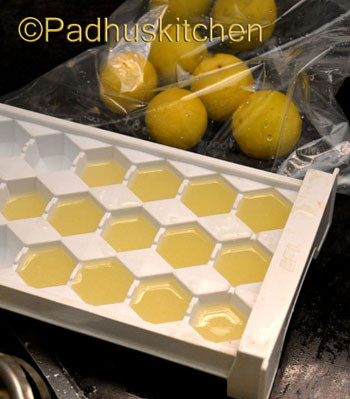 23.Bread Storage –
It is best to store bread at room temperature as bread stored in the refrigerator dries faster. You can keep it in the original packaging but make sure to seal it tightly after each use. It is best to use bread within the expiry date. You can make bread croutons or
bread crumbs
with leftover dry bread.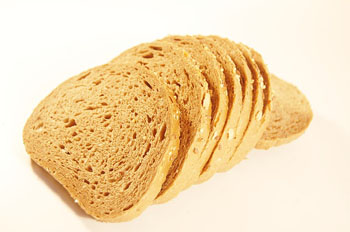 24.How to store Gooseberries – Check out ways to preserve gooseberries.
25.Storing ginger garlic paste for a longer period of time
– Refer out
how to make ginger garlic paste
. After making the paste, saute the paste in 2-3 tbsp of oil for 4-5 minutes on low heat. Remove from heat and leave it to cool. Store it in a sterilized glass jar with a tight lid along with the oil (oil in which it was sauteed) in the freezer. Stays fresh for several months.
Hope you will find this post useful. Reader can share their own tips and trick on food storage in the comment section.
If you found this post useful, I would really love it, if you pin it or share it with your Facebook fans or Twitter followers or Google+ circles today. All it takes is a simple click on the "pin it" "like," "share," "tweet," or Google+ buttons below the post. It will keep me motivated. Thank you!