Pearl Millet is known by various names like candle millet, dark millet and cattail millet. It is known as "Kambu" in Tamil, "Bajra" in Hindi, "Bajri" in Rajasthani, Gujarati, "Sajje" in Kannada, "sajjalu" in Telugu and "Kambam" in Malayalam. (Source Wiki). Pearl millet is a rich source of iron and is gluten free. I have used dates for making this laddu to avoid using too much ghee. This laddu is easy to make and tastes delicous. Both adults and kids will love them a lot. Today we will learn how to make Bajra Atta laddu with dates, sesame seeds, nuts and jaggery following this easy recipe with step wise pictures.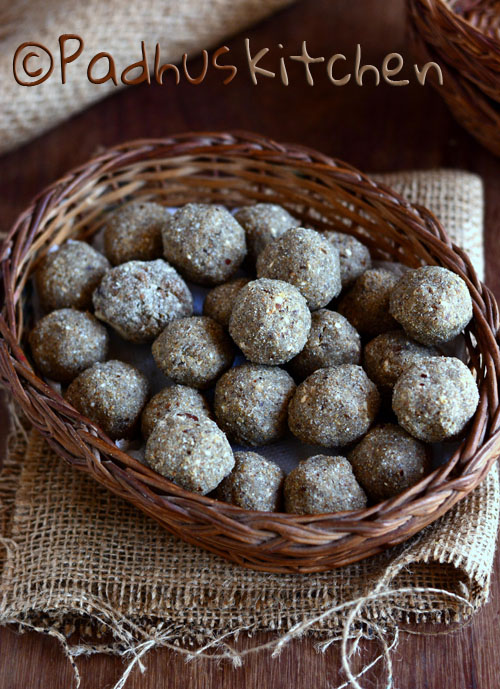 Bajra Atta Laddu-Bajra Atta Dates Till Ladoo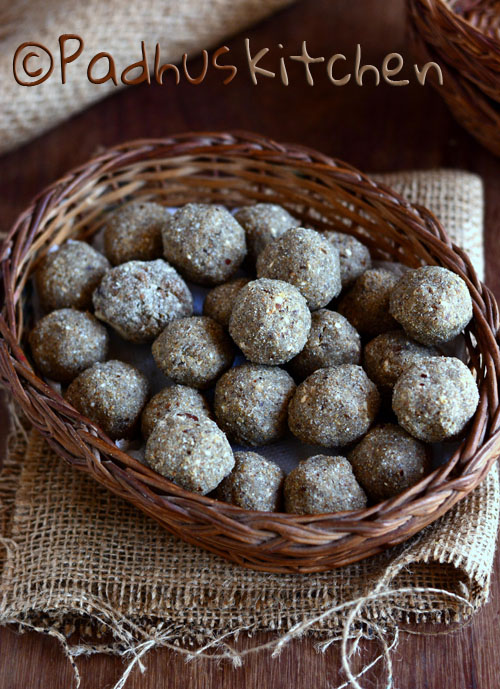 Prep Time : 10 mins
Cook Time
:
15 mins
Yields
:
24-25 Bajra Laddus
Recipe Category
:
Healthy Snacks-Bajra
Recipe Cuisine
:
Indian
Author
:
Padhu Sankar
Ingredients needed
Pearl Millet flour/Kambu flour – 1 1/2 cup
Almonds – 15
Cashew nuts – 15
Dates – 25
Jaggery – 1/4 cup powdered
Sesame seeds – 3 tbsp
Cardamom – 2-3 (powdered)
Ghee/clarified butter – 4 tbsp melted
Preparation
All the ingredients needed for the bajra laddu kept ready below.

Dry roast the nuts and powder it coarsely. You can also chop it into fine pieces if you have patience.

Choose soft dates, remove the seeds, chop it and keep it aside.

Dry roast sesame seeds. Coarsely grind 2 tbsp of sesame seeds alone. Keep 1 tbsp of sesame seed as such without grinding.

Method
Heat 2 tbsp of ghee in a kadai, and roast pearl millet flour on medium heat until you get a nice aroma of roasted flour.


Once the flour is well roasted, switch off the heat and add jaggery powder.


Add coarsely ground almonds + cashew nut powder, cardamom powder and coarsely ground sesame seeds. Mix everything well and dry grind it with chopped dates.

Transfer to a wide vessel or plate. Add whole sesame seeds (remember we kept 1 tbsp sesame seeds aside) and mix it well.


As we have added dates, we do not need much ghee for making this laddu. I have used just 2 tbsp of warm melted ghee.

Mix warm ghee little at a time and make laddus batch by batch. Do not add all the ghee to the prepared bajra laddu mixture. You may need less than 2 tbsp of ghee as the mixture will bind well because of the dates.


Storage and shelf life – Store it in an air tight container at room temperature. Keeps well for 15 days.
This laddu with bajra, dates, nuts, jaggery and sesame seeds makes a healthy snack for both kids and adults.
Check out more Millet Recipes and more snacks recipes.