I rarely accept product reviews but when REDMOND asked me if they can send their REDMOND Pressure Smart Multicooker RMC-PM4506E to try out recipes and write my opinion of it, I immediately agreed as I have an obsession for cookers. Glad I accepted it as the REDMOND Pressure Smart Multicooker RMC- PM4506E has become an inevitable gadget in my kitchen and I love it so much.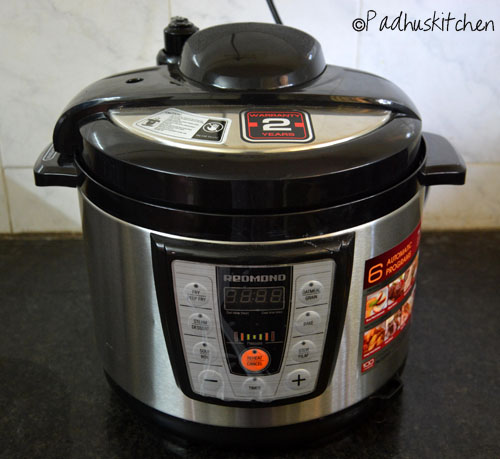 What it can it do ?
REDMOND Pressure Smart Multicooker RMC- PM4506E is a digital smart multicooker plus a pressure cooker. You can cook just about anything in this. It can make perfect soups, stews, side dishes, rice pulao/pilaf , khichdis, porridges and many more. It can also bake cakes, make steamed dishes, cook desserts and appetizers.
The pressure smart multicooker comes equipped with 6 automatic programs. All you have to do is to place all the ingredients into the cooking bowl, close it, press a button and go about the rest of your day while the REDMOND pressure smart multicooker will do the rest. It also has multi layer protective system which makes it safe to use.
Space Saving
It takes very less space in the kitchen. It can replace a stove, an oven, a steamer, a pressure cooker, a rice cooker, a deep fryer and save a lot money and cabinet space.
What I love the most is the "keep warm function" and the "time delay function".
Keep warm function
The first dish I cooked in the smart multicooker was my favorite Gujarathi Khichdi (recipe below). I selected the programme, switched on the cooker and left to carry on with my other activities. When I was back after 3 hours, piping hot khichdi was waiting for me. The KEEP WARM function will keep your food at serving temperature so you don't have to reheat the food. It keeps your food warm for up to 8 hours after cooking.
Time Delay function
The "Time Delay" function allows programming the smart multicooker to start cooking at a specific time which means it can start cooking even when no one is at home so your meal will be ready when you get back from work. Amazing isn't it?
Easy to clean
The removable bowl which comes with the cooker has Non stick coating by DAIKIN. So nothing sticks to it and it is easy to clean. It is also dishwasher safe.
Accessories
It comes with a steaming container, soup spoon, serving spoon, a measuring cup, instruction manual and a recipe book with 100 recipes using the smart multicooker.
The first dish I tried using the multicooker was my most favorite Gujarati Khichdi/Bhaat. It is very easy to make, filling, delicious and of course comforting.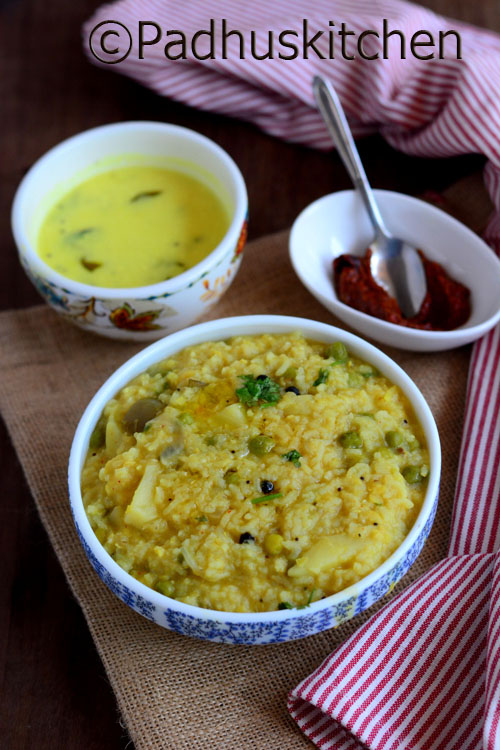 Gujarathi Vaghareli Khichdi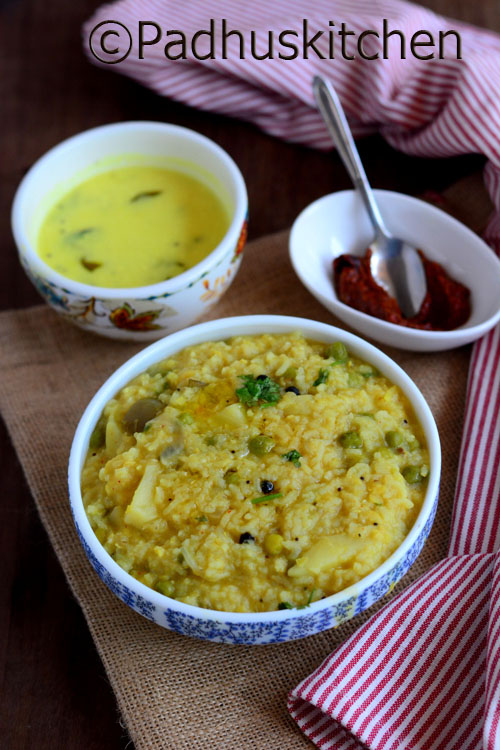 Prep Time : 10 mins
Cook Time
:
20 mins
Serves
: 2
Recipe Category
:
Main Course-Khichdi
Recipe Cuisine
:
Gujarati
Author
:
Padhu Sankar
Ingredients needed
Raw Rice – 1/2 cup
Split pigeon pea (toor dal) – 1/3 cup
Onion – 1
Ginger-garlic paste – 1 tsp
Green chilli – 1
Brinjal – 2 medium sizes
Potato – 1 medium size
Green Peas – 1/3 cup (fresh)
Carrot – ½ a medium sized carrot (optional)
Salt needed
Ghee – 2 tbsp
Spice powder
Turmeric powder – ¼ tsp
Chilli powder – ½ tsp
For the seasoning
Oil – 2 tbsp
Mustard seeds – 1 tsp
Cinnamon – 1 inch piece
Cloves – 2
Whole black pepper – ½ tsp
Red chilli – 1
Hing/asafetida – a generous pinch
Preparation

Wash and soak rice and dal for 30-40 minutes. Drain the water and keep it aside.

Wash, peel the skin and chop potatoes and carrot. Cut brinjal into medium sized pieces.
Method

Put oil into the bowl, press FRY. When oil is hot, add the ingredients mentioned under seasoning.

When mustard splutters, add onion, ginger garlic paste and fry with lid open until onion turns transparent.

Add all the vegetables, spice powder, salt needed, rice + dal, 3¼ cup of water and ghee. Cover the lid and the steam valve.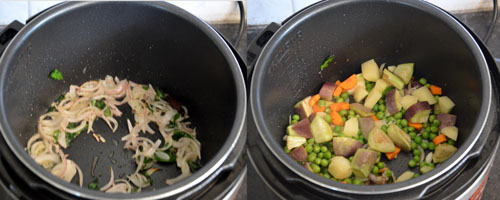 Press the "PILAF" button. Set the time for 20 minutes. Cook until time elapses.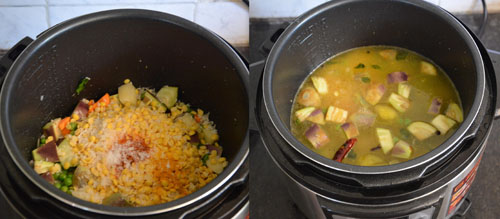 Open the valve to release the pressure. Let it stand for 5 minutes, then open the cooker.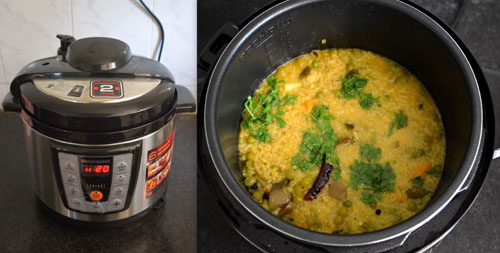 Delicious piping hot khichdi is ready to be served. Serve with pickle or papads or kadhi or buttermilk.
Other recipes I tried
I was so excited to know that it can bake cakes and could not wait to try it. I tried the apple cake recipe from their Recipe book (recipe will be shared later) and to my surprise it turned out great as you can see in the picture below.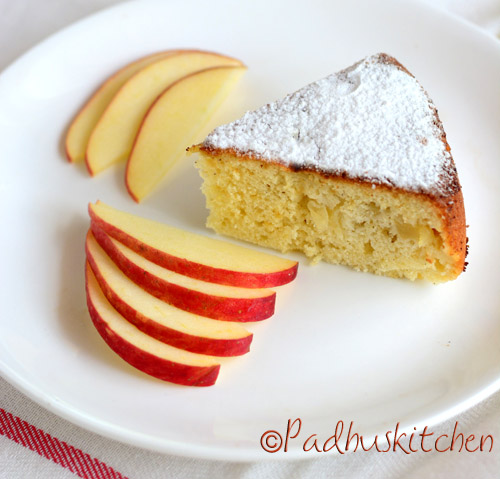 I also tried bottle gourd gravy which turned out delicious. I even used it to boil vegetables. I am yet to experiment with more recipes. The pressure smart multicooker is easy to operate and I am really enjoying using it. It has made cooking easier, faster and convenient.
To know more about the cooker check out their video HERE.
You can also get REDMOND Pressure Smart Multicooker RMC- PM4506E in Flipkart
Disclosure
I was sent the above Pressure Smart Multicooker by REDMOND to try out recipes. I tried few recipes and the opinions expressed here are my own.