Soapnuts also known as soapberries contain saponins which are natural surfactants. It is called "reetha" in Hindi and "boondi kottai" in Tamil. They are actually berries and are 100% natural and biodegradable. Soapnuts can be used as a non toxic alternative to chemical laundry detergents and soaps. I am always for natural eco-friendly products and I wanted to replace all chemical products used for washing and laundry in my house. Soap nuts are natural and non polluting. Soap nut liquid has many uses. It can also be used to clean dishes, for washing clothes, baby diapers, baby clothes, as a shampoo, as a hand wash liquid and many more. It is gently and can be used even on very sensitive skin.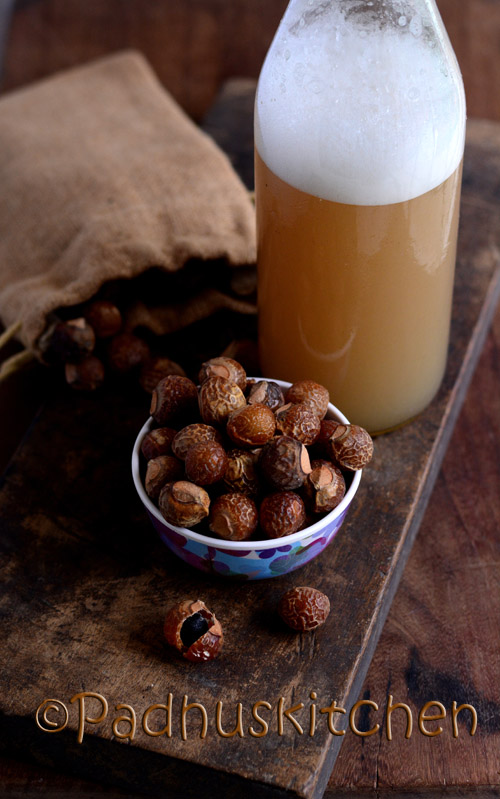 How to use Soapnuts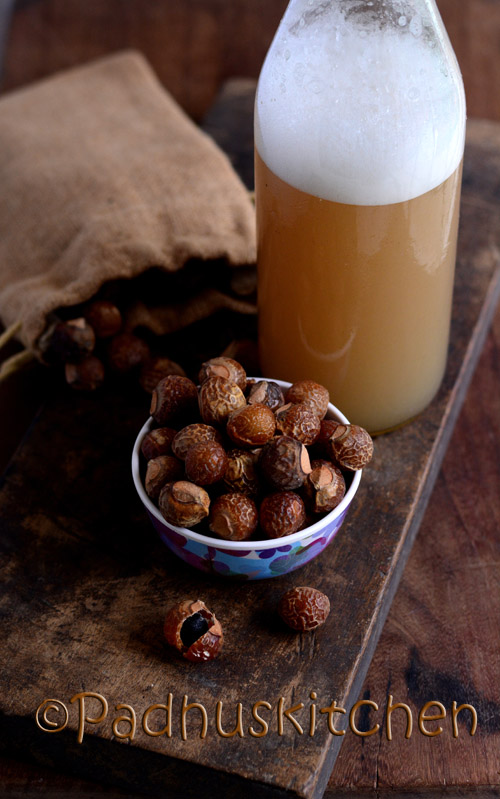 Prep Time : 10 mins
Cook Time
:
30 mins
Author
:
Padhu Sankar
Ingredients needed
Soapnuts – 20
Water – 6 cups
Soap Nut Liquid Detergent Recipe

Soap nut liquid is a multipurpose cleaner. Let us see how to make soapnut liquid.

Remove the seeds from the soap nuts.


In a large vessel/pan, combine together 15-20 soap nuts (seeds removed) and 6 cups of water. Let it boil.

Once it starts boiling, reduce the heat. (Note – Use a big vessel or pan so that the soap suds does not boil over.)


Simmer for 30 minutes or until it reduces to 4 cups and the water turns dark. Remove from heat and keep it covered.

Once the liquid cools completely, squeeze the soap nuts with your fingers nicely to extract more soap. Leave it overnight.

Next Day – Strain the liquid, pour it into a glass bottle. Use it within 3-4 days or refrigerate. This soapnut liquid is your multi purpose cleaner.

You can re-use the soap nuts again. You can re-boil it and extract more liquid or you can grind it to a paste and use it to wash utensils. Then compost the used nuts.

Shelf life – As it is a natural product, you have to refrigerate it. It stays good for 10 days in the refrigerator and for a longer period in the freezer.

How to use soap nuts for washing clothes

Have you ever tried washing your clothes with soapnuts. I remember my grandma wash her silk saree (pattu saree) with soap nuts. Using commercial soaps and detergents that contain harmful chemicals is neither good for us nor for the environment. It is time we change to natural products which are harmless and safe to use.

Place 5-6 soap nuts (deseeded) in a small cloth bag/pouch and tie it tightly at the top. You can also use a drawstring muslin bag or an old unused socks (knot the socks at the top so that the berries do not come out when washing),

Boil a cup of water. Once it starts boiling, remove from heat and soak the soapnut bag in it. Let it sit for 15 minutes. Leave it to cool. Add the soap nut bag along with the water, into the washing machine and wash as usual. You can add 2 drops of your favorite essential oil if preferred but not necessary. Alternatively you can soak the soap nuts overnight and skip boiling.

Once the washing is over, remove the bag with soap nuts and dry it. You can reuse it for 3-4 washes or until the soap nuts disintegrates and is no longer soapy when crushed between your fingers.

You can add the used soapnut to your compost bin as it is biodegradable.

For washing clothes by hand – Soak 3-4 soap nuts in warm water for an hour. Then squeeze the soap nuts to release the saponin. Remove the soap nuts and soak the clothes to be wash in that soap nut water for 15-20 minutes. Then wash and rinse your clothes. It can be used for all fabrics as they are very gently but effective.

How to use soapnuts for washing vessels
Dry the soapnuts in the sun. Remove the seeds and powder 16-18 soapnuts and add to 1 litre of Citrus Fruit enzymes. There are no hard and fast rules. You can add more or less of soap nuts. Alternatively, you can add a little soapnut liquid to your fruit enzymes and use it. It will not foam as commercial dish wash soap but cleans effectively. When mixed with citrus fruits enzymes, the liquid need not be refrigerated as the the citrus enzymes acts as a preservative.

Soapnut Liquid as hand wash and body wash –

Soap nut liquid can be used as a hand wash and also as a body wash. It is very gently on the skin and is great especially for persons with very sensitive skin and those suffering from skin problems like eczema or psoriasis. It also has anti-microbial, anti-inflammatory, anti fungal and antibacterial properties.

Soapnut Shikkakai shampoo

Soak 3-4 soapnuts and 3-4 dried shikkakai pods for an hour in enough water. Boil till the shikkakai pods gets cooked well. Cover and leave it overnight. Whisk the mixture with a hand blender or mixie or squeeze it nicely with your hands. Strain the liquid and use it as a shampoo.

How to use – Wet your hair, apply the liquid on your scalp and gently massage for 3-4 minutes. Then rinse your hair with water.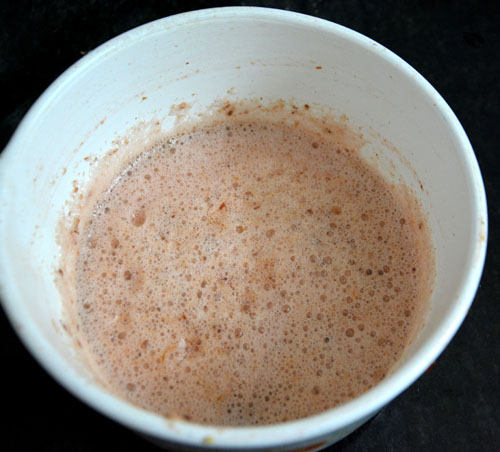 As this is a natural homemade shampoo, it will not lather or foam like commercial shampoos, but will leave your hair clean. If used regularly, it prevents dandruff and your hair will be healthy and soft. If interested, check more herbal shampoo recipes.

Soapnut liquid is a multipurpose cleaner

It can be used to clean anything from tiles, cutlery, glass, as a car wash, pet shampoo, for mopping floor, cleaning jewelry etc.

As a insect repellent – It is also a natural insect repellent. Add a little soapnut liquid to half a bucket of water and use it for mopping the floor. Mixed with few drops of neem oil, it can be used as a natural pesticides for plants.
Where to buy Soapnuts

It is easily available in all grocery stores or in country drugstores (nattu marundu kadai) in India. It is also available online.
Check more useful and interesting tips
If you found this post useful, I would really love it, if you pin it or share it with your Facebook fans or Twitter followers or Google+ circles or Instagram today. All it takes is a simple click on the "pin it" "like," "share," "tweet," or Google+ buttons below the post. Thank you!