Fruit enzymes (citrus peel bio enzymes) also called garbage enzymes are produced from fruits peels or waste. It is a natural multi purpose, chemical free, e
co friendly
cleaner. It is biodegradable and eco-friendly alternative to harsh chemicals. Many products that we use in our everyday life like drain cleaners, floor cleaners, dish washing detergents, phenyl, bleach etc contains toxic chemicals which are hazardous to our health and to the environment. It exposes us to many harmful chemicals that have been linked to various health problems and allergies. It is not possible to keep chemicals totally out of our house but we can to some extent, if we take some efforts. I love living close to nature as much as possible and always try to use natural products as much as I can in my daily life. I came to know about this citrus enzyme cleaner through a foreign magazine. I found it appealing and did more research about it and made my own non toxic fruit enzyme cleaner. It is not only easy to make but all the ingredients are easily available in our kitchen and it costs absolutely nothing. These enzyme cleaners are natural, toxic free, chemical free, hence very gentle on the hands. Today let us learn how to make this wonderful, non toxic, eco-friendly, homemade Natural Cleaner/Citrus cleanser.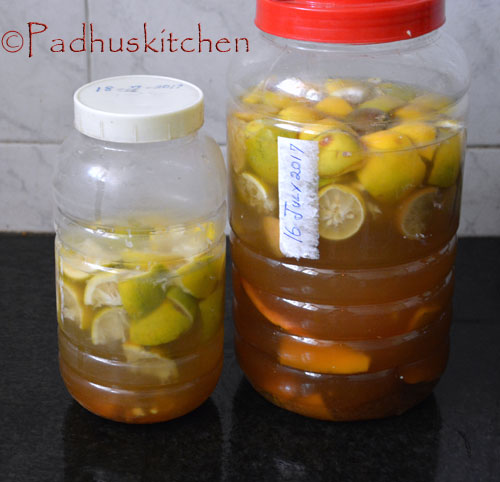 Eco Friendly Citrus Cleaner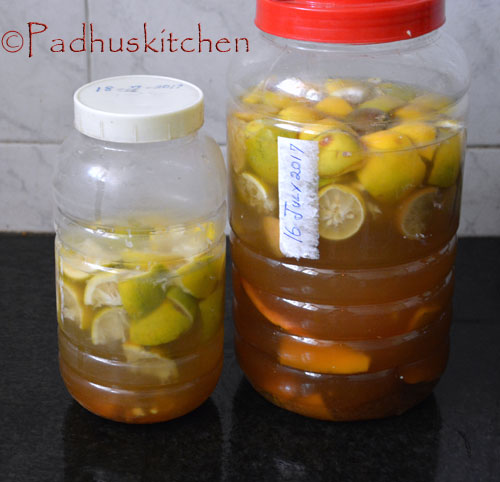 Prep Time : 10 mins
Recipe Category: How to-Useful Tips
Author: Padhu Sankar
Ingredients needed
Lemon or orange peel – 300 grams
Jaggery or Brown sugar -100 grams (powdered)
Water – 1 liter
Yeast – 1 tsp (optional)
2 liter plastic bottle with a tight lid
Method

Cut lemon or orange peels (you can use pineapple peels also) into medium sized pieces.

Grate jaggery or you can use powdered jaggery or brown sugar. (do not use white sugar).

Take a plastic bottle with a tight lid. (do not use glass bottles as gas build-up from the fermentation process might cause explosion).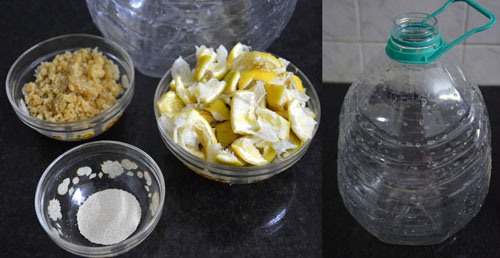 Add jaggery and 1 liter of water.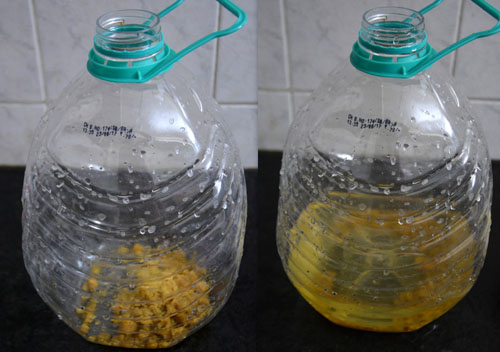 Add the citrus peels and yeast. Make sure there is a little space on the top. Fill the container only up to 80%. Close it tightly and shake it well.

Label the container indicating the date on which it was kept for fermenting.

Leave it to ferment for 3 months. If you add yeast, it will take only 2 months for the fruit enzymes to be ready.

You have to open the lid everyday for the first week to prevent gas build up and close it again, otherwise the gas will build up to explode in the container.

From the 2nd week, you can open it on alternate days and close it back tightly.

After second week, open the lid once in a week to let the gas out.

Store it away from sunlight in a warm dry place. It will take 2 months (if yeast is added) or 3 month (if yeast is not added) for the citrus enzyme cleaner to be ready for use.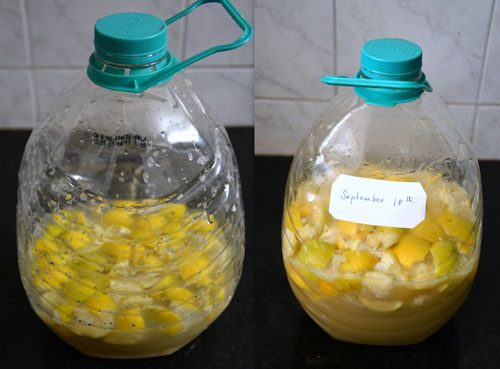 After 3 months, strain it using a cloth or a sieve. The liquid collected is the fruit enzyme and can be used as a non toxic multipurpose cleaner.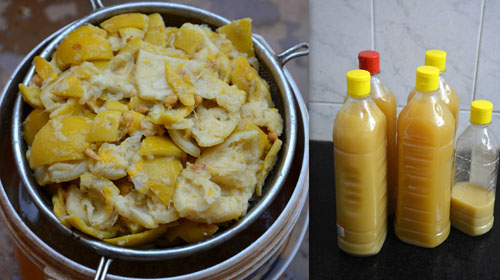 Note

To make bio enzymes quicker, you can add a tsp of yeast. In that case the enzymes will be ready within two months time. (I have added yeast, so mine was ready in 2 months time).

The measure is 1 part Jaggery/brown sugar + 3 parts fruit peels + 10 parts water. Even when making a large batch, maintain the same ratio.

Though you can use any fruit peels, I personally prefer to use only orange, lemons and pineapple peels/waste. You can either use them together or separately. Using citrus fruit peels alone gives a nice citrus smell to the enzyme cleanser.

Do not use glass bottles.

Avoid adding rotten fruits or dried peels. Use fresh peels for making fruit enzymes. (You can collect and store the peels in the refrigerator, till you get the required quantity. Bring it to room temperature before adding).

Fruit Enzyme/Citrus enzymes has no expiry date. You can use it lifelong.
How to use the fruit enzyme cleaner
Multipurpose Cleaner – You can use the fruits enzymes as a multipurpose cleaner. Dilute it in the ratio 1 : 10 (one part citrus enzyme cleaner with 10 parts water) and use it to clean anything like tiles, bathroom, gas stoves, toilets, kitchen sink, mirrors etc.

Use it undiluted for stubborn strains, grease etc.

Washing vegetables and fruits – You can dilute it in the ratio 1:20 and use it to wash fruits and vegetables.

For mopping floor – I use 1/4 cup of fruit enzyme for a bucket of water and use it for mopping floors. When used regularly it helps to keep ants at bay as the cleaners are natural insect repellents. I stopped buying phenol and other floor cleaners, after I started making this fruit enzyme.

Car wash -You can dilute it in the ratio 1:20 and use it to wash cars.

For cleaning vessels – I mix citrus enzyme cleaner with with soap nut (reetha in Hindi or boondikottai in Tamil) water and use it to clean vessels.
The residue can be used as a fertilizer. Dry it well and mix it with soil. You can put it in your composting bin or you can use a little of it as an accelerator for making the next batch or you can grind it with a little baking soda and use it to clean kitchen sink or discard it.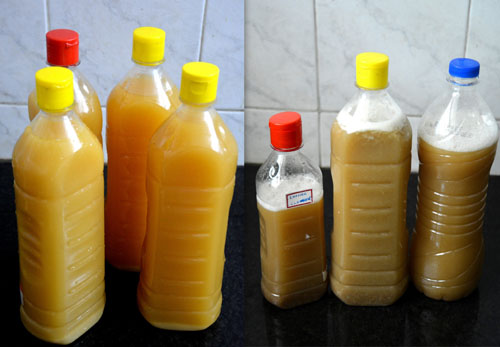 Left – Fruit Enzymes ready for use. Right – Fruit enzymes mixed with soapnut water .
This is yet another simple step to reduce the use of toxic chemicals in our homes which is not only good for us but also for the environment.
You can check my post on
How to clean kitchen sink without using toxic chemicals
How to compost kitchen waste using khamba/pot
How to compost kitchen waste without khamba
If you found this post useful, I would really love it, if you pin it or share it with your Facebook fans or Twitter followers or Google+ circles or Instagram today. All it takes is a simple click on the "pin it" "like," "share," "tweet," or Google+ buttons below the post. Thank you!