Today instead of recipes, I am sharing with you few pictures from my kitchen garden. I love gardening and enjoy cooking with fresh vegetables from the garden. It is a great stress buster. It not only keeps me very happy and relaxed but also gives me immense satisfaction. Moreover it keeps me away from the computer at least for a few hours. Now-a-days, most of the food we get in the market are sprayed with pesticides and harmful chemicals. Though I do not have much space, in whatever space available, I am growing few fruits and vegetables using natural fertilizers. By growing our own fruits and vegetables, we know what we are eating is free of harmful chemicals and pesticides as we were the one to nurture the plant.
Now-a-days Organic food is becoming very popular. Let us see what is organic food?
What is Organic Food ?
I do not want to go in detail into the subject. In simple words, Organic food according to
organic.org
is food made or grown without the use of synthetic pesticides, chemical fertilizers, sewage sludge, genetically modified organisms, or ionizing radiation. Animals that produce meat, poultry, eggs, and dairy products do not take antibiotics or growth hormones.
What are the advantages of eating organic food
Organic food can reduce the risk of pesticide exposure.
Organically grown vegetables and fruits tastes better than non organic fruits and vegetables and they also cook faster.
It improves our immune system and helps prevent chronic diseases like cancer.
Studies have found that organic food is richer in antioxidants.
Organic food is often sold locally, so it is mostly fresh (no shipping or transporting across long distances etc).
Preserves our ecosystem.
Reduces pollution – protects water and soil.
Ensures safe and healthy world for the future generation.
Pictures of my harvest and my small backyard kitchen garden
papayas
Papaya tree
Herbs are easy to grow and so rewarding. Once you use home grown herbs in your cooking, you will never like the ones in the market. Home grown herbs are fresh, full of flavor and very delicious. You have to grow it to believe it. You do not need any space for growing herbs. You can grow in pots in your balcony.
Mint-Pudina
Brinjals in grow bags
Pasalai Keerai
Home grown vegetables grown using natural fertilizers, cooks faster and tastes great. Of course it is free of harmful chemicals and pesticides. It gives me lot of happiness when I cook with vegetables from my garden. Picture of ladies finger I harvested from my garden.
Fresh Lady'sfinger from my kitchen garden
tomatoes from my garden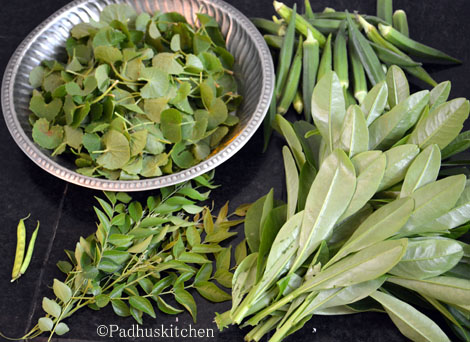 Radish
Even if you do not have ground space, you can grow veggies in grow bags or pots in your balcony.
Cluster beans and radish in grow bags
Taro root and aloe vera
Sapodilla tree in our backyard
Backyard Composting with Khamba
I do not prefer wasting my kitchen waste (vegetable waste, fruit peels, used tea and coffee ground etc). I compost them using this composting pot. You do not need much space, just a corner in your garden or even balcony. I use the compost for my plants. I have long time back posted tips on
how to compost using wire mesh compost bin.
This is another method of composting using the khamba pot which I will share it soon with all details.
Composting at home with Khamba
Let us together make this earth a better place to live and ensure safe and healthy world for the future generation.
If you found this post useful, I would really love it, if you pin it or share it with your Facebook fans or Twitter followers or Google+ circles today. All it takes is a simple click on the "pin it" "like," "share," "tweet," or Google+ buttons below the post. It will keep me motivated. Thank you!