No Christmas is complete without a Christmas cake. So here I am with a delicious Kerala Fruit cake recipe. Although I know the basics of baking, I have never attempted to bake a fruit cake before. Now that Christmas is around the corner, I wanted to post this Christmas fruit cake recipe. So I asked my friend who is an expert in baking to call me when she bakes Fruit cake for Christmas. She has also taught me
Chocolate cake
and
Wheat waffles
before. My special thanks to her for making this fruit cake and for contributing this recipe to my blog for Christmas. Today we will learn how to make Kerala Fruit cake/Kerala Plum Cake following this easy recipe with step wise pictures.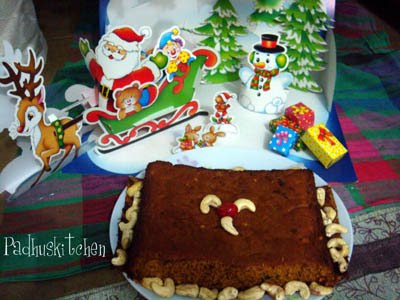 Kerala Fruit Cake-Kerala Plum Cake Recipe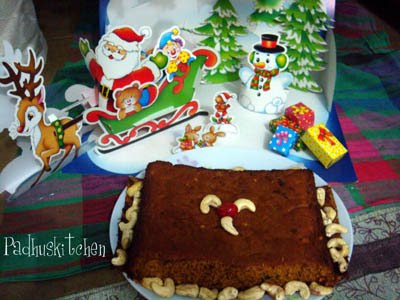 Prep Time : 20 mins
Cook Time
:
60 mins
Recipe Category
:
Cakes
Recipe Cuisine
:
Kerala
Author
:
Padhu Sankar
Ingredients needed
All purpose flour(Maida) – 250 grams
Powdered sugar – 250 grams
Margarine – 250 grams
Egg white – 4
Egg yolk – 5
Dry fruits – 250 grams (mix of Dates, raisins, sultanas)
Almonds and cashew nuts -50 grams (together)
Tutti frutti -1 tbsp
Sugar- 100 grams (to make 1 cup caramelized syrup)
Grape Wine – 1/4 cup
Orange juice- 1/4 cup
Baking Powder – 1 tsp
Baking soda – 1/4 tsp
Spice powder – 1 tsp
(Mixture of cinnamon, cloves and cardamom)
Vanilla essence – 1 1/2 tsp

Preparation
Caramel Syrup preparation –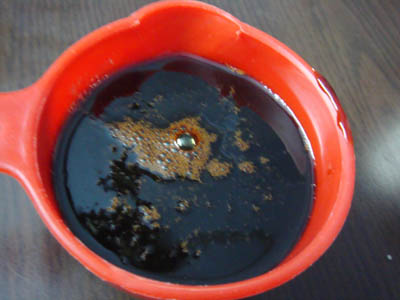 Place 100 grams of sugar in the saucepan.Turn the flames to high and place the pan on the stove. Let it boil .When sugar melts and becomes brown in colour, add half cup of water carefully. Stir it well and keep it aside. This is the caramel syrup.
Spice powder
Powder a little cinnamon, few cloves and cardamom together finely
Preparation of dry fruits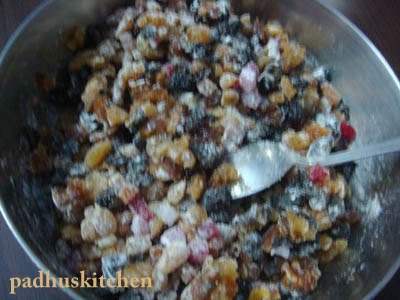 Soak finely chopped dates and raisins, sultanas in grape wine for 1 whole day. My friend had soaked it for 2 weeks but she told me it is enough to soak it for a day. Coat them with flour.
Then add finely chopped almonds, cashew nut, tutti frutti to it. Mix everything and keep it aside.We are coating it with flour, so that it will not settle at the bottom of the cake.
Sieve maida with baking powder, baking soda and spice mix thrice (3 times). Keep it aside .
Keep everything ready before starting to prepare the fruit cake, so that it will be easy for you. Now we have caramel syrup, dry fruits and nuts mixture, orange juice and vanilla essence ready below.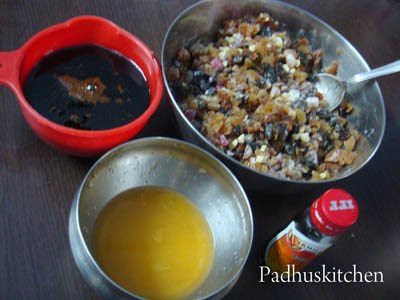 caramel syrup-dry fruits and nuts-orange juice-vanilla essence
Beat egg white until frothy and keep it ready.
1.Beat margarine well with an electric blender. ((If you cannot get margarine, use half butter and half dalda)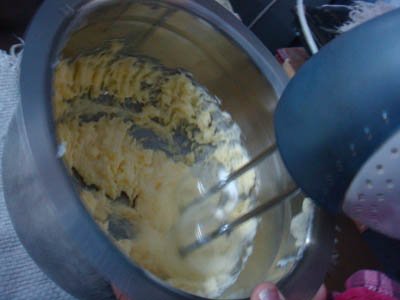 2.Add powdered sugar, little by little and beat well.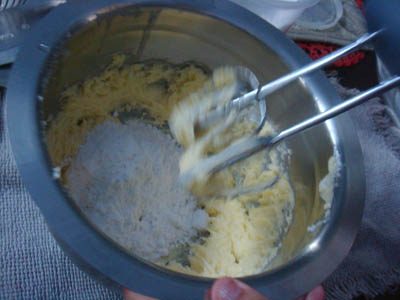 3.Then add egg yolk and beat well .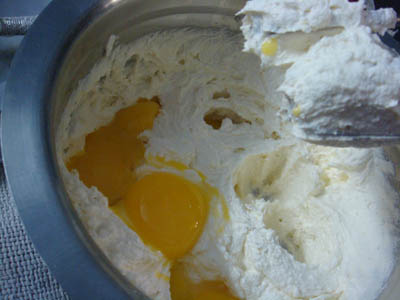 Now keep the electric blender aside .You don't need it any more.
4.Then add a little dry fruits coated with maida and mix gently with a ladle .
5.Now fold in a little flour.
6.Now add a little caramel syrup and mix gently with a ladle.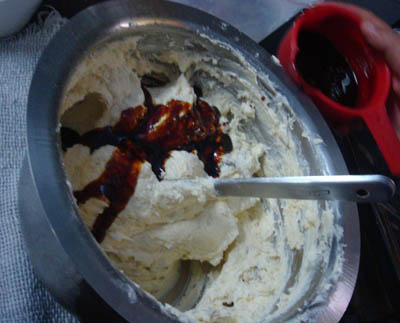 7.Then mix in a little egg white.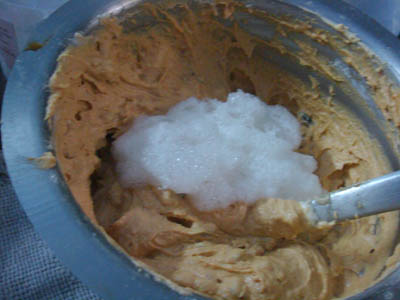 8.Then add orange juice and mix gently.
9.Now again start folding dry fruits followed by a little maida, little caramel syrup, followed by egg white. Repeat the above procedure in the same order with the remaining fruits, flour, caramel syrup and egg white. Gently mix.
10.Now add vanilla essence. Mix gently.
The cake mixture is ready.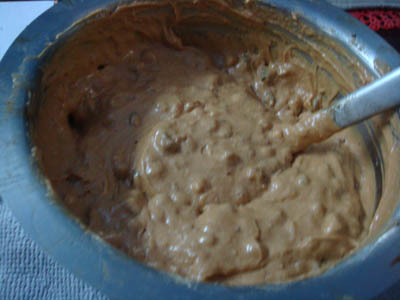 Preheat the oven for 10 minutes at 180 degree C. Grease the baking tray or line it with a butter paper. Pour the cake mixture into the tray. Avoid pouring too much in the center.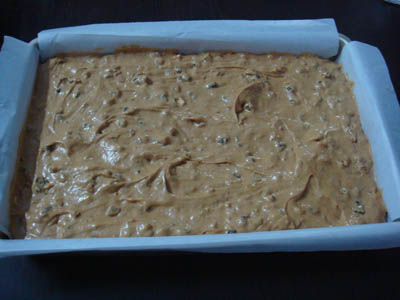 Bake for 45 minutes to 1 hours at 180 degree C. Timings might change depending on the oven type.
Insert a tooth prick in the middle to check if the cake is done. If it comes out clean,then it is done otherwise bake it for some more time.
Storage and shelf life – Store it in an air tight container. This cake stays well at room temperature for 2 weeks and if refrigerated for more than a month.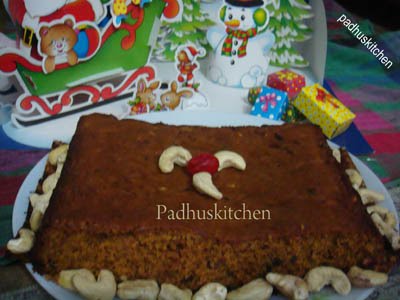 Your fruit cake is ready. Decoration is by her 2 little daughters.
Wishes for a Wonderful and joy filled Christmas from Padhuskitchen
Meet you all again with more interesting recipes and tips, till then it is bye from Padhu of Padhuskitchen.