Fenugreek leaves or methi leaves are very good for health as they are rich in antioxidant, iron and also a good source of dietary fiber. It also has vitamin C, thiamine, riboflavin, vitamin B6, calcium, magnesium, potassium and selenium. It is beneficial to diabetic patients and also helps to alleviate the symptoms of both menstruation and menopause. In short fenugreek has numerous health benefits which can help in overall well being. So try to include it in your diet at least once in a week.Today we will learn how to make Methi Paratha (2 methods) following our easy recipe.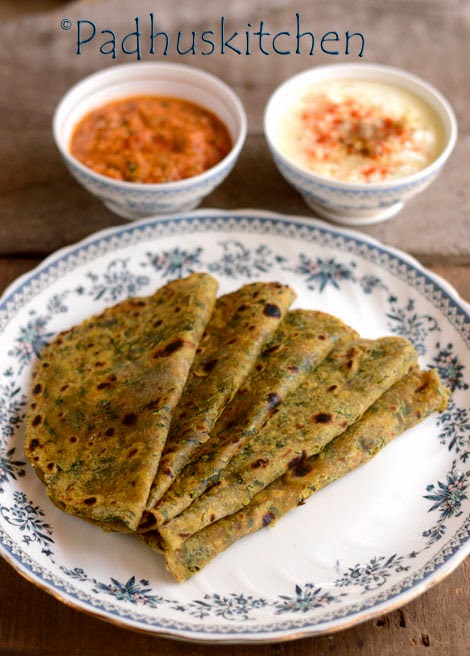 Method-1 How to make Methi Paratha (without cooking the leaves)
Prep time – under 15 mins
Cook time – 5 mins for each paratha
Yields – 5-6 parathas for 1 cup of wheat flour
Ingredients needed
Wheat flour – 2 cups
Methi leaves/fenugreek leaves – 1 cup
Red chilli powder – 3/4 tsp
Turmeric powder – 1/4tsp (optional)
Jeera/Cumin seeds – 1 tsp
Salt to taste
Oil -2 tbsp
Oil for making parathas
Method
1.Wash methi leaves and drain the water. Chop it finely.
2.Mix wheat flour, methi leaves, red chilli powder, turmeric powder, jeera/cumin seeds, salt and 2 tbsp of oil together. Add water little at a time and make a soft dough as shown in the picture below. Cover it and let it sit for 1 hour.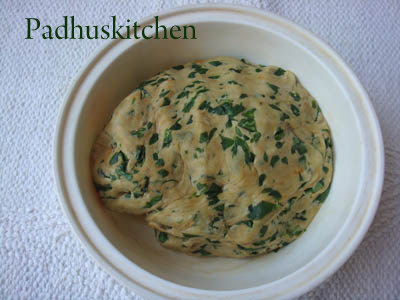 3.Now make equal sized balls out of it and roll the balls dusting a little flour into round shaped chapati with a rolling pin.
4.Heat a tawa and place the rolled out dough on it and cook for a minute.When bubbles start appearing, apply a little oil and flip it over to the other side. Let the other side also get cooked well.
Method -2 -Another variation (made by cooking fenugreek leaves)
Yields -5-6 methi parathas
Ingredients needed
Wheat flour -1 cup
Oil – 1 tbsp
Cumin seeds – 1 tsp
Onion finely chopped – 1/4 cup
Ginger-garlic paste – 3/4 tsp
Methi leaves/ fenugreek leaves – 1 cup
Spice powder
Turmeric powder – 1/4 tsp
Cumin powder -1 tsp
Red chilli powder – 3/4-1 tsp
Amchur powder – 1/2 tsp (optional)
Method
Heat oil in a pan, add jeera seeds, when it splutters, add finely chopped onions.
Saute until onions turn pink. Add ginger garlic paste and saute until the raw flavor goes.
Then add finely chopped methi leaves, all the spice powder, little salt and cook on medium flame until the methi leaves wilt. (see picture below). You do not have to add water for cooking the leaves. If required, add 1-2 tbsp of water. Leave it to cool.
Then add wheat flour to it and mix well. Add water little at a time and prepare a soft dough. Grease your hand with oil and knead to a smooth dough.
Keep it aside for 1 hour.(picture below)

Roll out the dough just like chapati. Heat a tawa and cook both sides until brown specks appear (follow the same procedures mentioned in method 1 for cooking the parathas).

Apply a little ghee or butter and serve with curd, pickle or chutney.
Note – It will stay soft even hours later if you keep it wrapped in a soft cotton cloth.
Check out more Paratha Recipes (find a list of paratha recipes in the link given)
If you found this post useful, I would really love it, if you pin it or share it with your Facebook fans or Twitter followers or Google+ circles today. All it takes is a simple click on the "pin it" "like," "share," "tweet," or Google+ buttons below the post. It will keep me motivated. Thank you!