A very healthy and nutritious soup with the goodness of all the vegetables. I have made it more healthier by not adding cream and have used very less butter. Corn flour is added only to thicken the soup, you can skip that also if you prefer a light soup. Before going to Vegetable Soup, let us learn how to make vegetable stock
–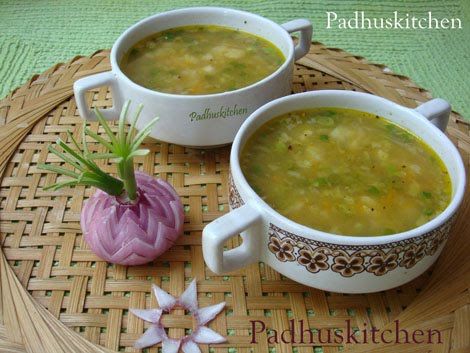 Mixed Vegetable Soup
How to prepare Vegetable Stock
Ingredients needed
Carrot -1
Beans -5-6
Cauliflower – 4-5 florets
Cabbage – 100 grams
Spring onion – 4-5
Capsicum- 1/2
Onion- 1
Garlic- 3-4 cloves
Ginger – small bit
Salt – little
There are no hard and fast rules.You can add less or more of any vegetables.
This is how I prepare Vegetable Stock
Method
Chop all the vegetables. Take a pressure pan/cooker, add all the vegetables, 4 cups of water, salt and bring it to boil, then simmer for 30-40 minutes. Strain the vegetable soup stock in a colander.
Press the vegetables nicely with a ladle to extract the stock fully.
This vegetable stock can be used to prepare all kinds of vegetable soup.
You can add broccoli, leeks, celery and mushrooms to the above. Do not add tomatoes and potatoes. I have heard that in hotels they add vegetable peels but I do not prefer that because of the pesticide residue on the peels. You can do so, if you use organic vegetables.
How to prepare Vegetable Soup
Serves 3-4
Ingredients needed
Butter -1 tbsp
Onion -1 finely chopped
Garlic -3 cloves finely chopped
Carrot – handful (finely chopped)
Cabbage – handful (finely chopped )
Cauliflower – 3-4 florets (finely chopped)
Beans – 5-6 finely chopped
Spring onion greens -1/4 cup finely chopped
Corn flour – 2 tsp
White or Black pepper powder as required
Salt as needed
Method
Melt butter, add finely chopped onion and garlic, sauté till onion turns pink.

Then add all the vegetables and sauté till it is half cooked which takes only a few minutes as we have chopped all the vegetables finely.

Add vegetable stock and bring it to boil.

Mix corn flour in a little water and add to the soup. Cook for a few more minutes.

Add salt and pepper powder to taste.

Serve hot as a side dish or as an appetizer.
Variations
You can add mushroom and paneer also to the soup –
Finely chop 2 small pieces of mushroom and paneer.
Sauté it along with other vegetables.(Step-2).
Children and adults will love this simple and delicious soup. It is also a wonderful way to use all left over vegetables.
More Soup recipes
Meet you all again with another wonderful recipe, till then it is bye from Padhu of Padhuskitchen.com