Potato chips is a very popular snack all over the world and I don't think there will hardly be anybody who does not love potato chips. Well, Do you want to enjoy Home made Potato chips (Aloo chips) like in the picture below.You can, as preparing Crispy potato chips at home is very easy. Just follow my step by step tutorial with pictures and it will not let you down. Today we will learn how to make potato chips at home following this easy recipe with step wise pictures.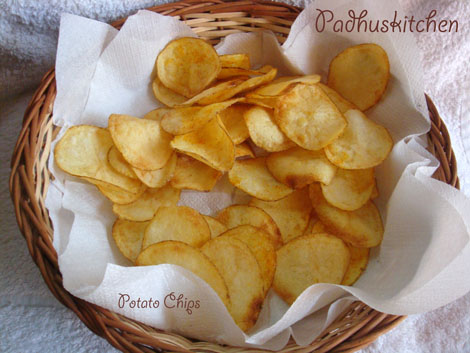 Homemade Potato Chips-Urulai Kizhangu Varuval-chips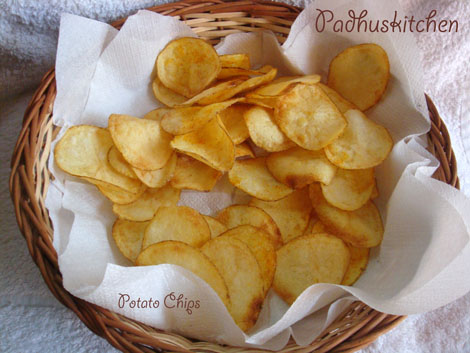 Prep Time : 15 mins
Cook Time
:
30 mins
Recipe Category
:
Snacks
Recipe Cuisine
:
Indian
Author
:
Padhu Sankar
Ingredients needed
Potatoes – 1/2 kg or as needed (buy big firm ones)
Oil for frying ( I used refined sunflower oil)
Chilli Powder as needed
Salt as needed
Potato slicer
Preparation
1. Mix needed salt and chilli powder together and keep it ready before frying.
2. Wash Potatoes well and slice it with the help of a slicer.You do not have to peel the skin. The slices should be thin and not thick.
3.Rinse the slices well 2 -3 times and wipe it dry gently with a cloth .


4. Spread it on a cloth and let it dry for 10-15 minutes.


5.Heat oil in a kadai (to check if the oil is hot enough, drop a slice of potato, if it comes to the surface immediately, the oil is ready for frying. Reduce the heat to medium and gently drop a few potato slices into the hot oil. The number of potato slices you add depends on the quantity of oil used.
6. After few minutes, flip it over to the other side with a slotted ladle so that it gets fried evenly.


7. Fry until golden brown and remove from oil with a slotted ladle.
8. Drain on a colander or paper towel. Sprinkle salt+chilli powder mix on the potatoes while still hot and gently mix it. After it cools, store it in an air tight container. If you like pepper flavored potato chips, you can sprinkle salt+ pepper powder mix.
It stays fresh for 4-5 days in an air tight container.

Potato chips can be had as a snack or even as a side dish for many rice dishes and variety rice.
You will love my vazhakkai chips and finger chips also.
Hope you enjoyed my post. Meet you all again with more interesting recipes, until then it is bye from Padhu of Padhuskitchen.com