The whole of last week, it was health food-
gooseberry chutney
,
barley spinach khichdi
,
plantain stem soup
etc. Let us give health food a break. Today it is one of the most popular snack – French fries also called finger chips is a very popular snack or starter made from potatoes. I tried both methods-deep fried finger chips/french fries and oven baked french fries.To be very honest, the fried ones were perfect French fries and were more delicious than the baked ones. It was crispy on the outside and soft on the inside and melted in our mouths. The baked ones are no doubt healthier fries but not perfect french fries. Today let us learn how to make Crispy french fries at home following this easy recipe with step wise pictures.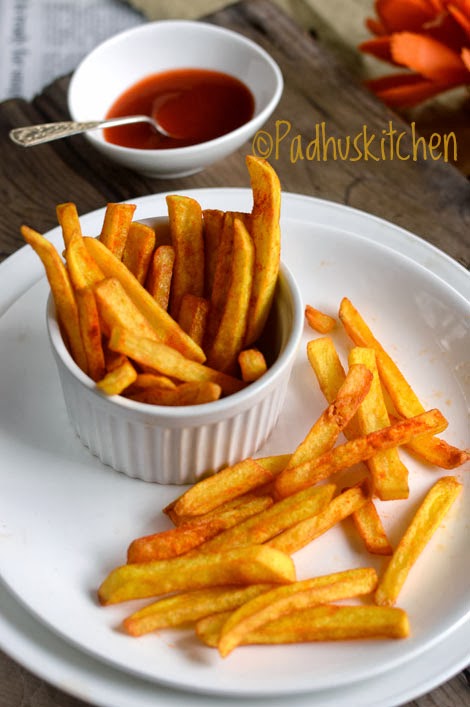 French Fries-Finger Chips
Prep Time
:
10 mins
|
Cook Time
:
20 Mins
Ingredients needed
Potatoes-3 large
Turmeric powder-1/4 tsp
Chilli powder to taste
Salt to taste
Oil for deep frying
Method

Buy big/large potatoes for making french fries. Wash and peel the skin.


First cut slightly on all the sides of the potato as shown in the first picture below to give it a good shape (rectangular shape)

Then slice it lengthwise as shown in the 2 nd picture. Then cut it again like fingers (baton cut) as shown in the 3 rd picture below. Keep them in water to prevent the potatoes from getting discoloured.


Rinse the potato fingers in water twice. Boil water in a pan with salt and turmeric powder.When water starts boiling, add the potatoes. Cook the potatoes until soft but they should not fall apart or break. They should retain their shape. Hope you get what I am trying to convey. Do not overcook the potatoes. This step is very important to get perfect french fries.

Drain the water completely. Spread it on a plate and cool it well. I dried it under the fan.


Once it is completely cooled, it is ready to be fried. Heat oil in a kadai, (to check if the oil is hot enough, put a small piece of potato inside, if it comes to the surface immediately, the oil is hot enough to fry the potato fingers), once the oil is hot, add the potatoes and fry until golden brown and crispy.


Drain the french fries on a paper towel to absorb excess oil. When the fries are hot, sprinkle chilli powder to taste (or you can season with ground pepper powder also) and mix it well with your hands, so that the fries are well coated.

Serve hot with tomato ketchup. The french fries will be crispy on the outside and soft on the inside.
Baked French Fries
I tried baking it also. Let us see how to bake french fries in the oven.

Cut potatoes as mentioned above. Rinse it well and soak them in ice cold water for 20 minutes. Drain the water completely.Wipe it dry with a kitchen towel. Add a tbsp of oil, salt, turmeric powder, chilli powder and mix it well with your fingers. Bake in preheated oven at 200 degrees C for 35-40 minutes. Flip it over and bake for another 5 minutes. I baked in a wire rack with a crumb tray at the bottom.
Check out Homemade Potato Chips Recipe and more Snacks Recipes.
If you found this post useful, I would really love it, if you pin it or share it with your Facebook fans or Twitter followers or Google+ circles today. All it takes is a simple click on the "pin it" "like," "share," "tweet," or Google+ buttons below the post. It will keep me motivated. Thank you!