Ila ada/Ela ada is a traditional Kerala dish made with rice flour, coconut-jaggery filling and then steamed wrapped in banana leaf. It is a very healthy and tasty dish which can be had as an evening snack. The ingredients used to prepare this dish are the same as used for sweet kozhukattai but the method of preparation is different. Let us learn how to make Ila ada using this very easy Ila ada recipe.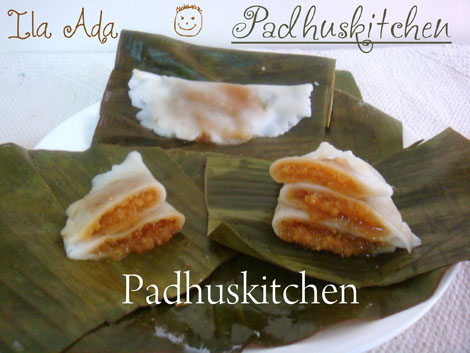 Ingredients needed for the rice flour dough-
You can use the rice flour used for making kozhukattai (prepare it as mentioned in my sweet kozhukattai recipe) or follow the recipe below-
Raw rice -1/2 cup
Water -1 cup
Salt – a pinch
Oil -1 tsp
How I made the rice flour dough

1.Soak rice for 5-6 hours .
2.Drain the water and and grind it to a fine paste using very little water from that 1 cup of water.
3.Now heat the remaining water in a pan, add a tsp of oil and a pinch of salt, then add the grounded rice paste and stir continuously. See to it that there are no lumps. Cook till all the water has evaporated.
4.After it cools a little, grease you hands and knead it well (picture -1). Cover it with a damp cloth till we prepare the stuffing.

Ingredients needed for the stuffing
Grated coconut – 1 cup (use fresh coconut)
Jaggery -1 cup
Cardamom powder -1/4 tsp
Water – 1/2 cup
Ghee – 1 tsp
Method
1.Heat 1/2 cup water, add jaggery, after it dissolves, filter it to remove any impurities.
2.Boil the jaggery syrup, when it starts boiling, add cardamom powder, a tsp of ghee and grated coconut. Cook till it leaves the sides of the pan. Leave it to cool.(pic-2)
Now the rice flour dough and the stuffing/filling is ready. Let us make ila ada
Things needed for making Ila ada
Idly pan or pressure pan or any steamer
Banana leaf ( cut it into medium squares, grease it with oil and keep it ready.)
Method
1.Knead the rice flour dough and make equal sized balls.
2.Make balls from the stuffing also.
3.Now take a greased banana leaf ( square), keep a ball of rice flour dough and press it with another greased banana leaf with the greased side facing down to flatten it evenly. (picture -3)
4.Now slowly remove the leaf as shown is picture-4
5.Keep a ball of stuffing on it. (picture -5)
6.Fold the banana leaf. (picture -6)
7.Now arrange all the adas in an idly plate and steam cook in a pressure pan or you can use steamer or idly pot. Do not put the weight/whistle for the pressure pan. (pic 7 & 8)
Yummy and delicious ila ada is ready to be served. Enjoy it without any guilt, as we have used only healthy ingredients to make Ila ada
Meet you all again with another interesting post, till then it is bye from Padhu of Padhuskitchen.com.