I have heard many mothers complain that their kids are not taking enough vegetables, not eating properly etc.
If you keep on giving the same food week after week, naturally kids will get bored. All you need is to put little efforts in presenting the food and be creative with food to make them eat healthier food.
Here I am giving breakfast, lunch ideas for kids and few tips on how to present food and make it appealing to them.



Vegetarian Breakfast Ideas for kids (Indian)

–

Kids friendly Breakfast recipes

–

Lunch ideas for kids

–
Food Presentation tips
Breakfast doesn't have to be boring anymore!!
You can give the same dosa in a different form and I am sure it will be a hit and your kids are going to love this for sure.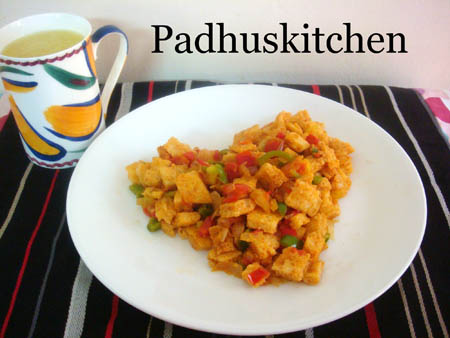 Ingredients needed
Thick and spongy dosa – 2-3
Onion – 2 finely chopped
Tomato – 2 finely chopped
Green capsicum – 1 finely chopped
Oil -3 tsp
Red chilli powder -1/2 tsp
Garam masala powder -1/2 tsp
Salt as required
Method
Cut dosa into small pieces. Heat oil, fry 2 onions till it turns golden brown.
Then add 2 tomatoes, chilli powder, garam masala powder and salt to taste.
Cook till tomatoes turns mushy.
Add capsicum and fry for a few seconds. Do not cook the capsicum fully. This is the highlight of the dish.
Add dosas and mix well till the dosa pieces get coated with the masala well. Serve hot.No need for side dish for this dish.
More Breakfast ideas with dosa Kids love colors, so make the food as colorful as possible.
Make colorful dosas or chapatis by adding fresh beetroot juice or spinach juice to the batter or dough to make pink and green dosas or chappatis.
Add lot of fresh vegetables and make colorful dosa or uthappam. Make it even more interesting by presenting in the shape of animals or birds as shown below.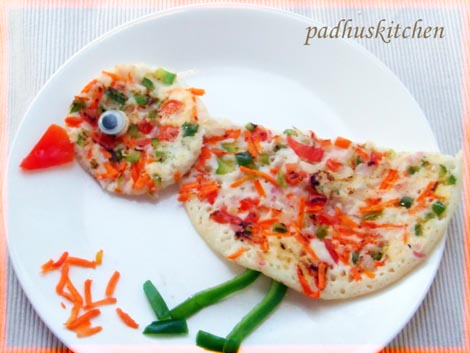 Carrot Dosa– Sprinkle grated carrot on the dosa and cook as usual.
Beetroot Dosa -Sprinkle grated beetroot on the dosa and cook as you do for regular dosas.
Mint Dosa – Sprinkle finely chopped mint on the top of the dosa, flip it over and cook to make dosa with a minty flavour.
Coin Dosa– You can make small 10-15 dosa, the size of a coin and give them with sambar.You need patience for this but they will love it.

Also Refer Carrot Uttapam for kids. (Fun food for kids).
———————————————————————————————-
Same boring chapati and sabji!! Not any more. Serve them with these delicious chapati rolls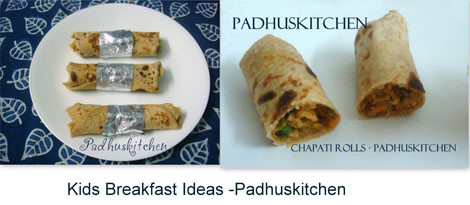 Ingredients needed for chapati rolls
Chapati – 2-3 How to make soft chapati?
Onion -2
Green chilli -1
Garlic -2 cloves
Mixed vegetables –
Beans -6-7
Carrot -1
Cabbage – 1/3 cup
Capsicum -1
Sweet corn -1/3
Oil -3 tsp
Chilli powder -1/2 tsp
Coriander powder -1 1/2 tsp
Kitchen king masala or garam masala -1/2 tsp
Method
Heat oil, fry onion, garlic and green chilli for a few minutes till onions turn pink.
Then add all the vegetables, salt needed, chilli powder, coriander powder, kitchen king masala and saute in high heat for a few minutes. The vegetables should be crispy.
Important -Chop all the vegetables finely.
Take a chapati, keep the filling in the middle and roll the chapati tightly and secure it with a strip of aluminum foil, so that it is easy for the child to hold in the middle and eat.
Instead of sweet corn, you can add button mushrooms or paneer, but do not add all the 3 together.
————————————————————————————–

Can rice be boring for kids if you present it like this!!!Make different fun shapes and sizes or faces with food. Use fresh vegetables to decorate the dish. Kids are sure to get attracted. Here are a few creative ideas to make your kids eat healthier food.
Curd Rice fortified with vegetables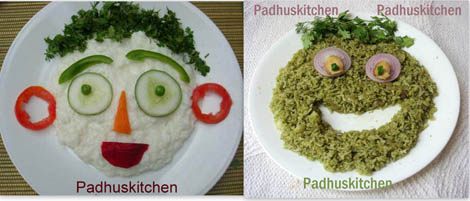 Instead of compelling them to eat more vegetables and greens, make one pot meals as kids love it very much. If you want them to eat greens, prepare mint pulao or methi pulao. You can prepare pulao or paratha with almost any greens.
———————————————————————————————
More Creative Ideas to make kids eat healthy food

Incorporate fresh vegetables in your kids diet by adding lot of vegetables to upma or decorate food with vegetables.
Make funny animals figures with food and ask them also to participate in it. They will enjoy it to the core. Try it yourself!
Ven Pongal with sambar

Idli Upma

Mixed Vegetable Noodles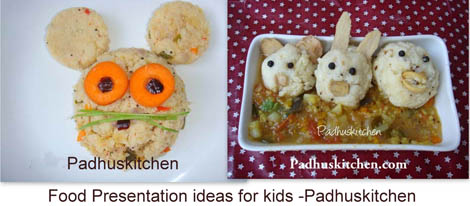 ————————————————————————————————
A great way to incorporate fruits in their diet

Use cookie cutters to cut fruit and vegetables into different shapes and serve them, rather than serving them plain.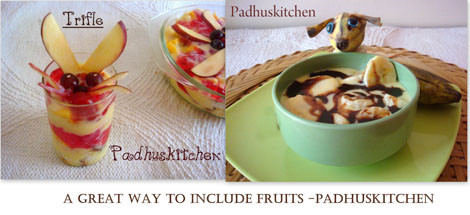 Prepare mixed fruit custard or banana custard with chocolate sauce drizzled all over. Yummm!!!
Use fruits as toppings in their favorite dessert as I have done in my fruit trifle.
————————————————————————————————
Kids love

sandwiches

.
Use cookie cutter to cut it into different shapes and dress up sandwiches with funny and interesting faces .You can use steel cups to cut bigger circles.Find interesting sandwich recipes and presentations ideas in the link below.
Vegetable sandwich

Green Chutney Sandwich

Paneer Sandwich (protein packed sandwich)

Tomato Chutney Cheese sandwich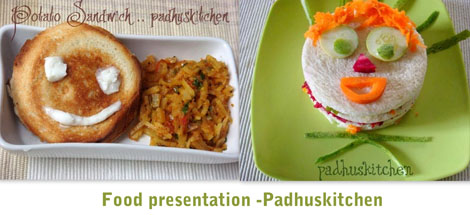 ———————————————————————————————–
Make salads/raw vegetables, a part of their diet from their younger days, otherwise they will never eat salads when they grow up.
Well! Are they going to say no to these colorful salads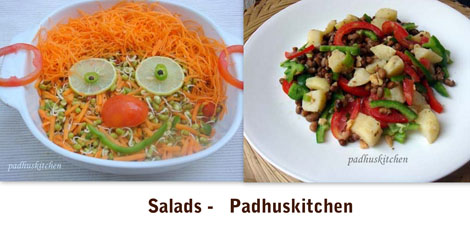 Also check out my Fun Food For Kids
Before winding up, I would like to share a few more things –
Do you know kids learn many behavior by watching their parents. If you want them to eat healthy, then you must first eat healthy food. Yes, you have to be a
role model
to them.
You do not have to deprive them of cakes and other bakery food, make it an occasional treat.
Hope all mothers out there found this post useful. If you liked this post, do bookmark it and share it with your friends. I have given the share buttons on the side of the page.
Meet you all again with another interesting post, till then it is bye from Padhu of Padhuskitchen.com.
If you found this post useful, I would really love it if you pin it or share it with your Facebook fans or Twitter followers or Google+ circles today. All it takes is a simple click on the "pin it" "like," "share," "tweet," or Google+ buttons below the post. It will keep me motivated. Thank you!