The eagerly awaited eBook – "
100 Yummy Diwali Recipes
" is now available for free download
. I am happy to announce that my Coconut Burfi Recipe has been featured in" 100 Yummy Sweets& Dessert Recipes."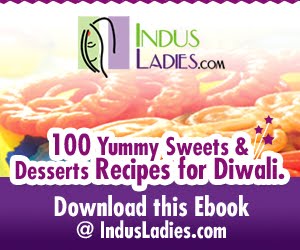 IndusLadies has compiled an eBook for this Diwali consisting of "100 Yummy Sweets & Desserts recipes", contributed by various Food Bloggers!
Go ahead and download it @
http://www.indusladies.com/100diwalisweet.
Feel free to share it with your family & friends.
Have a wonderful Diwali!!"
Meet you all again with another interesting post,till then it is bye from Padhu.