Summer is approaching and here is a healthy way to beat the heat. Plantain stem juice is not only very tasty and refreshing, but also very healthy. Plantain stem has many health benefits. It is a rich source of dietary fiber.Because of its high fiber content, it helps to prevent constipation. It is said to be very helpful in case of urinary problems, kidney stones, acidity and ulcer. It also helps in weight reduction. I personally do not like aerated drinks and prefer only natural healthy drinks like buttermilk, tender coconut water, fresh juice etc. Plantain stem juice is one of my favorite drink.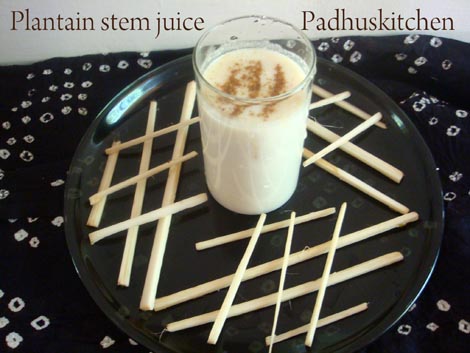 Plantain Stem Juice-Vazhai Thandu Juice
Prep time – under 15 mins
Serves -1
Ingredients needed
Plantain chopped – 2 cups
Butter milk – 1 cup + 1/4 cup for grinding
Salt to taste
Roasted Jeera powder -a generous pinch

Preparation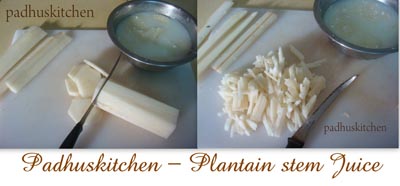 Take 1 mediun sized plantain stem.Remove the outer covering and discard it.
Cut it into rounds removing the thread like fiber with your finger.
Keep it in diluted buttermilk to prevent discoloration.
Then chop it into small pieces.
Method
Remove the chopped pieces from the buttermilk and grind it with a little water or fresh buttermilk.
Strain it, add the rest of the butter milk and blend again.
Add salt to taste. Sprinkle roasted jeera powder and serve chilled.
More Plantain stem recipes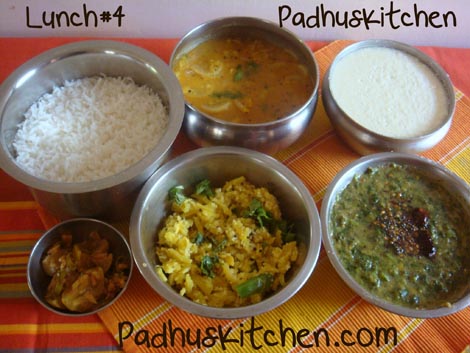 Lunch #4 ( South Indian Lunch)
Rice
Radish Sambar
Keerai Kootu
Plantain stem stir fry
Curd
Lemon ginger pickle
Also refer
Lunch Menu#1
Lunch Menu#2
Lunch Menu#3
Meet you all with more interesting recipes and tips.