Dahi Vada is a very popular street food in North India. It is also know as Dahi Bhalle.It can be had as an appetizer or along with main course. It's tastes best when served chilled. It is
ideal to serve at parties as
it can be made in advance and chilled in the refrigerator.( If you are having party in the evening, you can prepare it in the morning itself) Today we will learn how to make dahi vada following this simple recipe.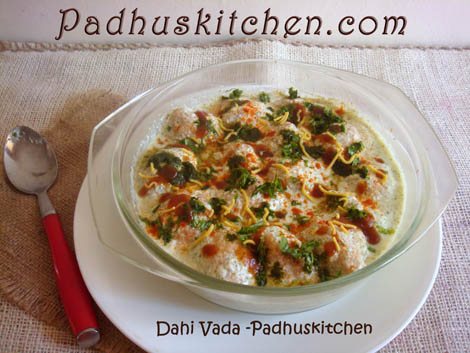 How to prepare Dahi vada (Curd vada)
Prep time – under 30 mins
Cook time – under 30 mins
Ingredients needed for making vadas
Whole Urad dal (without skin)- 1 cup
Pottukadalai or chutney kadalai or fried gram -1/2 tsp
Raw Rice – 1/2 tsp
Green chillies -2-3
Ginger grated – 1/4 -1/2 tsp
Salt as needed
Curd – 3 cups whisked
Green chutney – 1 1/2 tsp
Salt as needed
For garnishing
Sweet chutney
Roasted cumin powder – 3/4 to1 tsp
Red chilli powder – 1/2 tsp
Finely chopped coriander leaves
Sev (optional)
Method to grind for vada
Soak urad dal along with fried gram and rice for 2 hours (totally). Keep it in the fridge for 1 hour before grinding.
Drain all the water completely and grind for a few minutes first. Then add green chillis, grated ginger, salt needed and grind to a smooth paste.(You can sprinkle little water only if it is absolutely necessary.) Mix the batter well.
There are 2 ways to check if the batter is perfect-
1.Take a spoon of batter and drop it in a cup of water. It should float.
2.If you dip your hands in water and take a little batter, it should not stick to your hands.
Now let us make vadas
Heat oil, then dip your hands in water, take a little batter and shape it into a small lemon sized ball and drop it in oil gently. Deep fry in medium heat till golden brown. Drain the oil well and keep it aside.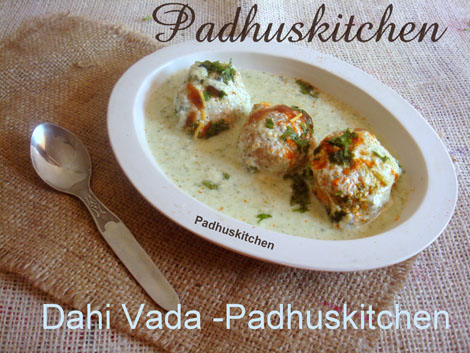 After frying all the vadas, soak the vadas in water for about 3-4 minutes. Gently squeeze to drain all the water. Arrange it in a plate or serving bowl.
How to serve
Place vadas in a serving bowl. Whisk curd adding green chutney, chilli powder, roasted cumin powder and salt needed. Pour the curd over the vadas. Sprinkle or garnish with little of roasted cumin powder, red chilli powder and finely chopped coriander leaves. Drizzle sweet chutney over it.
Refrigerate for half an hour and then serve chilled. Garnish with sev before serving.
I am sure you will love it very much. Enjoy! Do not forget to check out my easy to prepare Pav Bhaji recipe
You will also love my South Indian Style Thayir Vadai
If you like this post, kindly consider linking to it or sharing it with others or like us on Facebook