Diwali is just a few weeks away. I have some very easy yet delicious Diwali sweets which you can prepare right at your home. Apart from my easy to prepare
Coconut Burfi
and
Rava Ladoo
, this is yet another easy Diwali Sweet Recipe which even beginners can try with confidence.Trust me, it will not let you down. It also makes a perfect gift to relatives and friends.This sweet is called 7 cup Burfi as 7 cups of ingredients are used to prepare this sweet.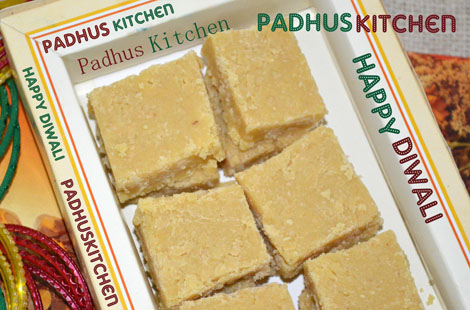 Surprise your friends and relatives with this home made 7 cup sweet this Diwali
7 cup Sweet for Diwali
Ingredients needed
Bengal gram flour / kadalai mavu / besan – 1 cup
Ghee – 1 cup (melted)
Grated coconut – 1 cup
Milk – 1 cup
Sugar – 2 3/4 cups (Add 3 cups if you want it very sweet)
Cashew nuts – 8-10
Preparation
Grease a tray with ghee and keep it ready.
Dry grind cashew nuts coarsely.
Sieve besan and keep it ready.
Method
Keep all the ingredients ready, including the greased tray.
Dry roast besan until the raw smell goes. Do not roast too much till it changes color. Switch off the flame.
Add sugar, milk and mix well so that there are no lumps.
Add coarsely ground cashew nuts, grated coconut and mix well.
Add half of the ghee and now switch on the gas. Keep it in medium flame and keep stirring continuously, otherwise it will get burnt.
When the mixture starts to bubble (see pic below), add the rest of the ghee and keep stirring continuously. Scrap the sides of the pan as you stir.
Now it has thickened and started to leave the sides of the pan. Once it starts leaving the sides of the pan or kadai , pour it into a greased plate or tray. Tap the tray for it to spread and then even the surface with a cup greased with ghee.Leave it to cool. (you can check if the right consistency is reached by pouring a spoon of the mixture on a plate, after it cools a bit, check if it hardens. If it does, then the consistency is perfect)
When it is warm, cut it into squares or any shape with a greased knife, but do not remove the pieces in a hurry like I did. Wait for it to cool completely and then remove the slices carefully.
Since this sweet has cashew nuts, coconut and milk in it, children will love this very much, so you can make this easy breezy diwali sweet for your kids also.
Note -You can use any cup for measurement for this recipe.
Searching for Diwali Sweets and Snacks, search no more. Find a long list of


Diwali Sweets and Snacks Recipes
If you like this post and appreciate my efforts, kindly consider linking to it or sharing it with others or like us on Facebook or follow me on Twitter or join me on Google Plus to keep up to date with Padhuskitchen.