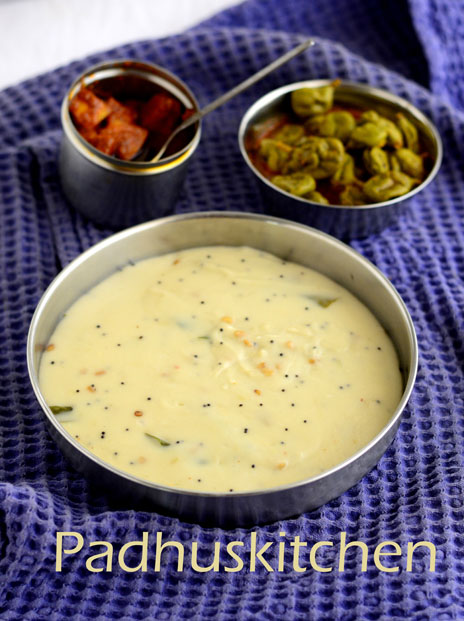 Mor Kali with maavadu and avakkai
How to cook Mor Kali
Prep time – under 5 mins
Cook time -under 15 mins
Serves – 1
Ingredients needed
Thick buttermilk- 1 cup (whisked)
Rice flour – 1/2 cup
For the seasoning
Sesame seed Oil – 8 tsp (gingerly oil)
Mustard seeds – 1 tsp
Urad dal (split white ones) -3/4 tsp
Red chilli or mor milagai – 2
Hing – a pinch
Green chilli -1 slit
Curry leaves – few
Preparation
Take rice flour in a bowl, add salt needed (approximately little more than 1/2 tsp flat). Then add buttermilk little by little to the the rice flour and mix well so that there are no lumps.
Once that is done, add 1 cup of water little at a time to the rice+buttermilk mixture and mix well again.
Method
Heat oil in a kadai, add mustard seeds, urad dal, hing and red chillies, when mustard splutters, add green chillies and curry leaves.
Then add 1/4 cup of water to the seasoning.
When the water starts boiling, keep the flame in low and add the prepared rice+buttermilk mixture stirring continuously. It will look as in the picture below.
Keep the flame in medium and cook well. You can check for salt by tasting the mixture, if required add at this stage.
Switch off when it starts leaving the sides of the pan. Dip your fingers in water and touch the mor kali, if it sticks to your hand, then cook for some more time.
Once cooked, pour it on a plate and serve hot or warm. As it cools it will thicken.
Note – Use a little sour butter milk for best results.
If you are using mor milagai, then reduce the salt a little.
Do try this healthy recipe and give me your feedback.