Coconut milk is easy to extract at home. It is commonly used in many Indian dishes. I find it extremely difficult to write the procedure on how to prepare coconut milk from grated coconut every time I post recipes using coconut milk. So I decided to make a separate post on it. The good thing is homemade coconut milk is free of preservatives. Learn how to prepare coconut milk at home from fresh coconut.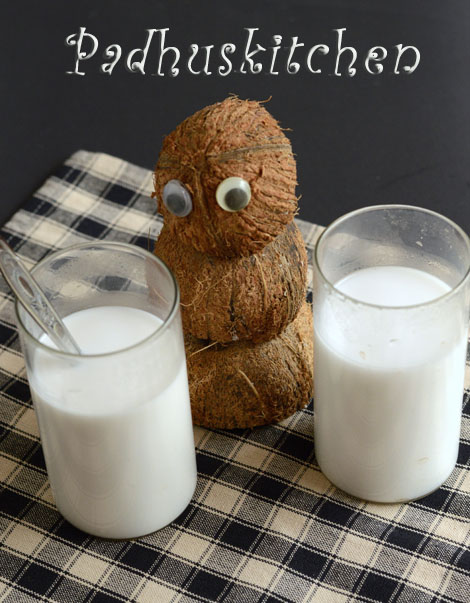 How to make (extract) coconut milk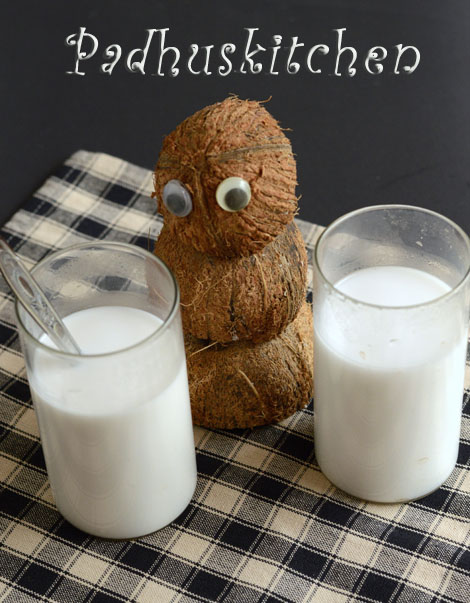 Prep Time : 20 mins
Serves
:
2 cups
Recipe Category
:
Cooking basics
Recipe Cuisine
:
Indian
Author
:
Padhu Sankar
Ingredients needed
Grated coconut -1 1/2 cup
Warm water
Strainer
Mixie/blender
Method
Break a medium sized coconut and grate it.
First take 1 1/2 cup of grated coconut and grind it for a few seconds. Then add 1 cup of warm water and grind it nicely.
Strain the ground coconut using a strainer. You can even use tea strainer or a colander lined with a soft cotton cloth or cheesecloth. I lined my strainer with a soft cotton cloth and then strained the ground coconut. Press it with a ladle or squeeze to extract as much milk as possible.
The coconut milk extracted is the first milk or the first extract.(onnam pal). It will be thick. Keep this first extracted milk aside.

Now add 1 more cup of warm water to the already ground coconut and grind it again nicely. Again strain the ground coconut with a strainer.The milk extracted now is the second extract/second milk (rendam pal or second milk) which is thinner than the first.
I extracted it 2 times and got the first thick coconut milk and the second thin coconut milk. The glass with a spoon (in the picture above) is the thick coconut milk and the other one is thin coconut milk.
You can add more water and grind the already ground coconut and extract the third milk which is even more thinner than the second milk. Hope you found this post useful.
Don't forget to hit the +1, Share,Tweet button, if you like the post.You can follow us on Google Plus, Pinterest, Twitter, Facebook and Subscribe to RSS Feed to receive latest updates.