Couscous is made from tiny granules of durum wheat. The couscous grains are cooked by steaming them until they have a light, fluffy consistency. It is traditionally served with a meat or vegetable stew spooned over it. Couscous is a staple food throughout the North African cuisines of Morocco, Algeria, Tunisia, Mauritania and Libya.The traditional technique for preparing couscous involves steaming the granules multiple times in a tall pot called a couscousière.(reference-
wikipedia
and
culinaryarts
) Most couscous available commercially is an instant form which is quick and easy to cook. Today we will learn how to cook couscous and an easy vegetarian sauce with garbanzo beans to go with it.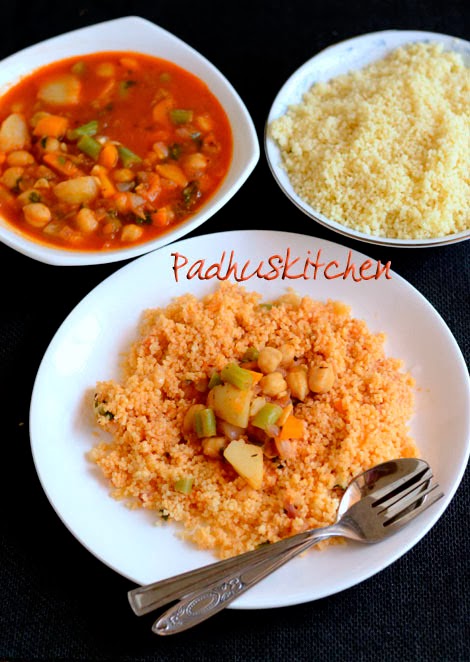 Couscous with Vegetable tomato sauce
How to cook Couscous
Recipe adapted from here
Cook time – under 10 mins
Serves -2
Ingredients needed
Instant couscous – 1 cup
Water – 1 1/4 cup
Salt -1/2 tsp
Butter – 11/2 tsp
Cooking instant couscous takes hardly 5 minutes.
Boil water, add salt and butter to it. When water comes to rolling boil, reduce the flame, add couscous and stir for a minute and switch off the flame.

Keep it closed. After 5-6 minutes, you can see that the couscous would have absorbed all the water. Fluff it with a fork and keep it aside. Couscous is ready.

How to prepare Couscous Sauce with vegetables and garbanzo beans
Prep time – under 10 mins
Cook time – under 20 mins
Serves – 3
Ingredients needed
Butter or oil – 1 tbsp
Onions -1/2 cup chopped (I used shallots/pearl onions)
Garlic – 1 pod peeled and chopped
Beans and carrot -1/3 cup chopped
Potato -1/2 cup boiled and cubed
Cooked Chickpeas -1/2 cup
Tomato puree -2 cups
Chilli powder -1/2 tsp
Pepper powder as needed
Oregano – 3/4 tsp
Salt as needed
Preparation
Parboil or steam the chopped carrot and beans.
Pressure cook potatoes, peel the skin and cut it into cubes.
If using dry chick peas, soak it overnight and pressure cook adding a little salt until soft.
Blanch tomatoes and extract tomato puree. How to blanch tomatoes?
Method
Heat butter or oil in a pan/kadai, add chopped onions and garlic. Saute until onions turn transparent.
Add the steamed beans and carrot.

Add the cooked potatoes,cooked chickpeas, chilli powder, salt needed, pepper powder, oregano and mix well.

Add the tomato puree, 1/2 cup of water and cook simmered for 15 minutes. Sauce should be watery.

Vegetarian couscous sauce is ready. Serve couscous with hot sauce.
We had this for dinner and it was very delicious and filling.
If you found this post useful, I would really love it if you pin it or share it with your Facebook fans or Twitter followers or Google+ circles today. All it takes is a simple click on the "pin it" "like," "share," "tweet," or Google+ buttons below the post. It will keep me motivated. Thank you!