Though I drink tea everyday, it has taken so many years for me to post this simple tea recipe.I kept postponing it as I found other recipes more important. I love to have tea in the evenings. For me sipping a cup of steaming tea and working on the computer is a great way to relax. My favorite is adrak or ginger tea. Today let us learn how to make ginger tea (adrak chai) following this easy recipe.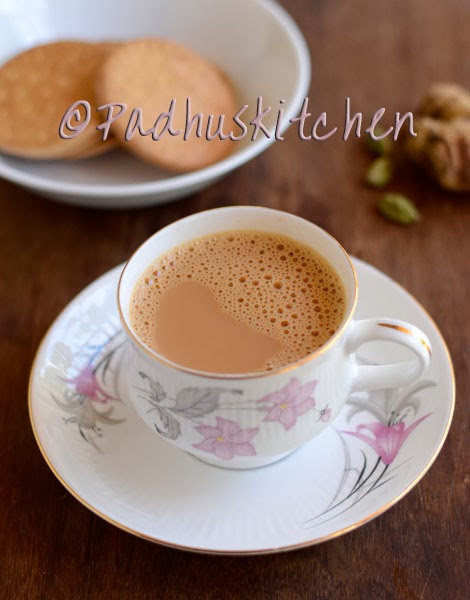 How to make Ginger Tea
Serves -1
Ingredients needed
Tea leaves or powder – 1 1/2 tsp (any brand) I used Taj Mahal tea
Ginger (crushed or grated) -1/2 inch piece
Cardamom – 1 crushed (optional)
Milk – 1/2 cup
Water -1/3 cup
Sugar to taste
Tea strainer
Method
Bring 1/3 cup of water to boil. Add tea powder, crushed ginger, cardamom and boil it in medium low flame for 2 minutes. If you want it stronger brew it for more time.
Add milk and bring it to boil. When the milk boils and raises up, reduce the flame, then increase the flame again, let the milk rise up again. Switch off the flame and strain the tea into a teacup.
Add sugar to taste. You can add nattu sakkarai (natural unrefined cane sugar) instead of white sugar. I drink tea with nattu sakkarai and I do not find much difference. You can also try it.
Enjoy piping hot Indian Ginger cardamon tea!
Note
-There are no hard and fast rules regarding the ratio of milk and water. Since I like milky tea, I have added more milk. If you do not prefer milky tea, add more water and less milk. You can experiment and find out the right ratio to suit your personal taste.
You might love my Green Tea recipe and Iced Lemon Tea.
If you found this post useful, I would really love it if you pin it or share it with your Facebook fans or Twitter followers or Google+ circles today. All it takes is a simple click on the "pin it" "like," "share," "tweet," or Google+ buttons below the post. It will keep me motivated. Thank you!