Summer is almost here and you find the markets flooded with summer fruits like watermelons, muskmelons, nongu (palm fruit) etc. I love fresh homemade fruit juice as they are loaded with nutrients needed for a healthy body and mind. This watermelon-cantaloupe juice is perfect to beat the summer heat. This juice is healthy, refreshing, soothing and is an excellent summer coolant. Today we will learn how to make watermelon muskmelon juice following this easy recipe.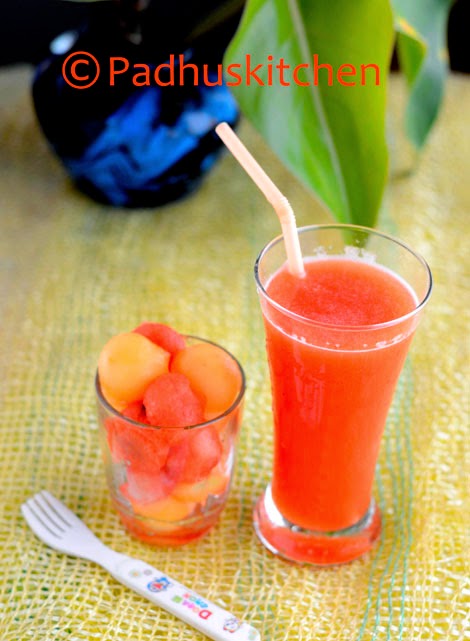 Before going to the recipe, I would like to share a few things I learnt about food combining. Fruits can be broadly classified into the following –
Acid Fruits – oranges, strawberry, plums, pineapple, lemon, pomegranates, tangerine and other citrus fruits
Sub Acid Fruits -Apple, papaya, mango, pear, kiwi, cherries, apricot, peach.
Sweet fruits -Banana, sapodilla, dried fruits (dates, figs) etc
Melons -Should be eaten entirely alone
Acid fruits combine well with sub acid fruits but not with sweet fruits.
Sub acid fruits combine well with either acid fruits or sweet fruits but not with both.
Sweet fruits combine well with most sub-acid fruits.
Green leaves combine well with just about anything except melons.
More details about food combination at livelovefruit
Watermelon Muskmelon Juice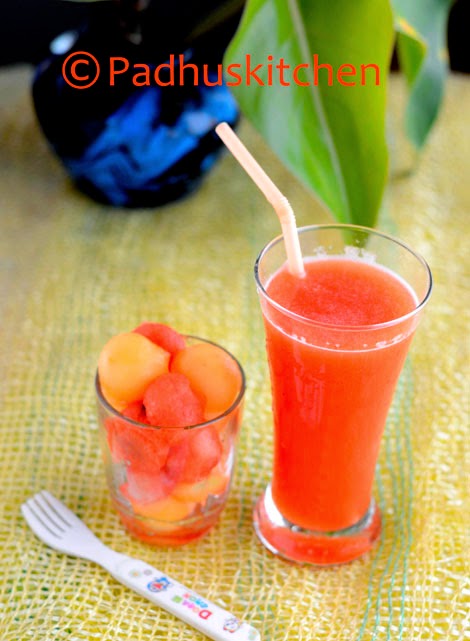 Prep Time
:
10 mins
|
Cook Time
:
Nil
|
Serves
:
1
Ingredients needed
Watermelon chopped -1 cup
Muskmelon chopped -1 cup
Honey -1 tsp (optional)
Ice cubes -2-3
Recipe Instructions

Peel the skin and scoop out the seeds for both musk melon and watermelon. Cut it into cubes.

In a blender, combine together watermelon, muskmelon, crushed ice cubes and blend until smooth. Pour into a tall glass and enjoy!! You do not need honey but if required add a tsp of honey along with the fruits and blend everything together.
Melons have a cooling effect on the body so this is a perfect summer drink.
Check out more Fruits Juice and Milkshake Recipes here.
Don't forget to hit the +1, Share button, Tweet button, Pin it button, if you like the post. You can follow us on Google Plus, Pinterest, Twitter, Facebook and Subscribe to RSS Feed to receive latest updates.