Beetroot has many health benefits. Beets are high in immune-boosting vitamin C, fiber, essential minerals like potassium and manganese. It is rich in iron, vitamins A, B and C, beta-carotene and folic acid. It has the highest sugar content of all vegetables but releases sugars very slowly into the blood. Beetroot is great for boosting stamina. According to
lovebeetroot.co.uk
– Beets help lowers cholesterol. Beetroot contains soluble fibre, which has also been shown to have cholesterol lowering capabilities. It also contains carotenoids and flavonoids, which help prevent LDL or 'bad' cholesterol from being oxidized and deposited in the arteries. Because of its high iron content, it's good for those with anemia and fatigue. Beetroot is also virtually fat free and low in calories. Beetroot has several nutrients needed for good health. Beetroot rice is very easy to prepare and also very healthy. You can prepare it for lunch and all it needs is a simple raita to go along with it. The lovely color of the pulao is so appealing. It's a great way to get the kids to eat beetroot. They are perfect for lunch box also. Today we will learn how to make beetroot rice following our easy recipe with step wise pictures.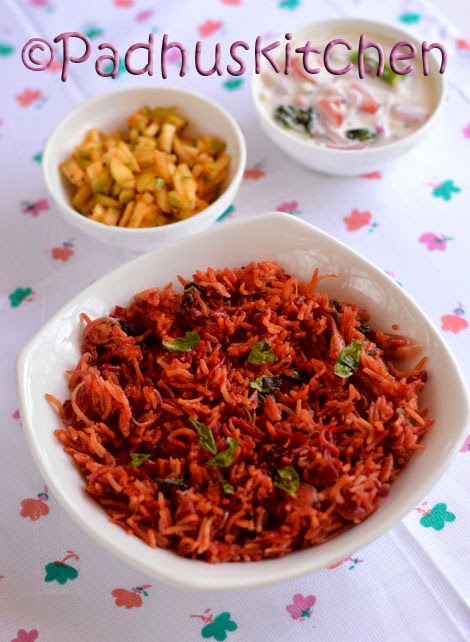 Beetroot rice-onion tomato raita-instant mango pickle
Beetroot Rice/Pulao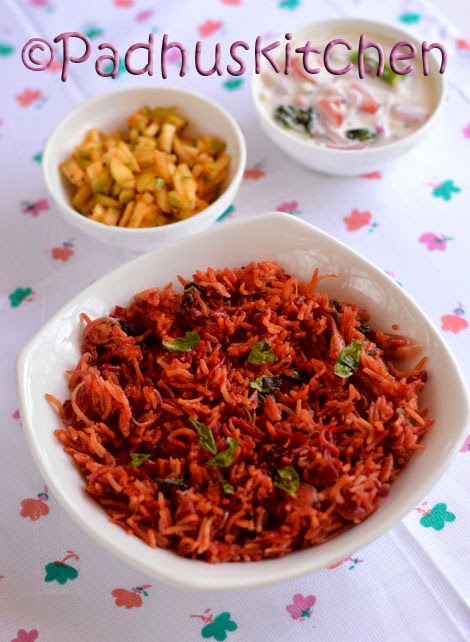 Prep Time : 10 mins
Cook Time
:
25 mins
Serves
:
2
Recipe Category
:
Rice Recipes
Recipe Cuisine
:
South Indian
Ingredients needed
Basmati Rice -1 cup
Onion thinly sliced -1 cup
Green chilli -1 slit
Ginger garlic paste– 1 tsp
Tomato – 1 small
Grated Beetroot -1 cup
Mint leaves – fistful
Coriander leaves – 2 tbsp chopped
Biryani masala – 1 tsp
Sambar powder -1 tsp
Salt needed
Water-2 cups
Fresh Lemon juice – 1 tbsp
For the seasoning
Oil -1 tbsp
Fennel seeds/Saunf/sombu -1/2 tsp
Bay leaf -1
Cloves -2
Cinnamon -1 inch piece
Cardamom -1
Preparation
Wash and soak basmati rice for 20 minutes. Drain the water and keep it aside.
Wash, peel the skin and grate or finely chop beetroot.
Method

Heat oil in a pan, add fennel seeds, when it splutters, add cloves, cinnamon, cardamom and bay leaf.

Saute for a few seconds, then add thinly sliced onions, slit green chilli and cook until onions turn transparent.


Add ginger garlic paste and saute for a few more minutes.

Add chopped tomatoes and cook for another 3-4 minutes.


Add beetroot, coriander leaves, mint leaves, biryani masala, sambar powder and salt needed.


Mix well, add 2 cups of water and lemon juice. When water starts boiling, add soaked and drained basmati rice. Mix well and check for salt by tasting the water, if the water is slightly salty, it will become perfect once the rice is cooked. Lower the heat and cook covered until rice is done. You can pressure cook rice or cook rice in a pan with lid or use the rice cooker. Check out how to cook basmati rice for more details. Once done, fluff it with a fork, garnish with coriander leaves and serve hot with raita or papads.


Notes -Add water according to the quality of your rice.(1 cup of basmati rice needs appoximately – 1 1/2 -2 cups of water. The rice I used needed 2 cups of water, moreover I like my rice to be soft.)
You can substitute lemon juice with a tbsp of thick curd. Add it after adding beetroot and spice powder.
More Beetroot Recipes
Don't forget to hit the +1, Share button, Tweet button, Pin it button, if you like the post. You can follow us on Google Plus, Pinterest, Twitter, Facebook and Subscribe to RSS Feed to receive latest updates.