Turmeric has been used for centuries and is widely known for its anti-inflammatory, anti-fungal, anti-bacterial and anti-oxidant properties. Turmeric has been found to help prevent or alleviate some diseases like Alzheimer's disease, cancer and arthritis. It has so many health benefits that I have planned to do a separate post on that. Both turmeric root and mango ginger has lot of medicinal properties. This pickle combines both the root and is simply amazing. You have to try it to believe it. It is healthy, at the same time very delicious. Mango ginger is amba haldi in Hindi and manga inji in Tamil. Mango ginger is also known as white turmeric. Today we will learn how to make fresh turmeric pickle/haldi pickle following this easy recipe.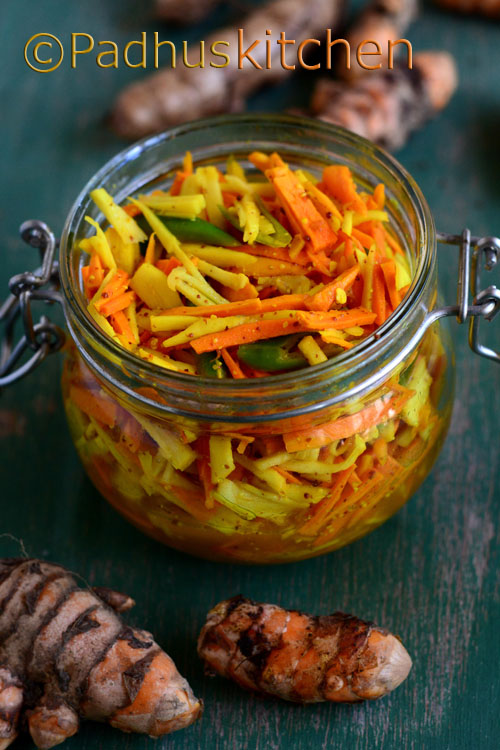 Fresh Raw Turmeric Pickle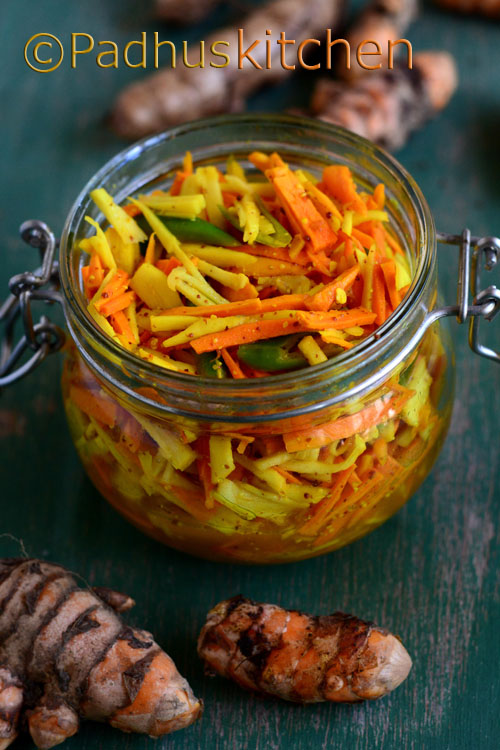 Prep Time : 20 mins
Yields
:
2 cups
Recipe Category
:
Pickle
Recipe Cuisine
:
Gujarathi
Author
:
Padhu Sankar
Ingredients needed
Fresh Turmeric root – 200 grams
Fresh Mango ginger root – 200 grams
Oil – 1 tbsp
Lemon – 5-6 juicy ones
Green chillies – 10-12 slit
Mustard powder – 2 tsp (optional)
Rock Salt – 2 1/2 tbsp powdered or as needed
Preparation
Wash both the roots well 3-4 times to remove all the mud. Scrap the skin and wipe it dry. Turmeric stains your hands, cutter etc. So take care when cutting turmeric. You can wear a gloves when cutting turmeric if required.
Slit the green chillies and remove the seeds.
The picture on the left is fresh turmeric root and the picture on the right is white turmeric or mango ginger.

Cut both turmeric and mango ginger into thin strips like matchsticks as shown in the picture below.
Method
In a clean, dry glass or ceramic bowl, combine together turmeric, mango ginger, juice of 5-6 big lemons (without the seed), salt, green chillies, mustard powder and oil. Mix well and leave it covered overnight.
Next day, you can transfer it into a clean dry bottle, cover the mouth of the bottle with a cloth and keep it in the sun for 1 hour. Keeping it in the sun increases its shelf life but not necessary.
Mix well and store it in a glass bottle in the refrigerator.

I am a great fan of this pickle and love to have it with curd rice, sambar rice and even parathas. It tastes fantastic!
Storage – Use sterilized bottles or wash the bottle well in hot water and dry it in the sun.
Shelf life – Stays good for 7-10 days in the refrigerator.
Check out my mango ginger pickle and other pickles recipes.
If you found this post useful, I would really love it, if you pin it or share it with your Facebook fans or Twitter followers or Google+ circles today. All it takes is a simple click on the "pin it" "like," "share," "tweet," or Google+ buttons below the post. Thank you!