The botanical name of vallarai is "Centella asiatica" and is commonly known as centella and Gotu kola. It is known as Indian Penny Wort in English. When I posted
Vallarai Thuvaiyal
recipe, I got many queries asking me how to grow vallarai at home, hence this post. Vallarai as we all know is a medicinal herb and is are used for improving memory and curing many diseases. You can make many dishes like dal, thuvaiyal, podi, kootu with vallarai. As I am passionate about cooking, I love using fresh herbs from my
kitchen garden
. Nothing can beat the flavor and taste of home grown herbs and vegetables. Today we will see how to grow vallarai at home in a pot.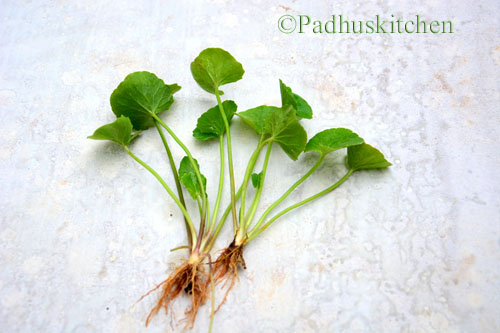 Vallarai/Gotu kola (brahmi booti in Hindi) is quiet easy to grow at home and needs low maintenance. You do not need much space as it can be grown in pots. Even if you have a small balcony, you can grow vallarai or for that matter any herbs. I am by no means an expert in gardening but love to share my experience.
What you need to grow vallarai at home
1.Any container or grow bag or pot
2. Vallarai – 3 or 4 plants with root.
3.Potting mixture
4. Of course interest
I used a mixture of vermicompost, cow dung manure, coco peat (coir dust made from coconut husk- available ready made in the market in blocks), little soil (I used red soil as that is what is available in my place) and sand to grow vallarai. Make sure the potting mixture is loose and porous for the plant to grow well.

There should be proper drainage in the container or grow bags. Make holes in the container, if it is not there. Fill the container with the potting mixture. Pour water lightly to wet the soil. Our container with potting mixture is ready.
Get a bunch of vallarai from the market. You will definitely find at least a few with a little root (even a little root works). Keep aside 3-4 plants with root.
Once the pot is ready, plant the vallarai with root 4-5 cm deep and pack the soil around it well.
Place the pot in a place that receives morning sunlight or partial afternoon sunlight. That's it.
Sprinkle water until the root takes hold and the plant settles. Once the plant settles, you can water the plant, if the soil is dry. Make sure the soil is damp and not soggy. So avoid over watering the plants.

As it is a creeper, it will multiply and will grow well provided it gets enough water, sunlight, food (manure) and of course your care.
Once grown well, you can pluck the leaves alone and use it for cooking and leave the plant for it to grow again.
Get started and have a small herbal garden in your home/balcony and enjoy the flavor, taste and freshness of home grown herbs.