Making soft and spongy idlis whether in grinder or mixie has never been a problem to me. I make it with ease. As I got many request asking me to share, how to grind for idli batter in mixie, here I am with this post. Anybody can make soft idlis whether the batter is ground in grinder or mixie, when you follow the simple tips given below. Today let see how to make Idli dosa batter in mixie/mixer grinder at home following this easy recipe and tips.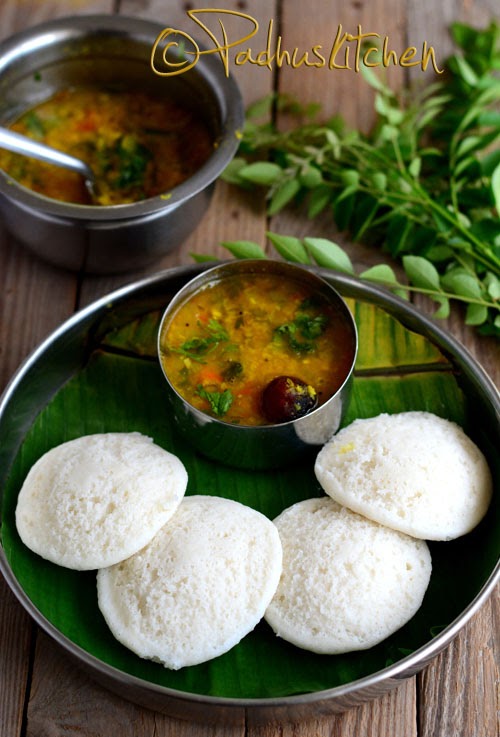 How to make Idli-Dosa Batter in Mixie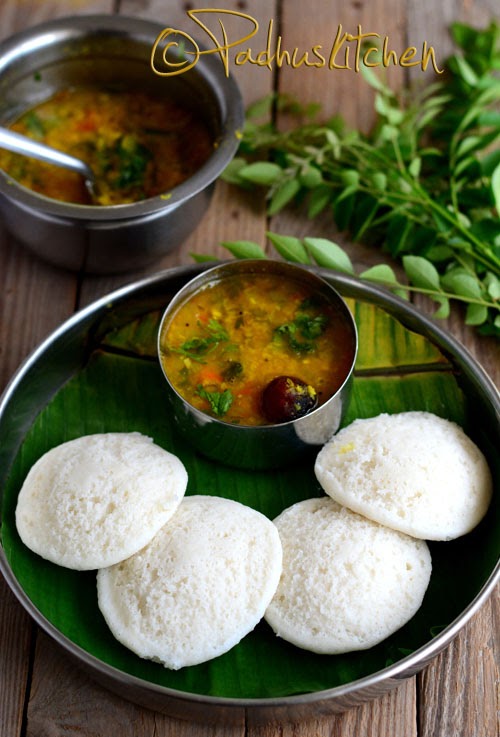 Prep Time : 30 mins (excluding soaking time)
Cook Time
:
15 mins
Serves
:
4
Recipe Category
:
Breakfast-How to
Recipe Cuisine
:
South Indian
Author
:
Padhu Sankar
Ingredients needed
Idli Par boiled rice/Idli Puzhugal arisi – 2 cups
Whole skinned urad dal – 1/2 cup
Fenugreek seeds – 1/2 tsp
Beaten rice/poha/aval – 1/3 cup
Sea Salt – 2 tsp or as required
Ice water for grinding
First step is to get good quality ingredients. Avoid using old stock rice or urad dal.
Preparation

Wash and soak whole urad dal (without skin) and fenugreek seeds in water for 6-7 hours. After an hour or two, keep the urad dal with the water in the refrigerator. We can use that water (needed water) for grinding. (do not use split urad dal for idlis).

Wash and soak rice for 6-7 hours.

Soak poha/aval for 1 hour before grinding.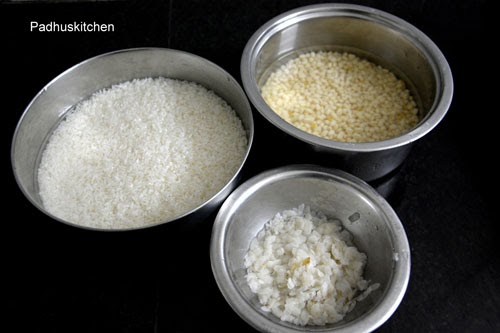 Grind urad dal + fenugreeks seeds in the mixie until smooth. Keep these things in mind when grinding the urad dal batter in mixie. Grind urad dal adding ice water little at a time, with few seconds gap inbetween. Do not operate the mixie continuously. Finally add a little ice cold water and use the whipper mode to grind the urad dal. This will give you fluffy batter. Transfer it to a container.

Now let the mixie rest for 10 minutes as it would have been heated by now.


Grind rice in 2 batches. Grind rice along with beaten rice/poha until slightly grainy. (a little finer than rava/semolina). Again use ice water for grinding and do not operate the mixie continuously.

Now mix the rice batter with the urad dal batter. Add salt and mix it well with your hands. By mixing with our hands enough air will be incorporated into the mixture. This will also aid fermentation.

Batter consistency

On the whole I have used just 1 cup and 3 tbsp of water for grinding both urad dal and rice. This is just an approximate measure for you to have an idea. This may vary.

The consistency of the batter should not be too thick nor too thin. When you dip the ladle into the batter, it should coat the back of the ladle and when you take a ladle of batter and drop it back into the container, the batter should fall back into the bowl in ribbons, which slowly disappears back into the mixture. So getting the right batter consistency is important for soft idlis, whether you grind it in the mixie or wet grinder.

Fermentation

Just as consistency of the batter is important, proper fermentation is also important. Fermentation time depends on the weather conditons.

I kept it covered overnight and see how beautifully the batter has fermented.


Now mix the fermented batter well and refrigerate it, if you are not going to make idlis immediately.
How to make idlis

Boil water in a steamer, once water starts boiling, grease idli moulds and pour a small ladle of batter into the moulds. (As it is just 5 idlis, I used a kadai and an idli mould – lined the idli plate with a damp thin muslin cloth and poured the batter into the mold, this will give a nice texture to the idlis).


Steam for 10-12 minutes or until it is cooked.

Enjoy soft and spongy idlis with any side dish of your choice. Check out my List of
Few Things to keep in mind when grinding idli batter in mixie
1. Soaking for 6-7 hours is important.
2. Use ice water for grinding.
3. Do not operate the mixie continuously.
4. Adding poha gives soft and spongy idlis when grinding it in mixie. You don't need aval/poha when grinding for idli batter in wet grinder .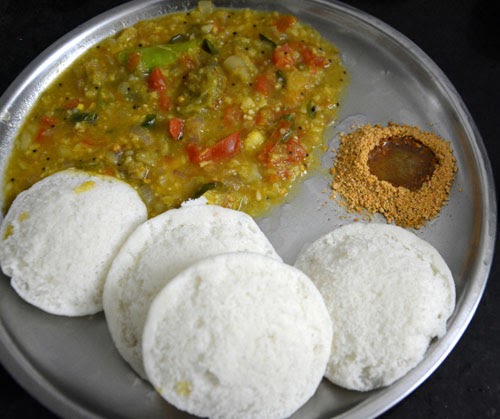 Idli with Brinjal Kosumalli and Idli Milagi podi with nallennai.
Note – Those who cannot get idli rice can use parboiled sona masoori rice or ponni rice varieties.
If you found this post useful, I would really love it, if you pin it or share it with your Facebook fans or Twitter followers or Google+ circles or Instagram today. All it takes is a simple click on the "pin it" "like," "share," "tweet," or Google+ buttons below the post. Thank you!