Ridge gourd is known as Beerakaya in Telugu,
Peerkangai in tamil and Turai in Hindi. This vegetable is commonly available in India and
can be prepared in many ways.You can make dal, stir fry, gravy, kootu, even chutney with its skin
(thole thogayal) etc.Today we will learn how to make ridge gourd thogayal following our easy recipe.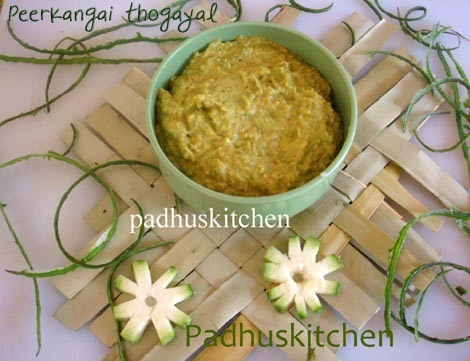 Peerkangai Chutney
Prep time -under 10 mins
Cook time -under 15 mins
Serves – 4
Ingredients needed
Ridge gourd -250 grams
Mustard -1/2 tsp
Hing – a generous pinch
Urad dal – 2 tbsp
Red chillies – 3-4
Grated coconut – 2 tbps (optional)
Tamarind – small marble sized ball (very less) or 1/4 tsp of tamarind paste.
Oil – 1 tbsp
Preparation
Wash and scrap the skin of ridge gourd ( you do not have to peel the skin completely ) and chop it into medium sized pieces.
Heat 2 tsp of oil, add the chopped ridge gourd, need salt and cook covered till tender. You do not have to add much water as the vegetable will ooze out lot of water. Cool it and keep it aside.
Method
Heat a tsp of oil, add mustard seeds, when it splutters, add hing, urad dal and red chillies. Fry till dal turns golden brown. Then add tamarind and fry for a few more seconds.Switch off the flame, add grated coconut and saute in the heat of the pan itself. Leave it to cool.
After it cools, grind it first with a little cooked ridge gourd to a smooth paste, then add the remaining vegetable and grind it a bit coarsely. Add little water only if required. Check for salt.
Mix it with hot steaming rice topped with a tsp of ghee and enjoy! You can prepare any curry or just have papaps or potato chips as side dish. It can also be had as a side dish for idli and dosa .
Ridge gourd recipes
Tit bits-
This vegetable is dried and made into loofahs.It can be used as a natural scrub. Picture of the Ridge gourd loofah below-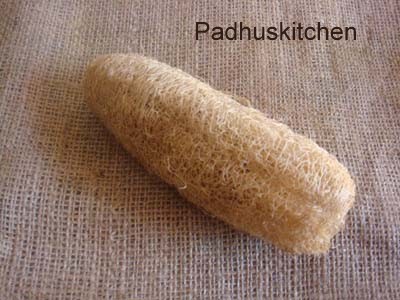 Meet you all with more interesting recipes!