If you are searching for an easy dessert recipe, then this marie biscuit pudding is a perfect choice. It is so simple to prepare, the ingredients needed are easily available and the good thing is that it can be prepared a day ahead making it a perfect choice for parties and get togethers also. Today let us learn how to make biscuit pudding following this easy recipe with step wise pictures.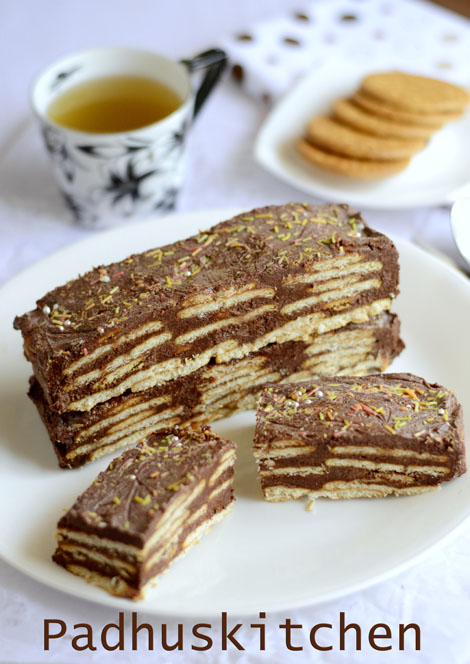 How to make Biscuit Pudding (biscuit cake recipe)
Recipe Source- mykitchenantics
Prep time – under 15 mins
Cook time -Nil
Yields – a 7 inch square pan
Ingredients needed
Tea biscuits / Marie biscuits- 30 biscuits or as required
Unsalted Butter- 100 gms (at room temperature)
Icing sugar- 1 cup
Cocoa powder- 3 tbsp
Milk – approx 1 1/2 tbsp-2 tbsp
Vanilla extract- 1/2 tsp
Coffee/ Espresso powder- 1 1/2 tsp
Water- 1 cup
Preparation
Prepare coffee decoction in 1 cup of boiling water. Filter it and leave it to cool.
Sift the cocoa powder and keep it aside.
Line a 7 inch square cake tin with cling film leaving a little extra on one side to fold over the top. Alternatively you can layer the whole thing in a square pan or glass dish without the cling film, if you plan to serve it directly from the tin. But with the cling film lining, it is easier to take the whole biscuit cake out from the pan and slice it as preferred.
Method
In a bowl, beat together butter and sugar until light and fluffy. You can use a wooden spatula or an electric hand mixer.
Add cocoa powder and continue beating until well mixed.

Add vanilla essence and mix well. Add milk little at a time and mix well. The consistency of the mixture should neither be stiff nor too watery. It should be easily spreadable, so adjust milk accordingly.

Now dip the biscuit one at a time in coffee decoction and arrange it in the pan as shown in the picture below. It doesn't matter, if the biscuits overlap.

With a spatula, spread the butter + sugar +cocoa powder mixture over the biscuits evenly filling all the gaps and corners (see picture below). Repeat with another layer of biscuits dipped in coffee decoction and top it with another layer of cream.

Continue layering biscuits and cream alternatively until all the cream is over and the cream layer is the top most layer. (I got 3 layers)

Decorate it with chopped nuts or silver ball or sprinkles, cover it that extra cling film, press it gently and keep it in the refrigerator to set.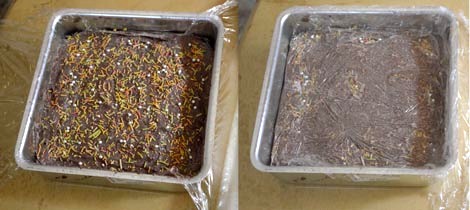 When ready, lift the pudding out of the pan, unfold it and slice it into small pieces and serve immediately.
Note – The pudding will melt if kept outside for a long time. So keep it in the refrigerator and take it out only when required.
If you want it soft, keep it in the refrigerator to set. If you prefer it a little hard, keep it in the freezer compartment of the refrigerator. Both tasted great.
You might like my no bake chocolate recipe also.
If you found this post useful, I would really love it if you pin it or share
it with your Facebook fans or Twitter followers or Google+ circles today. All
it takes is a simple click on the "pin it" "like," "share," "tweet," or Google+
buttons below the post. It will keep me motivated. Thank you!