Bajji is a quick and easy snack which can be prepared in just 15 minutes. It does not need much ingredients. You can prepare bajji with vegetables like brinjal, raw plantain, onion, chilli, baby corn, cauliflower etc. Today we will learn how to prepare bajji with potato following this easy recipe.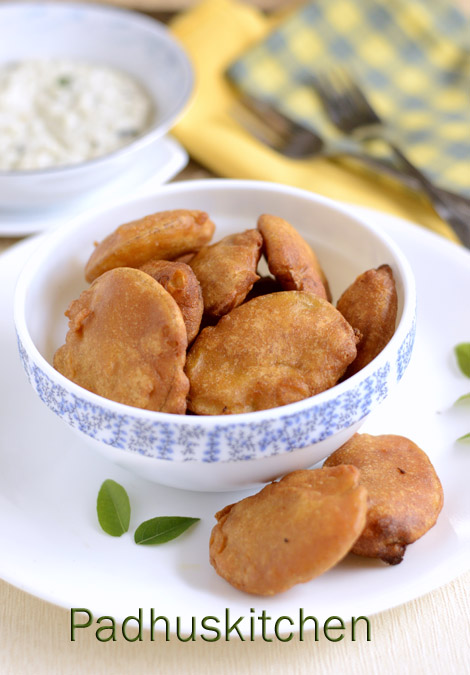 How to make Potato Bajji
Prep time – under 15 mins
Ingredients needed
Potatoes – 2
Besan /Bengal gram flour/ kadalai mavu – 1 cup
Chilli powder – 2 tsp
Salt as needed
Cooking soda/ soda bi carb- 2 pinches
Oil – 1 tsp
Oil for deep frying
Preparation
In a bowl, mix together besan, chilli powder, salt, 1 tsp oil and cooking soda.
Add little water and mix nicely (a little vigorously) with your hands. This is done to get puffy and soft bajjis.
Then add more water and prepare the bajji batter. I added little less than 3/4 cup of water. The bajji batter should neither be thin nor thick, so add water accordingly. Taste the batter and check for salt.
Wash the potatoes well, wipe it dry and slice it thinly. Do not peel the skin.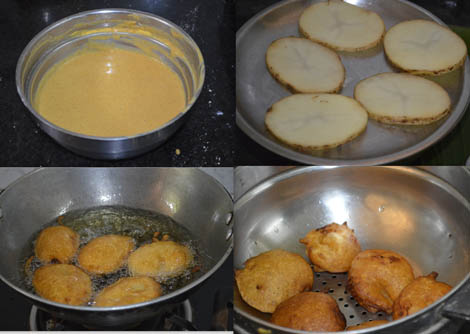 Method
Heat oil in a kadai. To check if the oil is hot enough to fry the bajjis, drop a little batter into the oil, if it raises to the surface immediately, then the oil is hot enough to fry the bajjis.
Now reduce the flame to medium, dip a potato slice into the batter in such a way that it is well coated on all the sides with the batter, then d
rop it gently into the oil. You can fry 3-4 bajjis at a time depending on the quantity of oil used.
Cook both sides until golden brown. Remove from oil and put it in a colander or a paper towel to absorb excess oil.
Serve hot with green chutney or coconut chutney or ketchup.
Check out more snack recipes


You might like my onion bajji and milagai bajji also.
If you found this post useful, kindly consider linking to it or sharing it with others or like us on Facebook or follow me on Twitter or Pinterest or join me on Google Plus to keep up to date with Padhuskitchen.