Paal Kozhukattai is a very popular Chettinad sweet/dessert prepared with jaggery/sugar and coconut milk.This is an authentic recipe in which the dumplings are prepared by soaking and grinding rice. It tastes great and is simple to prepare. Today we will learn how to prepare paal kolukattai following this easy recipe.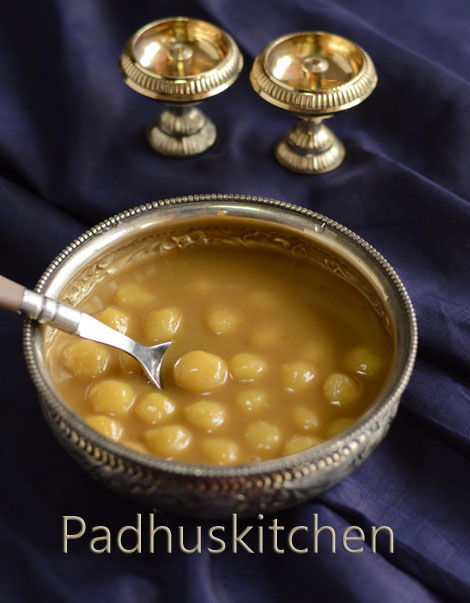 How to make Pal Kozhukattai
Prep time – under 15 mins
Cook time – under 30 mins
Serves – 2
Ingredients needed
For Rice balls
Parboiled rice – 1/2 cup
Salt a pinch
Ghee – 2 tsp
Sweet sauce
Jaggery – 3/4 cup
Thin coconut milk – 1 cup
Thick coconut milk – 1/2 cup
Cardamom powder – 1/4 tsp
Edible camphor – a pinch (optional)
Preparation
Wash and soak rice for 2 hours. Grind it to a fine paste adding little water and a pinch of salt. Rinse the mixie with little water and add to it.
Melt jaggery adding 2-3 tbsp of water in low heat.Once it melts, switch off the flame and filter it to remove any impurities.
Method
Take a kadai or pan (preferably non stick) pour the batter, melted ghee and switch on the flame. In medium heat, keep stirring the rice batter continuously to prevent formation of lumps until it starts to leave the sides of the pan. Switch off the flame.

When it is warm, grease your hands with a little ghee and knead it to soft pliable dough.(keep the dough covered with a damp cloth to prevent it from drying. The dough will not stick to your hands, if it is cooked well.
Make small balls like seedai out of it and keep it ready.(that's a close up shot of the ball, so it appears big).If the ball are big, they will take more time to get cooked and they will taste bland in the dish. So make small sized balls.
Boil 1 cup of thin coconut milk, when it starts boiling, reduce the flame and add the balls gently.The balls should be immersed in the thin coconut milk. If not, add more thin coconut milk. Do not stir it for the first few minutes. Then stir gently and cook in medium low flame for 5-6 minutes or until done. (the balls will change color and start coming to the surface when they are cook. You can even taste the rice ball and check if they are cooked)
Now add the thick jaggery water, cardamom powder, edible camphor and cook for a few more minutes until it becomes slightly thick and saucy.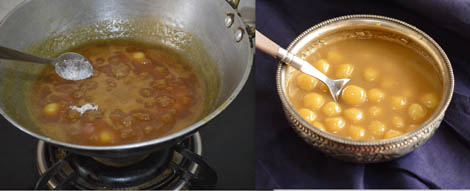 Then add thick coconut milk, stir and turn off the heat. Do not boil or cook after adding the thick coconut milk. It will thicken a little as it cools down.
Enjoy pal kozhukattai warm or cold!!
Note-For coconut milk- grind 1 cup grated coconut with 3/4 cup warm water and extract thick coconut milk. Then add more water to the already ground coconut and extract the second thin diluted coconut milk. You can use ready made coconut milk also. In that case, dilute the thick coconut milk by adding lukewarm water.
You can substitute jaggery with sugar. Since I avoid including sugar in my diet as much as possible, I have added jaggery. You can adjust sweetness according to your taste.
If you found this post useful, I would really love it if you pin it or share it with your Facebook fans or Twitter followers or Google+ circles today. All it takes is a simple click on the "pin it" "like," "share," "tweet," or Google+ buttons below the post. It will keep me motivated. Thank you!